Well, you are looking for the best softball cleats for pitchers. Pitchers need different types of cleats that will help them have enough grip while still being able to give you enough flexibility as well. 
Well, here in this article I have compiled the best pitching cleats for softball. All these shoes are perfect for pitching and will help you be a better pitcher on the field. 
Let's get into it!
Best Softball Cleats for Pitchers
Ringor Dynasty 2.0 Spike Pitching Cleats
The Ringor Dynasty 2.0 spike pitching cleats, cleats are absolutely perfect for pitching purposes since they give you great traction on the field while maintaining your flexibility and mobility at the same time. The cleats have metal cleats present at the bottom of their outsole, so metal cleats tend to give a really good grip on any type of field that you are playing. 
The Ringor Dynasty Spike Pitching cleats are made completely from leather so rest assured these are super durable and will tend to stay through all the sliding or through all the diving too. The neoprene heel collar will hug your heel and will keep your heel in place thus offering a much more snugger and tighter feel. The insoles also come with an anti-odor feature, so you won't have that awkward feeling every time you remove your feet from your cleats. 
Pros: 
Anti-odor insole 
Metal cleats on the insole 
Neoprene heel 
All leather shoe 
Cons: 
Durability and longevity may be compromised 
Mizuno Sweep 5 Cleated Softball Shoe
Mizuno has always been exceptionally great at doing a lot of things. It has the best sporting equipment because Mizuno always tries and gives you the best type of sporting goods without compromising on any one factor even one bit. The cleats just like any cleats have the same type of features. But of course, there are some added features that make these cleats altogether perfect for pitchers. 
Mizuno has incorporated a C- flex outsole that will increase the flexibility of the cleats altogether. Thus giving you also enhanced flexibility when performing on the field each time you pitch. The rib construction present at the back of the feet will give you enhanced stability, flexibility, and even traction when you perform on the field. This also reduces the stud pressure thus enabling you to perform without any hindrance and with the utmost comfort. So honestly the Mizuno sweep 5 are just absolutely the best softball cleats for pitchers.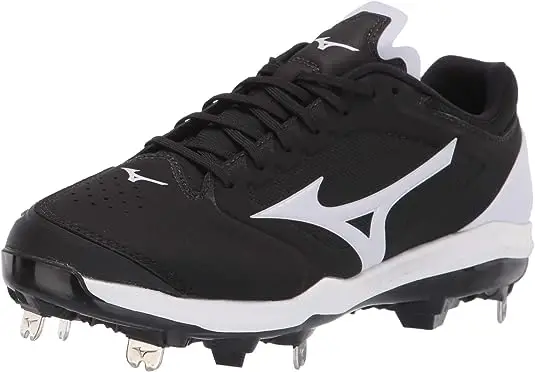 Pros: 
Protective toe guard 
Great fit and feel 
Heel-to-toe cushioning 
Gives great support
Cons:
Not a lot of trial and testing 
New Balance Fuse V3 Metal Pitch Softball Shoe
Okay just right out the bat! These cleats are literally so stunning to look at like they have everything that you'd ask for in a pair of cleats from the clean and finished look. To the sturdy and sporty look all at the same time. The cleats are made of 100% synthetic material so it gives a much more durable factor, this also allows for the cleats to be used for a longer time, thus giving you the upper hand in terms of longevity as well. They have metal spikes on the outsole, that gives you so much better traction when performing on the diamond. Like honestly, they are literally quite amazing in order to improve your performance each time. They also have a fine mold to increase the upper structure which gives you so much comfort and support when playing. So the new balance cleats are just the right choice for you. 
Pros: 
Lightweight cushioning provided by the insole 
Lace closure for a snug fit 
Increased stabilization 
Great traction 
Cons: 
Durability may be compromised 
Mizuno 9-Spike Swift 7 Softball Shoe
We have another Mizuno on the list and rightfully so. Mizuno has always been that type of brand that doesn't hesitate one bit to give you the type of quality you require in a shoe or even just in general any type of sporting equipment. They have amazing quality and even a good name in the sports industry as well. When it comes to their cleats in this case. 
The name as it suggests has 9 spikes at the back of the outsole now these are all strategically placed so that you can get increased traction and great stability on the field. Oh! Not to forget that the Mizuno has its engineered technology known as the Mizuno wave that really helps in terms of movement, which gives you so much more control when you throw or shit those pitches. Pretty awesome if you ask me. With these cleats on you are gonna be the best pitcher out there on the track in no time!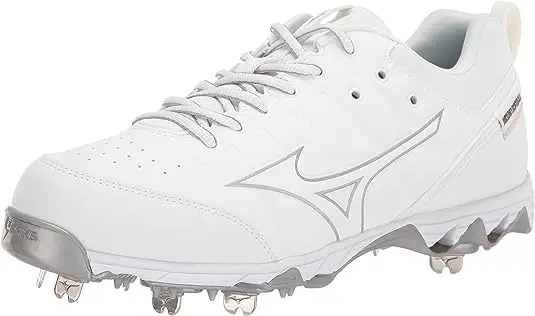 Pros: 
Superior fit and comfort 
Stability 
Support 
Comfort 
Cons: 
Not a lot of trial and testing 
Under Armour Glyde Rm Softball Shoe
On our list, we next have the famous under armour and of course, we'd have them on here. I mean under armour in all its glory has continuously shined down on its fans about how great of a sports brand it can be. Giving you so much more freedom and everything else to work with, kind of gives you a sense of personalization when having a pair of under armour products. The cleats just like a lot of great cleats suggested here have everything you need as a pitcher. 
You have molded cleats that give you an increased amount of traction on the field while still maintaining your mobility and flexibility each time you throw a pitch to the batter. They have an ortholite sock liner that gives you that maintains compression so what that does is it gives an ultimate level of comfort as well as so much more breathing room each time you play. The charged cushioning midsole really gives you the ability to throw charged shots and gives you some sort of shock which increases your speed tremendously.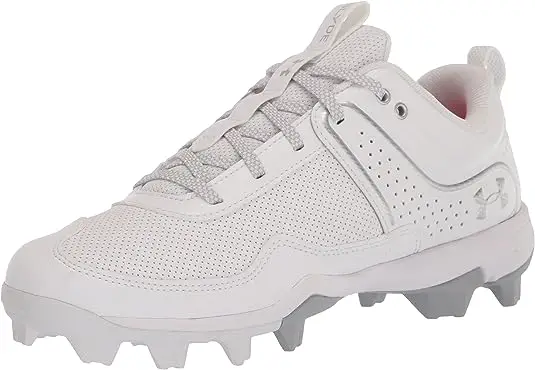 Pros: 
Rubber molded cleats suitable for any type of field 
TPU cap for durability 
Breathable mesh 
Long-lasting comfort 
Cons: 
Adidas Purehustle 2 Md Softball Shoe
Well last on the list is the Adidas Purehustle 2 Md Softball cleats. They are another great pair of cleats for pitchers. They will help you make an improvement in your pitching skills incredibly. These softball pitching cleats are designed specifically to meet the need of fastpitch softball players, they have the perfect fit and the perfect style that is best suited for them. Giving them so much more personality and a much more finesse look to it. 
They are made of a 100% textile synthetic so it's super sturdy in terms of the fit and everything. It has a rubber sole that is perfect giving you enough traction and support on the field each time you set foot on the diamond. They have a lacing system that will ensure you get a better and snugger fit, so you needn't have to worry about adjusting your laces each time you play. They have a synthetic upper that gives them lightweight characteristics and mesh tongues that add the breathability factor. They have molded rubber cleats for that increased grip. 
Pros: 
Breathability 
Comfort 
Support 
Great traction 
Cons: 
Durability might be compromised 
Conclusion
So well there you have it some of the best cleats meant for softball pitching. In all honesty, these cleats are worth each of your dimes. Some of them have incredible features that will help you improve your pitching skills incredibly without giving you any headache of things such as your comfort or support. These cleats provide everything that you need on the field especially. So, I would without a doubt tell you to invest in these because they will really give the best of the best performance each time you play on the diamond.