Confused about what type of socks to buy yourself, what's the best option, and will it make any difference?
Well here's the answer to all your questions, right here, in this article!
I'll get right to it! 
Best Softball Socks in 2023
TCK Softball Socks
The TCK Softball Socks have been used for a very long time, by many athletes and are the most trusted brand in delivering you the best performance on the field. This fits just below the knee and is perfect in terms of comfort wise for most players. The sock is designed to have many different colors and styles so you can choose what's best suited for you. 
The TCK softball helps you to elevate yout game to the next level. The best part about these socks is that it has the moisture-wicking properties that are needed for those long rigorous hours on the field. Moreover, they have a breathable fabric to keep you super comfortable. Ashamed of having smelly feet when changing? Well, no worries because they are made of advanced wool which helps to control the odor, thus making you super comfortable and you don't face any awkward situations.
Pros: 
Come in various styles 
The support is given to the foot when playing games 
Available in different sizes 
Moisture wicking property
Cons: 
CHAMPRO Multi-Sport Athletic Socks
The CHAMPRO Multi-Sport Athletic Socks are really great pair of socks for you to invest in. They come in different colors, and the color options that they have presented can always match your uniform style as well. They are made from 96% polyester, 3% rubber, and 1% spandex these all materials comprise to give yout the ultimate pair of socks for your rigorous playing style. Making these the best softball socks. 
They don't have any special care methods making them just easy for you to toss right into the washing machine without any care! These softball socks are ideal for any type of sport, so it is pretty versatile in that case. They have an over-the-calf cut that covers the lower portion of your leg just like most socks do. Not to mention they do have a compression fit of around 78% so that kind of minimizes your risk of cramping up or even reduces your chances of getting injured.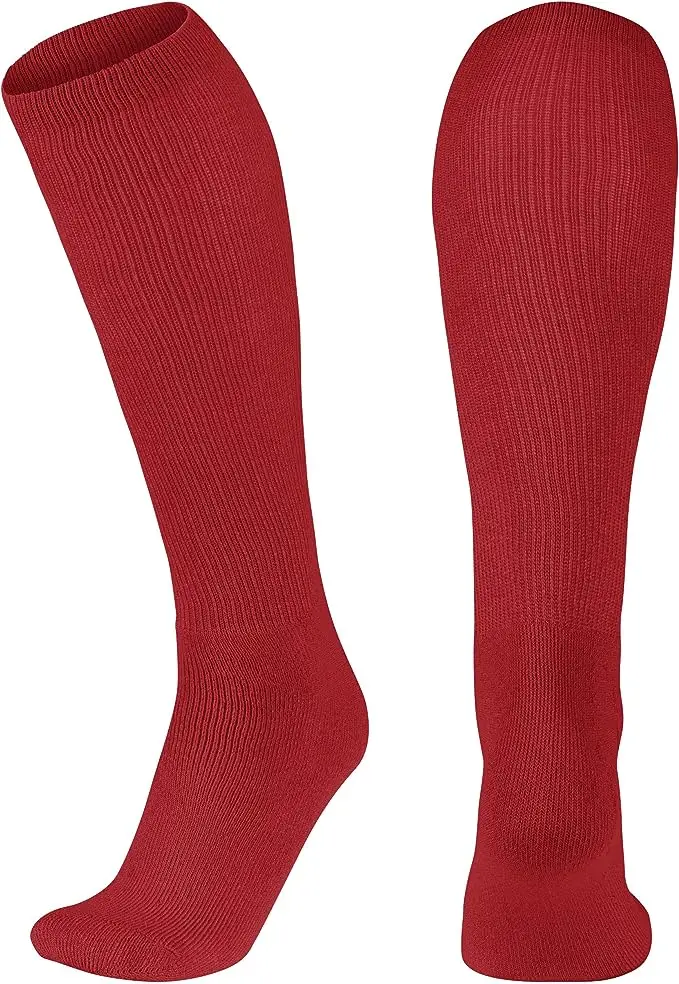 Pros: 
96% polyester 
Over the calf cut 
78% compression fit 
Different styles and colors 
Cons: 
The sizing is not too perfect 
MadSportsStuffs Softball Socks
The MadSportsStuff Softball socks are the perfect socks for softball players. They come in fun designs and colors making it easy for you to choose what you best like. They are made from polypropylene, nylon, elastic, and lycra spandex. So these are really the best socks for softball. Everything about these socks is just amazing, they don't have any special treatment to be done. So all you can do is chuck them right into the washing machine and they are good to go. 
They have performance features like their moisture-wicking property which is great for those long days on the field, where you sweat on a rampant but don't feel a bit uncomfortable. They have an arch and ankle compression to reduce injury and fatigue. They are super lightweight and also control blisters. So overall they really are a great pair of socks.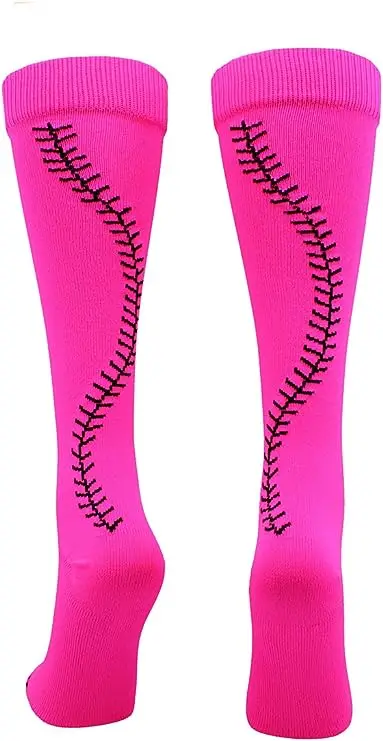 Pros: 
Compression socks 
Control blisters 
Lightweight 
Fun colors 
Cons: 
Sizing won't be so accurate 
Rawlings Fastpitch Softball Socks
Rawlings is generally known for its incredible sporting good and its dedication to serving the best in the game at all times. Rawlings Fastpitch Softball socks are just perfect and help you perform the best on the field without any doubt. The socks keep you comfortable at all times not hindering your performance in the least. 
The socks are made from mainly acrylic, nylon, polyester, and spaned. So they really are the best softball socks, in terms of quality. They keep delivering and giving the best for their customers. They have mesh venting which allows for breathability and doesn't keep you suffocated even when you play for long hours. They have a cushioned foot and ankle for any type of severe impact. So you should definitely consider getting these socks on your next purchase.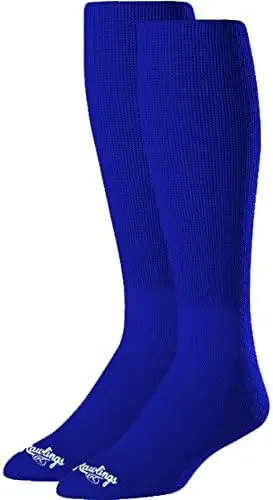 Pros: 
Deep heel cup 
Breathability 
Different styles 
Cushioned ankle and foot for protection
Cons: 
Evoshield Game Socks
The Evoshield game socks are made from nylon, spandex, and even polyester so they really a great pair of socks to invest in. They have the qualities that most socks should have when considering buying one as a softball player. They have an extended Achilles cushioning, which technically means extra heel cushioning for any impact protection. 
Thye is almost over the calf length, so again really a great pair of socks in terms of lengthwise as well. They have variegated leg ribs which give more support and added comfort when playing the game. They also have the moisture-wicking property so you can be sure to play for long hours and they won't cause you any discomfort when playing the game. So, another great sock for softball and you should consider buying them.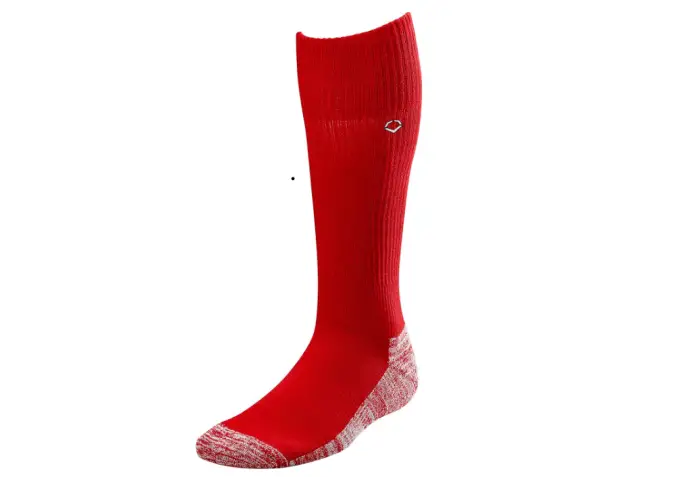 Pros: 
Over the calf length 
Moisture wicking property 
Added support and comfort 
Comes in different styles 
Cons: 
Quality might deteriorate after one wash
How to Choose Softball Socks 
Material 
When choosing the type of socks that you'd like look for something that has a blend of nylon and polyester. Along with that look for something that has breathable and durable fabric, along with moisture-wicking properties. Consider the climate you are playing and buy it according to that. 
Length
Socks come in different types of lengths ranging from crew length, ankle length, over the calf length, and even knee-high length. You should consider buying these according to your style, team preference, or just your choice if you may. Longer socks provide comfort and protection from when you slide too much on the field. 
Cushioning and Support 
Pretty obvious that you have to consider a choice like this. Because when on the field anything may happen, sprains, or anything else. The socks should provide enough cushioning and support that you can go through the game flawlessly without any issues whatsoever. 
Fit 
Check for something that won't hinder your blood circulation or something that will just keep rolling down each time you do even the slightest movement. The socks should be of the perfect size catered for you and should give you a snug fit. The socks shouldn't give you any unwanted blisters or foot injury and should ensure enough comfort to the person. 
Compression Fit 
An extra factor you can always consider, but something definitely not to overlook. Compression-fit socks are absolutely perfect because they often avoid injury and avoid cramping, so they are really a great factor to consider when getting yourself your next softball socks. 
Conclusion 
In the end, this is all your personal preference and all your choice of what's best suited for you. Moreover, get something that your team prefers or that the requirements of the team are met when getting your baseball socks.