"What's so great about the Heart of the Hide Gloves?", "Is it worth all the hype it gets?"
The Rawling HOH has gained increasing popularity, since the time it was created. It's one of Rawlings' most popular types of gloves. 
Now, why is it famous exactly, that is what we're gonna find out. I've reviewed these gloves and their features. 
And with this review you too will understand, what characteristics make the Heart of the Hide a well-known and preferred glove amongst many. 
Rawlings Heart of the Hide Glove Series
The first thing to put out there is the Heart of the Hide gloves come in many different attractive color options to choose from. These go back to the 1950s, Rawlings made these to come up with the baseball glove demands and also make technological advances in their design, thus creating the Heart of the Hide. 
The HOH Glove is the preferred glove because of the material with which it is made. The Heart of the Hide gloves is made from top-grade steer hide leather, which factors into the durability and strength of the glove. Therefore, making them persist in the long rigors of the game.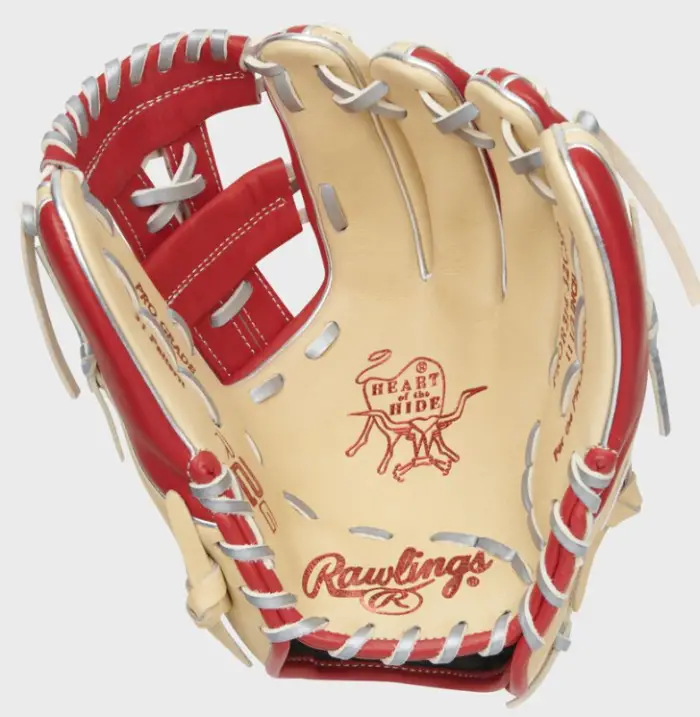 There is also reinforced stitching to give it extra durability and integrity throughout different seasons of the game that you play. These stitchings are done in critical places, which may cause wear and tear in normal gloves, but because these are well reinforced they will last you for quite some time. 
These come in different patterns colors and sizes all catering to your needs and the positions you play in. They come in different webbing styles too, based on whether you are a pitcher, catcher, outfielder, or infielder. These are also available in both hand orientations. 
To give you maybe a clearer standpoint, the Rawlings HOH series is cheaper compared to the Pro Preferred series and many still prefer the Heart of the Hide over the Pro Preferred series, because of its price range and how comfortable a player gets with its material once they've purchased it. You might wonder what's great? Well, the rivalry of Rawling HOH and Pro Preferred has always been on going, for several reasons, but that doesn't give you a reason not to check out what suits you best.
My Review Of Rawlings's Heart of the Hide
These gloves, in my opinion, are undoubtedly one of the best in the game. Because of their longstanding use and fame, they've gotten along with it. 
These gloves are designed for high school players to the pros, so if you're looking for the perfect glove this is your choice. These gloves are also trusted by many MLB players giving you the feel of a Pro when you play on the field. 
The Heart of the Hide gloves also has finger-back paddings and lining that comes from the hide, which provides you comfort and durability when you play. The gloves also have impact protection that comes from the deer-tanned cowhide lining, which gives added support and comfort to the palm lining as well.  These gloves are a perfect long time investment in your baseball career.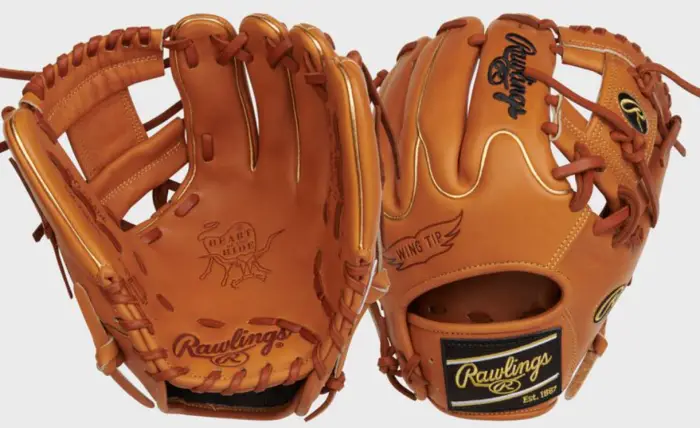 Although, there is one small thing to note. Most of Rawlings's gloves come with almost 80% break-in from the factory itself. But that's not the same case for the Heart of the Hide gloves they come in with a 60% break-in from the factory and 40% percent of the break-in will be done by you. So this is some sort of blessing in disguise, this may not come as soft as most gloves, but that is why these are durable and their integrity is much more than that of other gloves. 
These also have different types of web designs for different positions like most gloves, if you're playing pitcher then these have a solid web, or if you're playing maybe as first base then they have the Pro H web. 
These come also in a wide range of sizes making you comfortable with whatever option you'd like to wear.
Want to See the Current Price?
Now if you still want Rawlings but you wanna consider some other really great options, then well Rawlings Sandlot and Player Preferred are two series that are just impeccable.
Final Thoughts
These gloves work like an absolute gem, giving you impact protection and even the top-grade U.S. materials with which it is made. And you might think aren't the Pro-Preferred Series better, they are better giving you the ability to even customize them. 
But these come with a very hefty price point and are designed to factor Pro based playing styles. Other gloves that do cater just like the Heart of the Hide, are the Rawlings R9 and GG Elite series. Between these two, a debate of Rawlings R9 Vs. GG Elite keeps going on, but it doesn't hurt to check what is made specifically for your style.
So if you're looking for something that will match your current style of playing, but also lasts you for a long period of time then the Heart of the Hide is your best go-to option.