Most of you are wondering what's the best Fastpitch Softball glove that will suit you and your play style. 
Well, here I have compiled all the best gloves for fastpitch softball, each of them is best under the specific position. 
Let's get into it! 
Our Top Picks:
Best Youth Fastpitch Glove: Rawlings Sure Catch Softball Glove
Best for First Base: Rawlings Heart of the Hide
Best Infield Softball Glove: Nokona Softball Glove
Best for Third Base: Mizuno Prime Elite Fastpitch Glove
Best for Pitchers: Rawlings R9 Fastpitch Glove
Best Outfield Glove: Wilson A2000 Softball Glove
Best for Catchers: Rawlings Liberty Catcher's Mitt
Best Youth Fastpitch Glove 
Rawlings Sure Catch Softball Glove
Well, it's pretty obvious at this point, sure catch series of Rawlings is one of the best for youth players. They make sure to capture the necessary aspects of how youth players play on the field and try to put those elements into their gloves. 
Therefore these gloves are widely acceptable by most youth players. Starting with gloves is a really great choice since they can try and get the hang of these gloves easily and focus on how to get their skills right. The gloves are solely designed to incorporate features so that youth players can easily grab these and work on the field. The gloves are made durable and lightweight so their focus is not hindered in any way or form. They are utility gloves so that makes them suitable for easily working with these. 
Pros:  
Made for the youth 
Durable and lightweight 
Affordable 
Utility gloves 
Cons: 
Longevity may be compromised 
Best For First Base 
Rawlings Heart of The Hide 
Heart of the Hide has been a classic option for many out there. A lot of people opt for it mainly because of how it is and how it looks. Other than giving excellent performances, Rawlings Heart of the Hide is known for its premium quality and superior texture and feel. 
The reason why these gloves are loved the most is that even if you are a pro or even if you are just an amateur player, these gloves won't hinder your performance, but instead, just improve it further and give you the best performance on the field. The gloves are cut from top steer hide leather making them extremely durable and last for seasons to come. Along with being durable, these gloves are also strong and comfortable, this is because they have the added feature of pro-graded laces and a padded thumb sleeve. 
Pros: 
Durable 
Strong and comfortable 
Made for everyone 
Premium quality leather 
Cons: 
Best Infield Softball Glove (2B and SS)
Nokona Softball Glove 
Nokona is highly approved of as much as other baseball gloves out there. They come in the perfect size specification needed for playing as a shortstop or second base. The gloves are handcrafted in the USA, and they are handcrafted by skilled American skilled persons who have known the crafting trade for quite some time, thus leading to perfectionism and quality in their products. 
The glove sizing is made specific to infielder positions, they come in 11.5 inches which is perfect for adult players. They come in both hand orientations, which is great because this gives you the freedom to choose what's best for you. Moreover, the gloves come in game ready, they have great stability, durability, and a game ready feel from their iconic walnut crunch leather. 
Pros: 
Game ready feel 
Durability 
Stability 
Good quality 
Cons: 
Best For Third Base 
Mizuno Prime Elite Fastpitch Softball Glove 
Mizuno has always been and will be a fan favorite. The gloves are designed to give you the utmost comfort and take every precision and detail into consideration when making the best gloves for you. The gloves come in the perfect shape and size catering to your design style and preference. 
The gloves come in 12.5 inches specification which is perfect for third base. The gloves are made by professional craftsmen and have smooth leather that has the perfect balance of oil and softness for the exceptional feel and firm control that serious players demand. The gloves are made from professional leather and patterns which are incorporated to give you the best performance and play on the field like a pro. So the Mizuno gloves are really great pair of investments you should consider. 
Pros: 
Roll welting 
Finger stall to improve flexibility
Premium quality 
Oil soft plus leather
Cons: 
Best For Pitchers 
Rawlings R9 Fastpitch Softball Glove
Rawling R9 is a really great option to choose as a pitcher the gloves come in a very perfect shape and size. The gloves come in the size specification of 12.5 inches. They come in both hand orientations, which are perfect giving you the ability to choose what's best for you. 
The gloves are approved by fastpitch players, the patterns are approved by pro players so this allows you to feel like a pro when playing on the field. They have a double-laced basket web. These are perfect for hiding your pitches from the batter's eye. They have a padded thumb loop, reinforced palm pad, and finger back linings all this will give you that extra protection from all the hard impact balls being thrown toward you. So Rawlings R9 is really a one-of-a-kind glove that you must definitely invest in. 
Pros: 
Game ready 
Soft durable 
Comfortable 
Protection provided 
Cons: 
Best Outfield Softball Glove 
Wilson A2000 Softball Glove 
Wilson is always a great option to choose from, if you are looking for other brands, then you should definitely consider these gloves. Wilson always has been on top of their game in creating the best gloves out of premium quality. Their Wilson A2000 softball glove is always a perfect choice to go for. 
The Wilson A200o gloves are great as outfielder gloves, cause they come in the perfect size to be able to capture and secure the ball from farther distance. The gloves come with two different technology which is perfect for outfielders. SuperSkin is a technology that helps to keep the glove from getting any moisture, therefore making them moisture resistant. Spin technology is another technology, that reduces the amount of spin on the ball thus making them perfect for capturing and securing them. 
Pros: 
Comfort pro fit 
SuperSkin Technology 
Rolled dual welting 
Richer and softer feel. 
Cons: 
Best For Catchers 
Rawlings Liberty Catcher's Mitt 
The Rawlings Liberty catcher's mitt is perfectly designed to incorporate the best of the best elements in the mitt, to give the best performance on the field. 
The gloves come in 33 inches which is big enough for pitchers to target. They are designed for both high school and pro players making them absolutely perfect in all ways possible. They have full-grain quality leather which adds the comfort and durability factor. They have a pull strap closure method which is perfect for players to use according to the needs of how they want to wear them. They come in with a 70% break-in from the factory and 30% will be done by you so the break-in period is super flexible to work with, making these gloves game ready as soon as it is out of the box. 
Pros: 
Designed for catchers
Have a flexible break-in 
Super flexible 
Comfortable 
Cons: 
How To Choose Fastpitch Gloves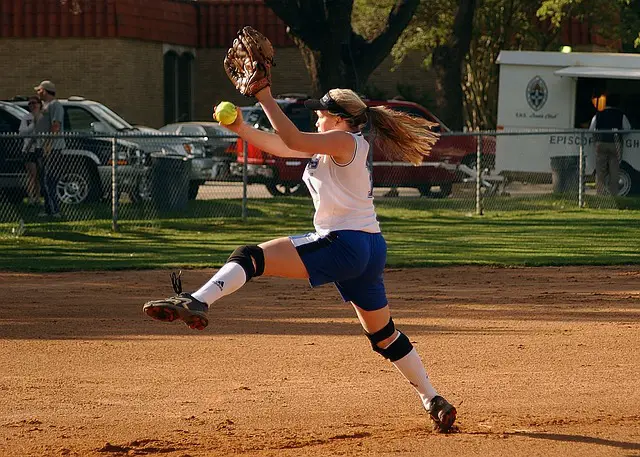 So here are some of the most important factors that you must consider when buying the best women's softball glove. 
Gloves Should Be Position Specific 
So it is no big-brainer at this point you have to try and choose something which is position specific. Each glove has specialized features that are catered to the individual position therefore it's a must to consider when selecting the best glove out there. Carefully, consider the glove by seeing what position you play.
Size 
Glove sizes are the next most important thing to consider. When measuring a glove size one must consider their hand size as well. The size of a glove is measured from the index finger to the heel of the glove. Adult gloves generally come in the range of 11 to 2 inches. While younger players might require gloves that are smaller in comparison. See what glove best fits your hand size. 
Material 
It's pretty obvious if you have a low-quality material the gloves aren't gonna last you for a long time and you are gonna be stuck with some rugged old gloves. Choose something made with steer hide or full-grain leather material these are considered the best in the glove market. They will give you a good feel to work with as well as they will last you for a good couple of seasons. Longevity is a must to consider as if you are a serious player, buying something which will last you for one game will be hassling as you'd have to keep buying them continuously.  
Webbing 
The type of position you play matters the most but along with that you have to try and consider the webbing style, you cannot take an H web as a pitcher or closed web as an infielder. So considering the best webbing options are a must and definitely something you should keep in mind when looking for the right glove. 
Quality and Brand 
Now maybe some of you might not find it important. But there's a reason I included this heading. It's because brands with a longstanding name, or the one popular with major league players should be taken into consideration. Because these brands tend to focus on the elements of making the best gloves thus giving you the best performance on the field. Therefore it is of utmost importance to consider the right gloves for you. 
Budget 
Yes, budget, is of equal importance when buying the best brand for yourself don't look for anything extremely cheap or anything extremely expensive either. Look for something in between and you can work with that for a good couple of seasons. But if you are looking to experiment then go for cheap and if it's a long time investment then by all means choose something expensive. 
Frequently Asked Questions 
What is the best girls' softball glove?
Well from the list given above, I feel the best women's softball gloves come from Rawlings. Rawlings has always committed to giving gloves that are well within your budget while providing the best performance and quality on the field. So they're honestly your best shot out there. But this is all to your personal preference. 
What size softball glove should a 12-year-old use?
Well since 12-year-old kids don't have a specific position on the softball field yet. Look for something within the range of 11 to 12.5 inches. These will work like a charm and train your kid to get enough control on the field while improving their skills of flexibility and mobility.
How do you pick a softball glove for a girl?
When selecting a softball glove for a girl consider what position she is playing such as infielder, outfielder, catcher, or pitcher. Once you have got that down consider her size something within the range of 11 – 12.5 inches would be perfect. Then consider factors such as durability and comfort in the glove to ensure that she has the best experience on the softball field.
Is there a difference between fastpitch and slowpitch gloves?
Yes, there's a difference, fastpitch gloves are technically smaller than slowpitch gloves. Fastpitch gloves have shallower pockets and tighter finger stalls for quicker transfer while slowpitch gloves have deeper pockets for catching slower-moving balls. That's just the basic difference between them. 
How do I know if my softball glove is too big?
If you struggle to close the glove fully or you cannot secure the ball easily then that's your first sign. If there is a lot of space between your palm and the glove and that's hindering your mobility on the field then that's another sign. And if your glove keeps sliding off your hand when you playing on the field then the glove is likely too big for your hand.
What is the average glove size for a woman?
Somewhere between 11.5 to 12 inches are the ideal glove size for women. And most players use this size specification to get gloves around this range. Plus this range doesn't seem to hinder the performance of the player one bit. 
Conclusion 
In the end, this all depends on your personal preference and the way you'd like to play the game. But the factors mentioned above are of utmost importance to consider when buying a glove and you should be on the lookout for it since these are important for serious players. I'm guessing you loved this article already, wondering if we have any recommendations for slow pitch players? Well yes, we do! Here are some of the best slow pitch softball gloves.