Has Google done you an injustice, you tried search finding so much, and yet you didn't find anything on how to shrink your baseball jersey. 
Well not to worry, I have just the different types of methods on how to shrink your baseball jersey perfectly. 
So without further ado, please keep reading! 
Why Would You Want To Shrink Your Jersey? 
There are several reasons why one would want to shrink their jersey. And if one of them is your reason stated below then well it's high time for you to get your jersey shrunk! 
Incorrect Sizing: 
Alas! You did a horrible mistake and you got the wrong size for your baseball jersey, something that doesn't fit your figure at all and is extremely loose on all sides. Unfortunately, the store you brought from doesn't even do any exchanges so you are stuck with this. Well, then shrinking your jersey is just the right option for you. 
Vintage Or Used Jerseys: 
So you were lucky enough to have got your jersey from the thrift store across your house. It is the exact same color, it's everything that you need. Or perhaps your older friend played in the same team and they lent their jersey to you. But it's big, oof! Yea, you might wanna consider shrinking it then. 
Personal Comfort: 
Now some might even adjust to a big jersey, but honestly, it just feels a bit too uncomfortable for you. I mean it doesn't flatter your figure and the body frame doesn't seem to right to it as well and it feels too boxy when you wear it. Well then shrinking again is the answer to all of your problems because it will do the trick in no time. 
Methods To Shrink Your Baseball Jersey
I know, jersey materials are made in such a way that makes it seem that it is super difficult to be shrunk. I mean the material is made in such a way to try and resist the shrinking pattern altogether. But well not to worry, you can try these methods or use them in combination and try and see if they shrink to your desired length. 
So well here are a few methods you can try out: 
Wash In Hot Water: 
Yes, when we recommend you to wash your clothes in cold water it's majority the reason for it not to shrink and lose its quality, that's of course for all of your good clothes. But if you are looking to shrink you clothes then wash in it in hot water is highly recommended. The hot water will sort of mold the fabric to try and shrink in size more. Thus you attain a Jersey that will be perfect your size. 
Iron it with Steam:
Once again! There you have it, another perfect way to work your way through to make your Jersey perfect fitted for you. Steam is another hot component and using it, may very well try and shrink the fabric as well. Steam instead is comparatively hotter unlike hot water. It because there's pressure the pressure factor as well which makes it more and more hotter, this shrinking your fabric will be a piece of cake and you'll have something once again that's fitted to your liking. 
But do be sure when you iron that you don't use higher temperatures otherwise it might damage the fabric and cause it to melt, which might cause problem to your Jersey and iron as well.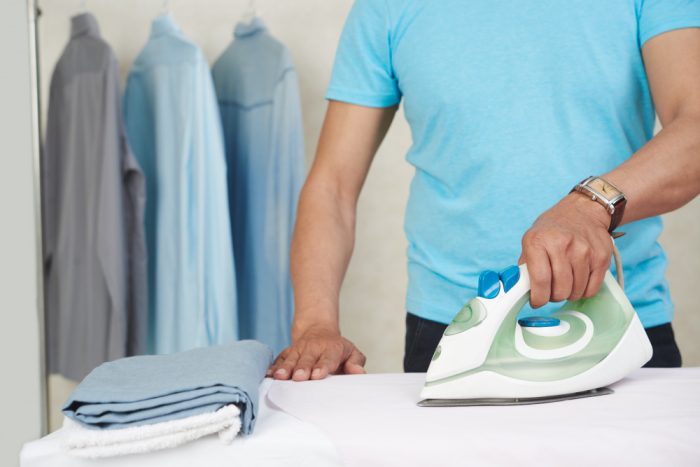 Dry it in Hot air:
Drying your clothes with hot air or when it is hot outside, will also allow your fabric to melt completely or mold to your liking,the grow making it shrink in size perfectly. Do be careful though to make sure it doesn't dry out for excess time. That might lead to the fabric loosing its texture and thus its quality as well. 
When following these methods use it in either combination or however you like and deem fit. Using it in combination may allow for faster results thus giving you the ability to achiever a much more fitted and better look for your Jersey. Do make sure that when using this, that the Jersey doesn't loose its flow texture and oversized quality it should be able to retain those properties. Flows and oversized Jerseys are the one that will give you the breathability and airy factor when playing on the field. 
Conclusion
So well there you have it the most simplest ways to shrink your jersey to the desire length and size. These method are absolutely perfect and will do the trick in no time. Do keep in mind that shrinking is the last option and resort when you don't have anything else that may come to mind. Until next time folks!