So you're a newbie to softball and you don't know how to wear a softball pant, you don't know what exactly is the procedure and you're probably a bit shy to ask anyone else.  
Well, don't you worry I got your back, girls! I'll tell you how to go about it and how easy it is. 
Let's get into it! 
How To Wear Softball Pants 
It is pretty obvious when finding the right softball pants, you must ensure that you get the right size, one that will fit you perfectly without either being too tight or too loose. When wearing the pant you should be mindful enough to have gathered all your equipment, including your softball gear ready, including your cleats, socks, and belt. So girls be sure to keep that in mind!
Girls make sure to start by first putting on your socks since these are knee-length, so put these on first. Then after that put your softball pants on, one leg at a time. If your pant has belt hooks then you can always try and put on the belt and secure it. It is of utmost importance to find something with belt hooks, since it'll be very easy to try and adjust your waist tightness, according to how you like. Make sure that the length of the plant is right above your shoes or cleats. It is most important to consider the factor, don't look for something way too long or extremely short as well. This will cause hindrance to your movement completely. Even if it's long enough, you can always fold them a little up and make them short, but buying something short would be a bit too risky. 
Smooth out the wrinkles, you don't only wanna just wear these pants you wanna look game ready and ready to conquer the field with your performance. After all, the way you're dressed will describe how you are! Be sure to check your mobility, if no restriction's coming from the pants itself and you are free to move and you can easily move without the pant causing you any unwanted hindrance. Girls make sure that you have enough breathing space right around your thigh area. The last and final step is to complete your outfit by gathering the final pieces, and putting on your jersey, hat, and any other softball-required equipment. 
How Softball Pants Supposed to Fit?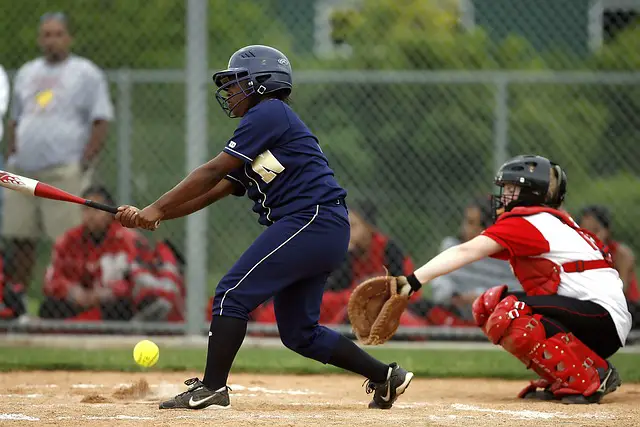 Look for something that will fit on your waist perfectly, that's typically where your belly button is, Don't get anything tight fitting. It should fit snugly without any hindrance to your movement and shouldn't be too tight either. The length should be enough to cover your knees, and the hem should just the above your shoes. You should have a perfect fit, it shouldn't hinder your movement in the least. It should not be overly tight or unnecessarily baggy. Make sure that the pant can be compatible with being stretched and you can run or jump in these without any restriction. If you hav belt loops on your pant, make sure to wear one so that it can fit snugly on the waist.
Do you wear sliding shorts under softball pants?
Yes, it is quite common for a lot of softball players to wear sliding shorts inside their softball pants. Mostly because it gives that extra padding and protection. Why do you make ask? Well, it's technically because whenever you make those diving catches or your just sliding to your base, you want some extra protection, so that you won't get any extra injury or bruises while doing so. So, girls who wanna take extra care when playing, this method is meant for you. 
Do you wear socks over softball pants?
No, you can't wear it over the softball pants. It's because the socks are knee length high and can't be worn over the pants, it might cause discomfort as well as they won't look really appealing to the eye or there won't be any sense of uniformity. 
How can I make my softball pants fit better? 
If the pants are too long, you can have them hemmed to your desired length. Similarly, if the waist is too loose, you should consider trying to take it to get it tailored by a professional tailor, to get it much better fitted. You could also try and wear compression shorts or leggings underneath your softball pants, this provides a much more comfortable and snug fit. Other than that you should try and consider looking for the sizing chart for getting the right fit of softball pants.