Yeah, I know a lot of people are thinking about it. Is it really worth it? Are they really an interesting brand out there? 
Well, hey! You're looking for reviews of how the brand is and I'm here to deliver your wishes. I have a detailed review of Plate Crate and how it is and whether is it worth getting a subscription from them. 
Let's get into it!
Story Of Plate Crate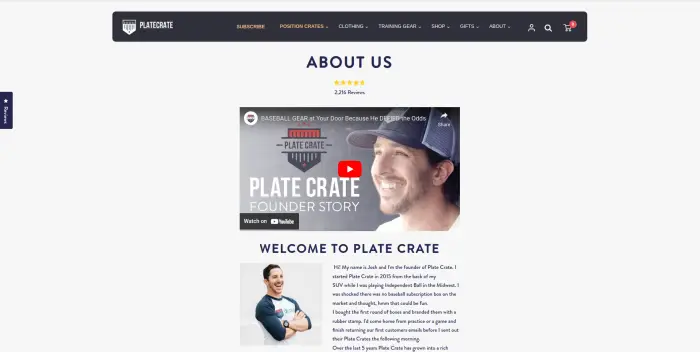 Well, it started all from the back of an SUV, the founder of plate crate Josh, started plate crate all the way back in 2015. The idea started as a fun initiative since Josh played the independent ball back in the Midwest and found that there weren't any of those monthly subscription boxes. 
The boxes were first started on a small scale, the boxes were sent and branded with just rubber stamps. Josh used to play in the morning return home, by afternoon reply to the mail, and send the boxes out. Their aim is to connect players and families to the game they love through plate crate and they are doing that. 
My Review Of Plate Crate 
So well I did it, the influence of people got to me and I subscribed to plate crate for my son and wanted to see what's all the hype about. Well, guess what? These are really fun and super creative. If you think about it you subscribed to this and then you can't wait for the next, its sort of gives you that suspense, that waiting to see what's in store next. 
Honestly, they had great options and items that came in their monthly boxes. So the first time we go it, we got this apparel with custom writing on them and then baseball socks, some delicious snacks, and these hollow balls. Like honestly these were super fun for kids, who want something new and innovative to play with and wanna explore more about the baseball field but keep the spark alive as well. 
The plate crate baseball subscription box comes with like super interesting items, they are super fun and they are super amazing as well. Like honestly after we got the first subscription box we couldn't wait for the next! Like honestly these got me way more excited than my son. It's sort of like the perfect gift and like a sort of fun way to keep the spirit of baseball going. 
On our next subscription box, we got this shirt and sleeves, and a jump rope, which my son was obsessed with. A ball that was designed to give you the perfect curve balls every time, that's something that I was obsessed with, they also came with this honey mustard pretzel snack, honestly a great snack and they came with other items that me and my son were gawking at.  
So honestly subscribing to the plate crate was one of the best decisions that I've made cause they just give the most exciting and fun things.  
Plate Crate is Much More Than Subscription Box
So shockingly, when I visited the plate crate website. They had a ton of options to choose from. They have an accessible, stylish, and fun range of shirts to choose from. These shirts have funky and cool wording that will just inspire you to love the baseball game even more. 
The website comes offering other types of things like baseball gear that will help you cater to your training and give you the best performance. Pretty awesome isn't it? So yea, you should try and consider buying from here, because of their awesome products and the love they share for baseball through their products. 
How to Subscribe from Plate Crate
When you first come to the website, you'll come across a get started option click on that and that will lead you to a page. 
You will then come across a page that will ask you, the size of the t-shirt that you'd like, your age, and the position you play. Well, I selected a youth medium for my t-shirt option. This will then lead you to the next page. 
You come across another page, where they'll ask you when you would like your shipping frequency, you are presented with three options. I went with the monthly option.  
They will lead you to the next option that will help you to pay for the first three months that you will receive the box and of course, I chose this option. But you do have other options for different price options so you can choose what's best for you. 
The next page lead me to choose what type of crate, I would like, I went for the Pennant option. 
And there you go the subscription process is fairly easy. 
Plate Crate vs Baseball Box
Plate crate offers a wide variety of aids, and gears that will help you to get the best out of your baseball training. They have accessories and other baseball-related items. These items tend to help baseball players who are trying to hone their skills in the field of baseball. Plate Crate also offers batting gloves, training balls, apparel, accessories, snack, and other exclusive training drills. 
Baseball Box on the other hand has much a more border range of products to offer. They range from training aids and gear, they also have collectibles memorabilia, apparel, and other baseball-related merchandise. 
Frequently Asked Questions
Who owns the plate crate?
Plate Crate is owned by the founder of the company Josh. who came up with the idea of starting a monthly subscription box, which was meant specifically for baseball lovers. 
What do you get in a plate crate?
You get a lot of fun stuff, from training gear, to baseball-related stuff, apparel, balls, sleeves, socks all those fun stuff to give you that awesome feel of being connected with the game.
Is Plate Crate worth it? 
Honestly, for a company that started in 2015, these have exceeded my expectations and genuinely I think they are worth all the hype they are getting. 
My Final Thoughts
Well, it's pretty obvious what I think. I feel that the box is awesome. Just in terms of how they cater to and feed the taste buds of us avid baseball lovers. These are literally amazing and you should definitely get these either as a treat for yourself or maybe gift it to your kids every month to build their interest in the game.