Calling all baseball aficionados! Today, we embark on an exhilarating journey as we compare two powerhouses in the baseball bat realm: the DeMarini CF and The Goods.
Brace yourselves as we delve into the epic battle of DeMarini CF vs. The Goods and The Goods vs. CF, analyzing their unique attributes, performance capabilities, and determining which one reigns supreme on the diamond.
Summary
Howdy Mates!
Today, I want to share my personal experience with three incredible bats: the DeMarini Glitch, CF, and The Goods. As an avid player myself, I understand the impact a great bat can have on your performance.
Let me start with the DeMarini CF. I was blown away by its explosive power and perfect balance. When I swung it for the first time, I could feel the difference in my hits instantly. If you're looking for a bat that combines the latest technology with a lightweight feel, I highly recommend checking out the DeMarini CF. I bet you won't get disappointed.
Now, let's talk about The Goods. This beast of a bat is all about power and strength. When I unleashed a swing with The Goods, I could feel the sheer force behind my hits. It's perfect for players who want to dominate the game and leave their opponents in awe. If you're ready to take your game to the next level, what are you waiting for? The Goods is here for you.
Last but not least, I would like to introduce you to the DeMarini Glitch. This bat has been making waves with its unique blend of performance and style. My personal favorite thing about it is its sleek design and powerful hits, and once you check it out you can't disagree. The Glitch truly stands out on the field, and it's worth considering if you want to make a statement.
Comparison of The DeMarini Glitch vs. CF vs. The Goods
- Large sweet spot

- Minimal vibration

Performance-oriented players

- Paraflex Plus Composite

- Excellent pop and feel

- Balanced swing weight

Players seeking durability

- High power and performance

- Durable construction
DeMarini CF Glitch Review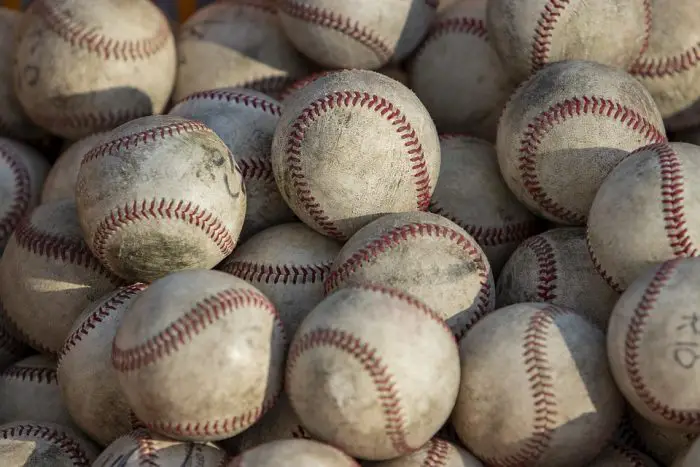 DeMarini is proud to present the CF Glitch USSSA Baseball bat, which continues its legacy as the most advanced and innovative line of bats on the market.
The CF Glitch bat offers the perfect blend of balance and weight distribution for baseball players of all levels.
Featuring a 2 Piece Composite Construction and a large barrel diameter, the CF Glitch is perfect for those who want to create maximum barrel whip for optimal distance and power.
The CF Glitch bat's construction provides an ideal weight distribution, along with great balance, bat speed, and barrel control in the hands of a strong hitter.
With a Paraflex Plus composite barrel, this bat gives you more consistent responsiveness and a bigger sweet spot than ever before, allowing you to make the most of each swing.
The barrel flexes upon impact to help create a whip and give the bat an even bigger sweet spot. Plus, with its big barrel, it's easier to hit line drives in the gaps.
The 3Fusion connection technology joins the barrel and handles to provide greater weight control and feel.
This technology combines to create a stronger, lighter, and more comfortable feel by being able to disperse vibration through a larger surface area.
It also delivers more energy to the barrel to put more distance on every swing perfect for power hitters looking for a bat to help them strike home runs innings after innings.
This streamlined design means a slightly lighter weight bat, but with a more solid feel on contact. It creates an improved connection point that feels natural in your hand while executing powerful shots.
The ReAction end cap uses a unique blend of stronger and lighter materials to create a solid cap that actually increases the overall barrel performance of the bat.
By using lighter materials in the end cap, the result is an increased swing speed, more pop, and easier swings for hitters without sacrificing barrel performance.
The balanced design also creates comfort at the plate by eliminating unwanted torque and increasing the swing control that contact hitters need.
To help all players of every level maximize their potential on the field, the DeMarini CF Glitch bat comes in three weight drop options: drop 5 (-5), drop 8 (-8), and drop 10 (-10).
The hard-hitting CF Glitch (-10) bat is built for elite travel ball players at the youngest levels of USSSA play.
The lighter weight -10 drop gives young hitters plenty of pop to crush the competition without being uncomfortably heavy while swinging.
The CF Glitch (-8) is the perfect choice for youth players ready to advance from (-10) sized bats.
This bat is great for players creating a quick swing, making contact, and generating bat speed to help youth players improve the feel of each swing allowing them to feel more comfortable in the outside part of their zone.
It is designed to provide the optimal barrel slope angle while improving the sweet spot to make strong contact easier.
The CF Glitch (-5) BBCOR bat from DeMarini is designed to help power hitters bring their biggest shots to the line.
The heavier weight is suitable for power hitters playing at high school or collegiate levels approaching higher BBCOR leagues.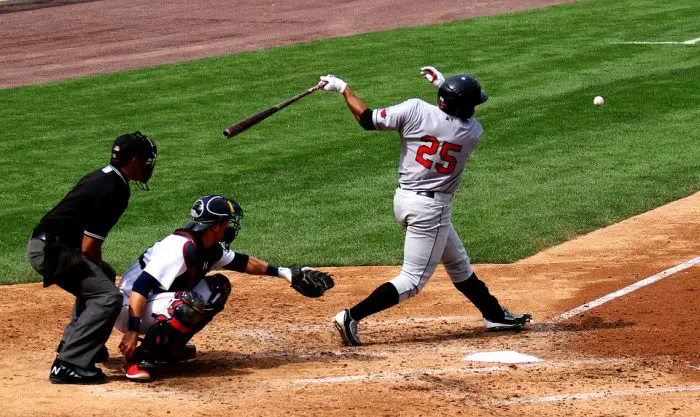 Whether you're a youth player just starting out or a pro looking for a USSSA bat that's reliable and durable, there is a DeMarini CF Glitch Bat that is right for you.
The DeMarini CF Glitch bat meets all of the USSSA standards for performance and certification, which allows you to take one onto the field for play.
Comparison of DeMarini Glitch with Other Bats
DeMarini CF Glitch vs. CF
The DeMarini CF Glitch and the CF are almost identical in their features and construction with a few differences.
When it comes to the bat's construction, both the DeMarini CF Glitch and the CF sport a two-piece composite construction.
The two-piece composite construction employed on DeMarini's CF Glitch and CF Series offers a lighter swing weight for improved bat speed and better barrel control at contact.
It provides the incredible balance and even weight distribution that the CF line is known for.
Both bats also utilize the same Paraflex Plus Composite Barrel that adjusts the ability to flex the barrel based on where and how hard you hit the ball.
The result is unprecedented consistency and a huge sweet spot for hitters of all levels.
The barrel and the handle use DeMarini's 3Fusion connection on both the CF Glitch and CF bats which provide better vibration dampening, more contact time, and a trampoline effect that amplifies exit velocity and a sweet spot that actually grows with the number of hits.
Another similarity is the use of the ReAction End Cap on both bats. These baseball bats come with a high-performance end cap that increases barrel performance without sacrificing swing speed.
Overall, both bats feel and perform almost identically to each other. One key difference that sets the CF Glitch and CF bats apart from each is their availability in USSSA, USA, and BBCOR bats as well as their weight drop options.
The DeMarini CF Glitch is a two-piece composite bat that comes in three drop weights, -5, -8, and -10 and is approved for USSSA leagues.
On the other hand, the DeMarini CF bats are also available in three weight drops, -5, -8, and -10, so there is an option for everyone.
However, the DeMarini CF Glitch is available in USSSA bats only.
Whereas, the CF bats come in USA, USSSA, and BBCOR versions. This means it can be used by players in high school baseball leagues, youth players who play in USSSA or USA play, or professional BBCOR leagues.
The CF Glitch and the CF baseball bats also vary in colorways so you can easily differentiate them even though they perform quite similarly.
DeMarini CF Glitch vs. The Goods
The DeMarini The Goods baseball bat is another masterpiece by DeMarini but is a lot different than the CF Glitch.
The DeMarini The Goods bat is one of the most powerful bats they've produced. The barrel is crafted with a lightweight and high-performance X14 Alloy Barrel in contrast to the CF Glitch's Paraflex Plus Composite Barrel.
This means The Goods bat provides the best pop offering maximum stiffness for increased bat speed and power. It also delivers tremendous durability through the hitting zone preventing dents when hitting hard-hit pitches.
The CF Glitch, on the other hand, focuses more on giving you great responsiveness due to the slight flex ability of the barrel resulting in more whip effect when generating power and speed.
The DeMarini The Goods bat also uses a Half + Half technology which features a composite handle and an alloy barrel.
This innovative design manages to reduce vibration and increase power and speed while maintaining the durability of the barrel.
The alloy barrel and thin handle allow for explosive bat speed through the zone, while providing excellent balance and control throughout your swing.
In comparison, both of these bats utilize DeMarini's Fusion connection technology to connect these composite bats.
This technology is a streamlined connection point between the handle and barrel, redirecting more energy back into the barrel for greater power with reduced hand sting and vibration creating a solid and comfortable feel upon ball contact.
It also improves the flow of energy from the handle to the barrel, resulting in a more efficient swing.
The ReAction End Cap on the CF Glitch bat is constructed with strong and light materials that are geared towards producing increased barrel performance and swing speed simultaneously.
However, DeMarini's The Goods is a bit different. This bat utilizes DeMarini's Seismic End Cap which is constructed with the stiffest materials in their lineup.
It puts the emphasis on creating explosive energy transfer and power on contact to drive the ball off the outfield fence.
The DeMarini The Goods baseball bat is available in a two-piece composite USSSA bat in -5 and -10 drop-weight options. They also come in one-piece USSSA bat in -8 and -10 drops.
In addition, you can also get them in both composite and one-piece -3 BBCOR bats.
Final Words
The DeMarini CF Glitch baseball bat is truly a game-changer just like the popular CF line. This bat has been designed to give any player who holds it an edge over their competition.
Whether it is used for extra bases or to hit home runs, its unique design makes it easy for both beginners and veterans to appreciate the quality and effort that went into its creation.
It's hard not to be impressed with the DeMarini CF Glitch. Although The CF Glitch shares a lot of similarities with the CF series, this bat is built to never disappoint when you're in the batter's box.
Not only is it made with one of the most durable composite materials, but its performance is also one of the best in its class. But, when it comes to BBCOR, my personal favorite is DeMarini's The Goods. You can also see the list of the best BBCOR bats of 2023.
This model is also available in different drop weight options, so if you're looking for youth to professional levels, this bat has it all.
I hope this article has helped you decide whether you should buy the DeMarini CF Glitch or not for this season.