When it comes to softball, every little element matters, from your abilities to your gear to your attire.
The not-so-right softball pants can ruin your experience. And you know, in a match you can't let these tiny little things bother you!
Each of them plays a part in both, contributing to the team's victory while also making an individual player the match's star.
As part of your total attire, 'Softball Pants' will be the objective of this article.
Top 10 Softball Pants for Performance and Comfort In 2023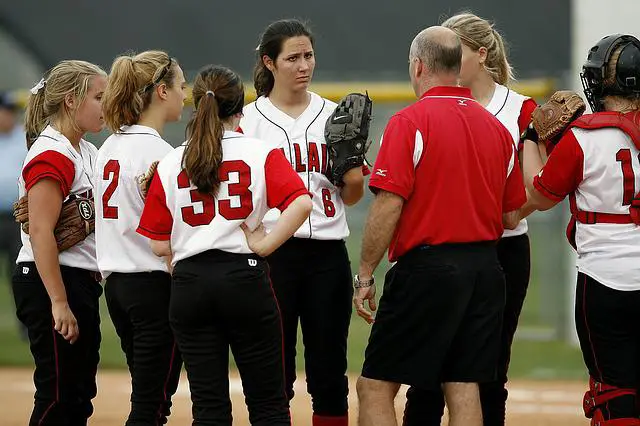 The following are some of the best softball trousers.
It'll be a worthwhile read since you'll uncover options including tight softball pants, loose-fitting pants, plus-size pants, etc.
1. CHAMPRO Tournament Traditional Low-Rise Softball Pant
The Women's Tournament Traditional Low-Rise Polyester Softball Pants are composed entirely of TEK-KNIT polyester, which is exceptionally abrasion-resistant.
Created to provide support, compression, warmth, and performance to your knees, these pants have double-ply knees; that is, two layers of cloth begin below the knee and go up to the thigh.
The 2.5-inch stretchy waistband with super-grip gel strips helps to keep the jersey tucked in.
The cloth is only 14 ounces in weight and boasts four-way elasticity that adapts to the user's motion for comfort.
It's a classic pair of low-rise pants with a tight-fitting and stretchy leg opening.
Additionally, these trousers feature two rear pockets and are available in six solid colors and adult sizes.
Instead of focusing just on the name of these trousers, consider them as an option for both men and women alike. However, if you're looking for trousers specially designed for men, then you should look at these baseball pants.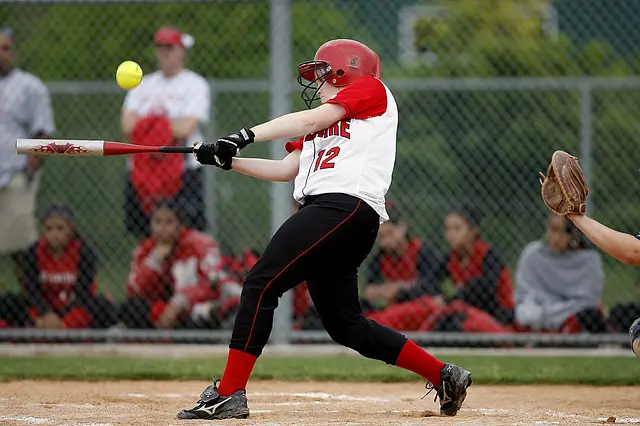 These are the best softball pants for big thighs as the elasticity of the cloth fits and conforms to big thighs well.
2. Mizuno Low-Rise Fastpitch Pant
The double-knit fabric construction of Mizuno's Adult Women's Belted Low-Rise Fastpitch Softball Trousers provides a more structured and sturdy appearance to your softball pants.
The pants include double belt loops, which allow you to adjust the waist of the pants to your liking.
To provide more comfort, support, and warmth to your knees, a double-knee ply has been incorporated.
This low-rise fit is one of the best women's softball pants available and should not be overlooked.
3. DeMarini Standard Fierce Belted Pant
DeMarini's Fierce pants include a low-rise waistband and elastic bottoms for a perfect fit and comfort in motion.
They have a double-knit construction and are composed entirely of polyester.
The fabric used to construct these pants was thoughtfully selected because it wicks moisture away from your skin, allowing you to move freely without being irritated by sweat.
Belt loops are included in the design of these trousers. The waistband has an elastic waistband with a drawstring.
Thanks to the double-knee design, your knees will be kept warm and compressed.
Furthermore, there are two rear pockets on them.
4. Under Armour Softball Pants 
Designed for game-day comfort, Armour's Girl Softball Pants are crafted of lightweight, durable performance fabric.
Moisture-wicking and quick-drying, this fabric is ideal for athletic use.
Anti-odor technology prevents the formation of odor-causing bacteria in these trousers.
The supple and elastic waistband has belt loops for a proper fit. 
Perforated panels on the rear of the leg contribute to the breathability of the pants.
In general, these pants feature a slim fit that is neither too tight nor too loose. However, if you feel like these are not of proper fit, and you need to shrink them, then you can read this article that talks about how you can shrink your pants.
5. Rip-IT 4-Way Stretch Pants
Rip-IT has designed these Women's softball trousers with spandex that has ultra-four-way flexibility to follow your every motion smoothly and pleasantly when playing softball.
They are made of a breathable fabric that is intended to be sweat-wicking and long-lasting.
These pants also include an expanded double layer for thigh and knee cushioning, which allows you to balance performance with safety for a pleasant play day after day.
Additionally, two welt back pockets and a tunnel belt loop waist are included for a more customized fit.
If you're looking for a pair of pants that are precisely tailored to your body, these are the ones for you. 
They have an athletic fit and stretch in all the right areas, so they won't restrict your movements during dives and glides.
6. Mizuno Prospect Softball Pant
Prospect softball pants from Mizuno are made of a double-knitted lightweight fabric that is very sturdy.
The bottom of these trousers has an elastic band to allow for more flexibility when playing.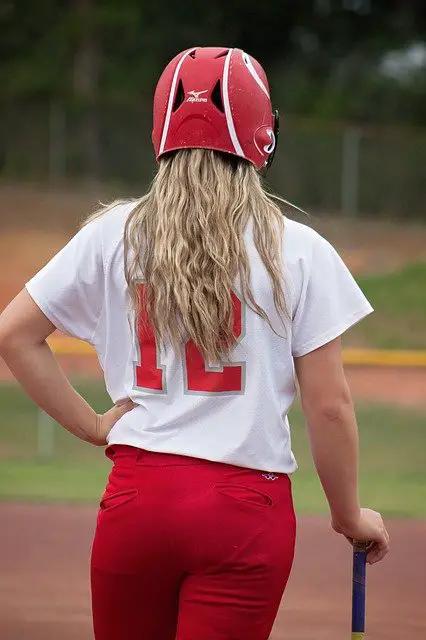 The addition of a dual-knee design, which also delivers additional compression, has allowed Mizuno to elevate protection to a whole new level.
Additionally, they include a tunnel belt-belt loop waist that allows you to make changes to make them fit better.
These softball trousers are simple and sturdy, and they should be on your list when shopping for your next pair of softball pants.
7. Easton PROWESS Softball Pant
Easton's PROWESS softball trousers are made of a polyester knit interlock fabric that is specifically developed for female players.
Four-way stretch mesh inserts are included in the fabric for the best possible fit and movement.
The Easton branded two-color waistband is equipped with silicone grippers to hold your jersey in place.
In addition, the trousers include double-reinforced knees and a specifically made cuff, which ensures that they will survive for years to come.
From youth to adults, all sizes are available, so you're sure to find what you're looking for.
8. Mizuno Women's Select Belted Piped Pants
These pants are specifically made for women softball players.
Designed with a low-rise shape, these pants are made of double-knitted fabric, which makes them both lightweight and durable.
To make these pants more stable and have the look of gaming pants, the sides are piped.
9. DeMarini Women's Sleek Pull-Up Pant
DeMarini's Women's Sleek Pull-Up Pant is constructed entirely of polyester and weighs just 8 ounces, making it a lightweight option.
As polyester is utilized, these pants naturally drain away sweat, making them excellent for athletes.
These pants are great for playing because of their elastic bottom and low-rise shape.
The knees have been double-layered in these pants for further protection and warmth.
These come in a wide variety of sizes, including plus-size options, which may be something you're searching for.
10. Rawling Launch Series Fastpitch Pant
Rawling's low-rise belted softball trousers are created specifically for female softball players.
The pants include a zipper fly-front with belt loops, allowing you to customize the waist size of the pants.
They are composed of a circular knit fabric that is 100 percent polyester and has two-way stretch for greater flexibility.
The polyester fabric that was used to make the pants has a higher mechanical stretch for increased movement.
How Are Softball Pants Supposed To Fit?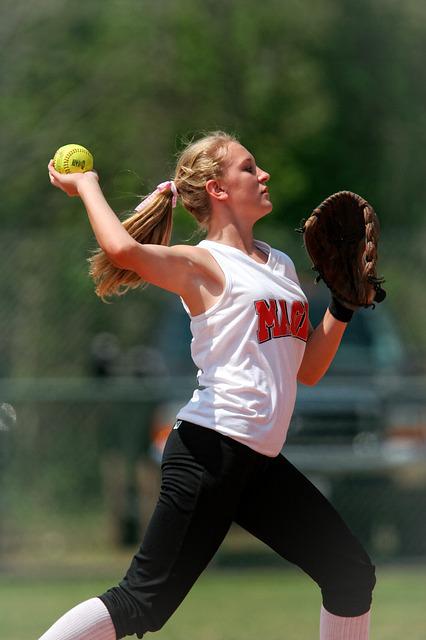 There's a lot more to softball pants than simply regular trousers fitting you.
When it comes to softball pants, it's not just about the look and style since you'll be playing in them.
You must feel at ease in them; the size, waistband, and other details must all be up to par. Along with reading this article, I'll also suggest you check this article that talks about how you should wear softball pants.
Size
Softball pants are available in adult and juvenile sizes ranging from S to XL, just like any other kind of trouser.
This means you won't have to try on pair after pair; instead, you'll be able to choose your size.
When it comes to the length of the pants, if they are too long even though the waist size is correct, you will need to have them adjusted to your desired length.
It's given that if you're a player, your legs will be strong, and your thighs will be large, making selecting the best softball pants for big thighs a simple task since most trousers are made to fit all sizes.
Waistband
Your waistband should be comfortably able to hold around your waist even with your jersey tucked in.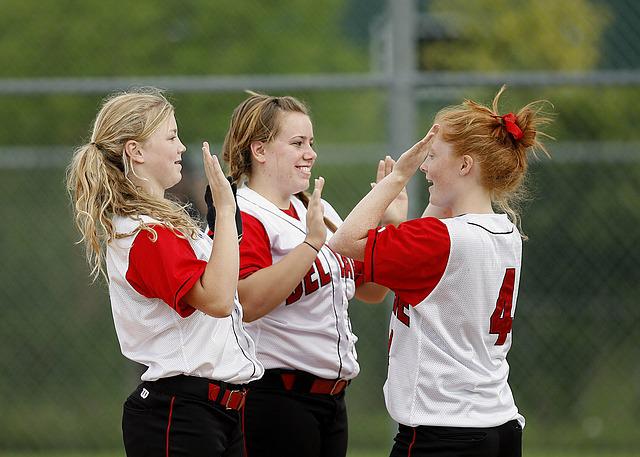 Besides the size, the material should be of good quality to not cause you any problems while playing.
It should also have durable belt loops to make the size customizable.
Mostly Tight-Fitting
Softball trousers are often snug because they are more sleek and fit to your body, which helps you play better.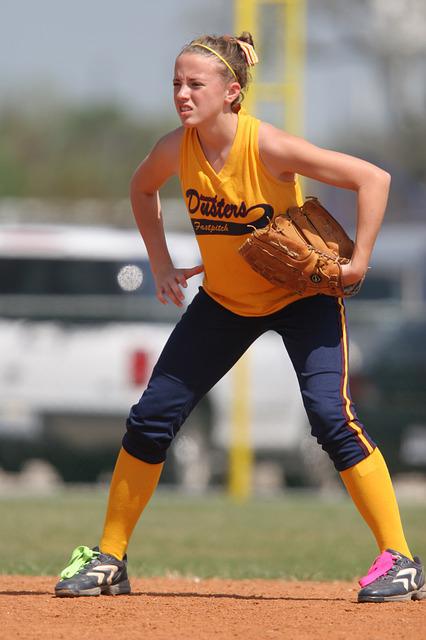 They won't get in the way as loose pants do. The proper pant tightness is also more comfortable and attractive.
This is why it's best to purchase softball pants that are crafted of stretchy material.
Some Common FAQs About Softball Pants
Why are softball pants important in softball?

Softball pants are important in softball because they play a part in contributing to the team's victory while also making an individual player the match's star. Also, the right softball pants can make the player feel comfortable and can enhance their performance on the field.

Which are the best softball pants for big thighs?

CHAMPRO Tournament Traditional Low-Rise Softball Pant is considered the best softball pants for big thighs as the elasticity of the cloth fits and conforms to big thighs well.

What are some of the features to look for in a good pair of softball pants?

Some features to consider when looking for softball pants include material composition, double-knee ply for support and compression, elastic waistbands with belt loops, breathable and moisture-wicking fabrics, and flexibility to move comfortably during play.

Are there softball pants available for both men and women?

Yes, many softball pants are available for both men and women. Some pants may be designed specifically for one gender, but others are unisex and can be worn by anyone.

Can I wear baseball pants for softball, or are they too different?

While softball and baseball pants may look similar, there are some differences between the two that may make baseball pants less ideal for softball. For example, softball pants may be designed with more flexibility in mind to accommodate the types of movements that are common in softball.

How do I know what size of softball pants to buy?

It's important to consult the sizing chart provided by the manufacturer to determine what size of softball pants you should buy. Some pants may fit differently depending on the brand or style, so it's a good idea to try them on or consult reviews before making a purchase.

What are the benefits of wearing pants specifically designed for softball?

Softball pants are designed with the specific needs of softball players in mind, which can help enhance your performance and overall experience on the field. They may provide better support, flexibility, and protection than other types of pants. Additionally, wearing proper attire can help you feel more confident and comfortable during play.
Final Thoughts
Softball pants that enable you to look, feel, and play your best are essential.
All of the softball pants on our list are of excellent quality and material, ensuring that you and your trousers remain comfortable during the game.
If you're looking for the best women's softball pants, these are the ones you should be considering.
Dress in one of the pairs from the list mentioned above that you'll like wearing this season and get your game more alive.
I hope this list will assist you in finding pants that fit your size and style