*Drumroll please* I know most of you have been waiting for this or if you landed up on this article, then you must be looking for the best baseball gloves out there. 
Then I'm here to tell you some of the best baseball glove brands out there, which are stunning and flawless at the same time. Here's a list of the top 20 best baseball companies. 
Let's jump right into it! 
Wilson
First on the list we have Wilson! It's pretty obvious at this point that the Wilson Gloves are altogether one of the best baseball gloves out there. In terms of quality, styles, and the various series it has to offer this glove, will always be there at the top. They have a wide customer base and always seem to provide what's best for their customers. Moreover, Wilson makes their gloves with a lot of finesse, and utmost precision is given when making their gloves. These are honestly the best glove brand out there.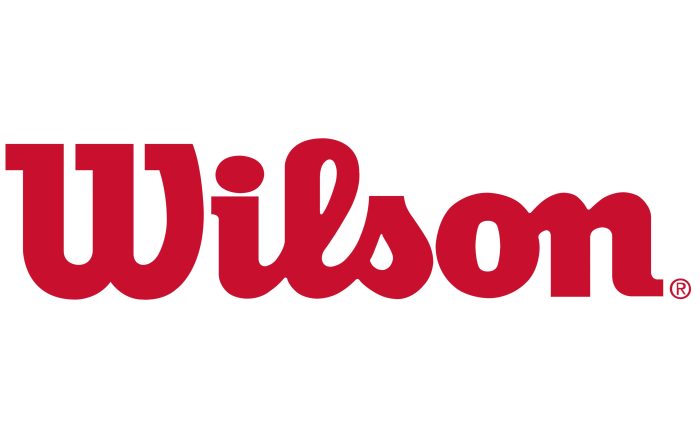 Rawlings 
Of course, right after Wilson, it was definitely gonna be Rawlings. Rawlings are quite famous, the gloves are made with the best leather that is catered to your playing style. Each glove is constructed carefully to give you what you desire and what you'd want in a glove. Honestly, the Rawlings line of gloves has always been a favorite by most, and for very obvious reasons. They never fail to deliver and always ensure customer satisfaction to the fullest. So, in short, one can never go wrong with Rawlings!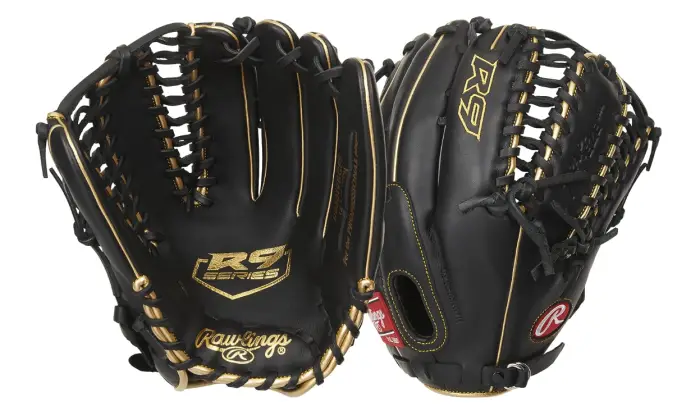 Mizuno 
The Mizuno Series gloves also have a longstanding name in the industry, they provide the best of the best when delivering what is right for their customer. Each of the leather pieces that they select is perfectly filtered and then the best one is selected to give the utmost performance, while also giving the most amazing performance. The Mizuno brand like most of these brands delivers to its customers and makes sure to hit the sweet spot when doing so. Therefore, making customers want their products more and more. 
Franklin
The brand serves a wide variety of sporting goods including bats, batters' gloves, and of course, its very own baseball gloves as well. The gloves are catered towards all age groups. Having durable synthetic leather. The gloves come with a lot of features that are best suitable to fit you and to make it perfect for you. The gloves spare you the time and come in with pre-formed pockets or even an excess break-in feature at times so that you can be game-ready as soon as it's out of the box.
All-Star 
We have another longstanding company in the sporting field, that's included in this list. I'm pretty sure everyone has heard about All-Star their sporting goods are one with a wide customer base, delivering satisfaction and of course, the best sports goods out there. What makes All-Star unique is that they are continuously growing within this field which gives them the sense of trying and innovating their products. Thus giving each of their products a sense of uniqueness and the quality that they deserve to be made with. 
Nokona 
Nokona Gloves was founded in 1926, by local Americans. The gloves have since then gained increasing popularity. Most glove companies have glove manufacturers in Japan or Korea, but Nokona has tried to push all the limits and has committed to making their gloves in America themselves, therefore, the gloves are dedicated to making the best and delivering the best. The gloves are beautifully crafted with American leather, giving them a sense of premium quality and also an overall really great performance on the field. 
Akadema 
So when it comes to customizing your own gloves, then there are a few options out there to choose from. Akadema is one of these options. Akadema has various options to choose from adults, male and female alike, and even for the youth players, so that they can develop their skills at a young age itself.  Lawrence Gilligan was the first to have found this company. Lawrence Gilligan himself was a former baseball player and he found that there was little to no innovation in the baseball field therefore he needed something to drive that innovation into successful products. Thus came Akadema into being, delivering innovative products at each turn. 
Shoeless Joe
The Shoeless Joe series of gloves is another unique type of glove found in the baseball industry. The gloves are made to be extremely perfect all throughout, whats more to it is that these gloves are made from tobacco leather which gives them a more antique look and feels, therefore, giving somewhat of a unique texture to work with. They have different equipment that they sell from softball pieces of equipment to other baseball pieces of equipment needed on the field. 
44 Pro 
This is one of my favorite customizable gloves. The 44 Pro Gloves come with so many different options to choose from and are Highly recommended by most MLB players. Not only are they highly recommended, but they are also used by MLB players on the field. What I love most about the 44 Pro gloves, is that their options are super affordable compared to most high-end gloves present in the market. The gloves give you the most premium quality of gloves, for a really good enough deal. Moreover, these gloves give a sense of personalization and that's what makes them extremely unique. So this is really one of my favorites and you can say the best gloves company out there.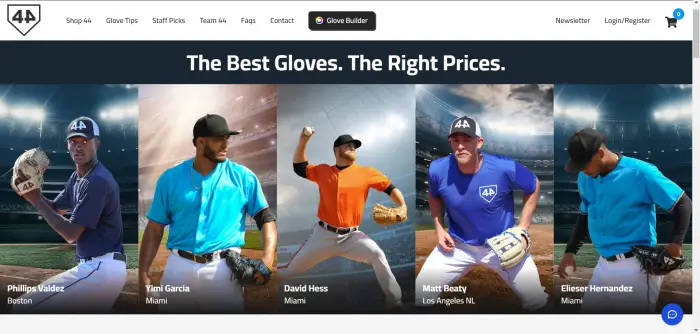 Rico 
Rico Gloves are another customization baseball company. The gloves come in three different series with three different price points. These gloves really work like a charm, when playing on the field and the customization process is very simple. If we wanna talk about the gloves well, the gloves are absolutely stunning in terms of quality and everything else. The gloves are beautifully crafted so you can always be sure that these deliver amazingly and they add a sense of personalization, making you feel closer or rather attached to the glove. 
Buckler 
Buckler gloves are made of premium quality and are handcrafted to precision by each of their glove smiths. The gloves are made with utmost precision and accuracy, thus delivering the best glove that is out there. Let me also add that, the gloves met the needs of the players, this is what the master glove smith at Buckler noticed and designed according to the FEEL of the player making them perfect for players who keep adapting their style every time. 
Easton 
Easton gloves are absolutely made perfect for each minute detail and precision. The industry has been set up for 30 years. The gloves first started with aluminum bats and have continued to succeed every time. Easton after that has specialized both in gloves, and other softball and baseball types of equipment. They also provide other sports bags, other accessories, and batting gloves. They design gloves for fastpitch and slowpitch softball both for adults and youth as well. So these are really perfect, for any type of player and their specific needs. 
SSK
SSK Gloves like any other gloves have been a worldwide leader in manufacturing and providing the best baseball gloves. They take great pride in their heritage and the quality of their products. The gloves are made with the most premium leather and hand stitched. The SSK gloves are tanned, cut, and prepped in their Japan factory. Which is then bought into their factory and prepped further. This is unique as some glove manufacturers have their manufacturing company in Japan itself. But SSk gloves are unique in that way. 
Marucci 
Marruci's story is quite the unique one, they first started in a garage, as former big leaguers, designing bats for the pros and other players alike. Fast forward to today that dedication to quality and understanding of players' needs has turned MArruci into an All American Brand. The gloves have been developed to cater to the style and needs of most of the players, thus giving them the perfect gloves and sporting types of equipment. Marruci has provided the best tools for the best success rates amongst all players alike.
Miken
Miken gloves are absolutely perfect in terms of quality and their beauty to deliver excellence at every move, throw, and stroke. The gloves are catered to meet the needs of players giving them a sense of uniqueness. The gloves are made of full-grain leather which will endure all the wears and tears of the game, so you can be sure that these gloves will last you for seasons to come. The glove comes in many styles and options to choose from. These make them one of a kind and therefore really shine a spotlight on them. 
Bradley
Like most gloves present out there, Bradley too has a longstanding name and fame. Bradleys are one of the most popular choices in terms of sporting goods. The gloves are actually really awesome mainly because they are created especially for the youth which makes these more awesome. The gloves were specially for youth players, to try and develop their taste and love for baseball at an early age and see what makes the sport so fun and endearing. Bradley Gloves specializes in designing especially for youth so the sizing, lightweight construction, and break-in period all fit the needs and desires of the youth players. 
Worth 
Worth also has a very longstanding name in the industry. But, I've not heard a lot about their gloves, so when I tried to look at their gloves, it feels like I found a diamond in the rough. They specialize in making softball and baseball balls, which reduces the injury factor, they have also specialized in making bats. Since they make everything from bats to balls on the baseball field, you know that they are experienced in even making gloves perfectly.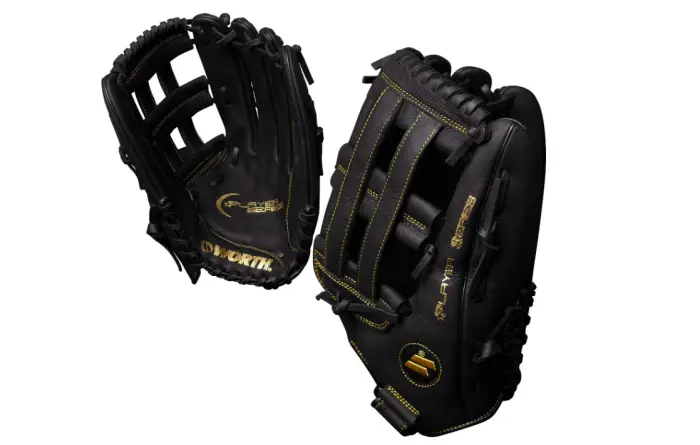 Hit Run Steal
Hit run steal gloves worth every bit of your penny. They specialize in both baseball and softball gloves giving you the best type of gloves and providing the best performance as well with these gloves. The gloves have different styles and really exciting colors to choose from which makes them all the more attractive. The gloves also come in various positions so you can always choose what suits you best and what's perfect for your play style as well.
Capire Gloves 
Capire gloves are another line of baseball gloves that are customizable. The company promises to deliver you the utmost perfection and design while making your gloves, thus enabling you to perform exceptionally. The gloves are made from a pre-made custom template, that will meet your needs flawlessly. You have a lot of options to choose from to make your choice truly unique and personalized according to your taste. The gloves are hand made therefore making them tailored specifically for you.
Phinix 
The Phinix gloves are made from highly synthetic leather, which ensures to make the gloves are durable for a long time, thus lasting for seasons to come. The gloves are made from high-quality synthetic leather, reinforced with double stitching. The gloves are stable and can withstand strong impacts without deformations. The palm lining is made with enough sponge, thus giving high impact resistance while catching. The gloves are soft, lightweight, pliable, and wear resistant which are absolutely perfect to withstand the rigors of the game.
If you did like this already, then check out some of the best softball glove brands as well!