If you landed up on this review, I'm pretty sure you're thinking, which of Wilson's gems are the best? 
Now an avid baseball lover such as yourself would go through anything to find out if either: the A2000 vs. A2K 
Who takes the win in this series of differentiations? 
Well, let's review some of their interesting characteristics, shall we? 
Summary
Wilson A2000 and Wilson A2K are both great gloves but A2000 is more popular because it offers better value for money. However, if we compare the quality, break-in time, durability & comfort, Wilson A2K wins the battle. Let's take a look at this comparison table of Wilson A2000 and A2K.
| Category | Wilson A2000 | Wilson A2K |
| --- | --- | --- |
| Material | Pro Stock Leather | Pro Stock Select Leather |
| Construction | Dual Welting | Double Palm Construction |
| Webbing | H-Web, Closed Web, I-Web | H-Web, Closed Web, I-Web |
| Break-In Time | Moderate | Moderate to Minimal |
| Fit | Standard Fit | Standard Fit |
| Padding | Dri-Lex Wrist Lining | Dri-Lex Wrist Lining |
| Thumb Design | Reinforced Thumb Slot | Reinforced Thumb Slot |
| Price Range | $200 – $300 | $300 – $400 |
| Availability | Widely available | Limited Editions available |
| Customization | Many options | Many options |
So, based on this comparison, if you can afford an A2K glove, then go with Wilson A2K. However, if you choose to go with Wilson A2000, don't worry, it's also a great glove, and you won't regret it.
If you like to make purchases from the official websites, then here are the links to the Wilson A2000 and Wilson A2K on the official Wilson website.
You can also order a custom A2000 or A2K glove where you can get a lot of customizations to make it look more personal to you. You can create a custom Wilson glove here (on the official website).
Wilson A2000
Now, the Wilsons are quite a famous brand in the baseball industry. And yes, they do have a couple of interesting gloves up their sleeves. But the A2000 series of gloves, are stunning not just visually but even because they have this sort of feel towards them. 
Now, what makes them so special? you ask, well you see the A2000 gloves are customized and catered to your playing style perfectly. Each type of glove, for each type of position, has been crafted in a special way, with particular webbings and even the pocket depth.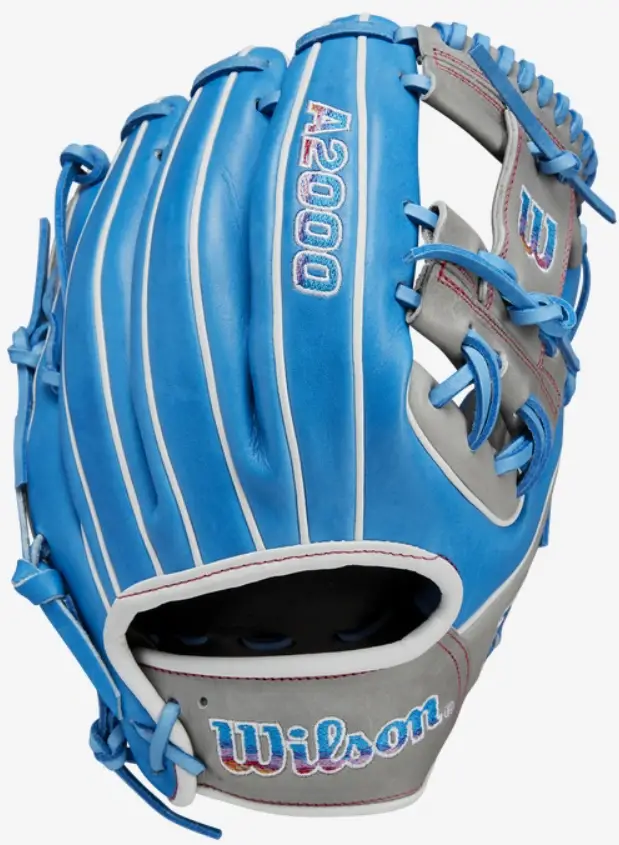 The Wilson A2000 gloves are made from Pro Stock Leather, which gives you an unmatched feel and increased durability, to last you throughout seasons. They also have a ProLux Leather lining that gives you increased comfort throughout your gameplay.
When I said that it is crafted to your need and playstyle I do mean it because the Wilson A2000 has Rolled dual Welting. This is a method of stitching used to stitch with two pieces of leather between the palm lining and the finger stalls too. That's what protects you from the impact of the ball at high velocities and is specifically designed for each position that you play. 
Oh, so you place your finger outside the glove while playing? Yea, Wilson's got that covered too, they've added, what they call flat finger binding, to provide you comfort and control on the field, they did this by reducing the amount of space between your finger and the back of the glove. 
And that's all there is to know about the Wilson's A2000 Glove series. Already getting into the groove of this comparison? Wanna see some more fun and exciting comparisons we got of the Wilson A2000? Well, you are in for a treat because we do have Wilson A1000 vs. A2000 comparison, that states the features of all the products and allows you to see what's best for you.
Wilson A2K
Ohh…the Wilson A2K, yea! They're a whole different story. Unlike, the A2000, the A2K gloves are in an entirely different league. They are perfect down to the last, minute details.
What's so perfect about them? Well, it's the exceptional leather with which it is made from. Unlike, the other glove-making industry, these are handcrafted, quite literally by the best craftsmanship ever heard about. The crafting is done by Japanese skilled professionals who get these gloves down perfectly.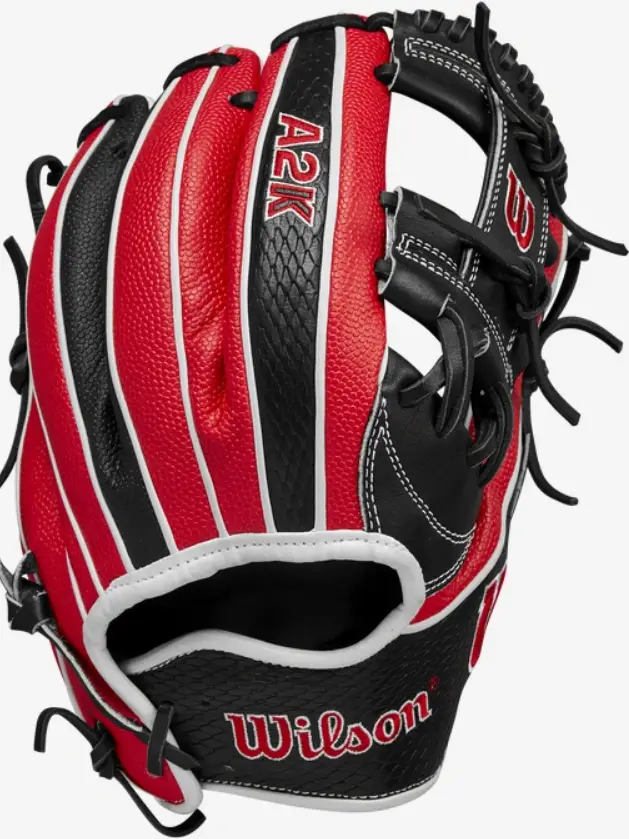 The Wilson A2K  gloves give you a different feel as soon as you touch them. And when you play with them, they give you a comfort that is maximized and quite literally out of this world. They are impact resistant, making all those harsh balls your way seem like nothing when they hit the gloves, they act almost as a cushion on your palms. 
The wristbands are modified, to hug your wrists seamlessly taking care of each stroke and throw you make. These are made from SuperSkin, a microfiber that is half the weight of the Pro Leather, but twice as durable as that of Pro Leather. These are moisture-resistant and are super easy to clean. Already liking the Wilson A2K, I figured much, well you can check a Wilson A2K review to see if it really is worth all the hype.
These were a few characteristics of the super qualitative properties of the Wilson A2K gloves. 
Comparison of A2000 and A2K Glove
So we've talked about these two series of gloves under the Wilson Brands. The Wilson A2K and the Wilson A2000 gloves have stark differences. 
We're gonna list them below: 
The A2000 Has More Styles 
Now, when we look at the A2000, these gloves have a lot of styles and color ranges to choose from. The reason is that these are much more affordable compared to the A2K and also have been out since the 1958's. 
The A2K does have some styles too, but it's mostly limited due to its high quality and hefty price scale. 
A2K Is Pricier 
The A2K is more on the luxurious side of the baseball glove market, that's because of the finesse with which it is created. But, the A2000 is comparatively lower than the former mentioned. 
So if you're looking for something in the affordable price range, then A2000 is your best bet.
The A2000 Is More Popular 
The reason A2000 is majorly popular is that it goes back to 1957, and they have seen continuous diversification and modifications throughout the centuries. 
While A2K on the other hand, has come out recently and that is why they are not that popular, rather than the longstanding series of gloves a.k.a. A2000
The Leather Used In A2K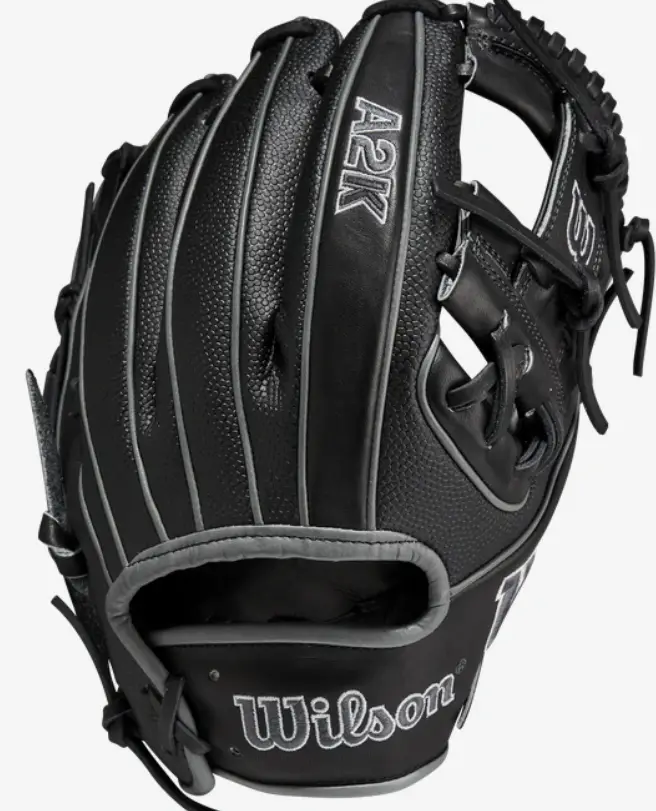 The A2K has premium Pro Select Leather, which is what makes it so special. Apparently, the leather with the most premium quality and the least damage to it is selected to make the A2K gloves. The leather is sorted around 3 times and out of all the leather that comes to Wilson only 5% of the best is selected. 
While the A2000 is made from Pro Stock Leather, which gives it durability and longevity.  
Double Palm Construction In A2K 
There is a sort of cushioning present to give you the durability factor in the A2K glove series. How? you may ask, well they add this sort of thin piece of leather between the glove and the palm lining so that when you stretch it out, you don't stretch out all the leather fibers, thus increasing its durability. 
The A2000 doesn't have any such special features other than the leather from which it is made. 
Exceptional Craftsmanship In A2K
The aforementioned point that I stated about the exceptional craftsmanship these gloves are crafted solely in Japan, by skilled people. These are formed perfectly into the glove shape by these craftsmen. 
While the A2000 is solely made in the U.S. using Pro Stock Leather 
Which MLB Players Use A2K and A2000? 
In terms of playing, the A2000 is more popular in the field of Major League Baseball Players. Even if the A2K is a very luxurious glove with extreme attention to detail and precise craftsmanship. 
Some Famous MLB Players, that you may recognize that recommend and use the A2000 Series are: Vlad Guerrero, Andrew Benintendi, Dansby Swanson, and Jose Ramirez. 
Some players who recommend and play with the A2K are Juan Soto, Matt Chapman, and Mookie Betts. 
Which One IS Good For You? 
Overall, both these gloves are quite amazing, but if you were going with an option then I'd recommend the Wilson A2000 since these gloves have a longstanding name and many MLB players recommend them. 
But if I am being very honest here, I'm gonna out on a limb here and saying that the Rawling HOH (Heart Of The Hide) is equally on par with the Wilson A2000 themselves, not because of their quality or anything like that, but most college and baseball or just avid enjoyers of baseball purchase and seem to be more comfortable with it. Moreover, Rawlings has a really big name in the baseball glove industry. 
Now maybe you have a change of heart. Or perhaps you just want your own pair of customized gloves. Well, you are in for a treat, because I have reviewed the 44 Pro baseball gloves. These gloves are an absolute dream, quite literally and are made for those who want to add a personalized sense of touch to their gloves. So, if you have a change of mind from Wilson A2000 or even A2K for that matter, then these gloves are the one to go for. If you are looking for other baseball glove companies, then there are some recommendations, which will be absolutely perfect for you.
But if you are one for spending then The Wilson's A2K is great. This is only an exception to those looking for something that is extremely premium and high quality.