You wanna try and get your kids to easily be able to play baseball and hone their catching or batting skills.
Well, you're in for a treat, because I have the best pitching machines for little league players and youth baseball players. Using these is really gonna help your child to improve their skills and techniques. 
Let's get into it! 
Best Little League Pitching Machines
Jugs Lite Flite Pitching machines 
The Jugs Lite Flite pitching machine is one of the best options that you can go for as a baseball pitching machine for kids. Let me tell you why exactly. It's because these are super easy to set up, making them perfect to disassemble and assemble once again whenever you need them. 
The pitching machine is the best because you can use them anywhere and everywhere, wanna do some personal coaching kids, take it in your backyard. Wanna practice on the field, yes you can. This is absolutely perfect. The pitching machine is meant to train beginners and youth players, mainly because of its customizable options. They can also throw balls up to 70 mph. The pitching machine can also swivel 360 degrees, so it'll be easy to shift anywhere, in any type of direction you want. So you might definitely wanna consider the Jugs Lite Flite pitching machine for coaching your baseball youth players.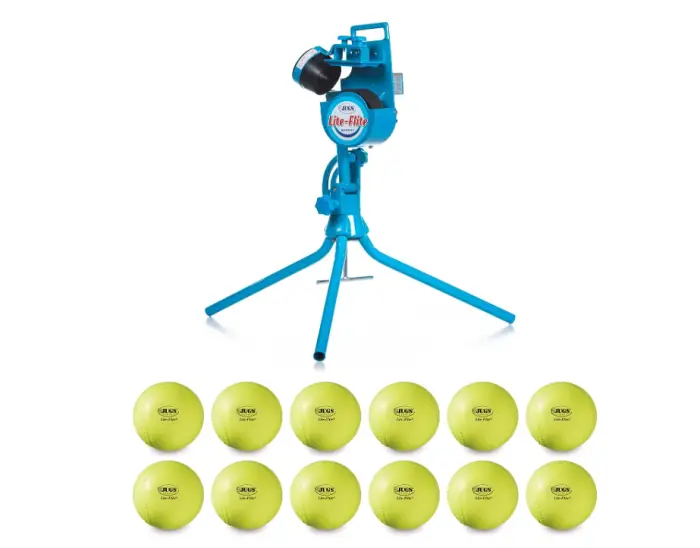 Pros: 
360-degree movement 
Easy assembling 
Portable 
Up to 70 mph 
Cons: 
Comes with a designated ball designed for the pitching machine specifically. 
BSN Sports Bulldog Pitching Machine 
Another great pitching baseball pitching machine. The BSN sports bulldog pitching machine gives the ultimate freedom for youth players to hone their skills and gain a love for the game equally. Pitching machines are necessary since kids can get worn out easily with just a few pitches. But with this machine, it'll be like a walk in the park. 
This baseball pitching is meant for kids since they're super lightweight and easy to travel around with, which in that sense makes it portable. Moreover, these can throw balls within the range of 30 – 60 mph, these are perfect because you don't want youth players to get overwhelmed with the balls coming at first pace. They need to be able to capture and swing their bats efficiently without missing many balls. The machine is perfect for youth baseballers since they have all these great characteristics, that contribute together to make it the best little league pitching machine.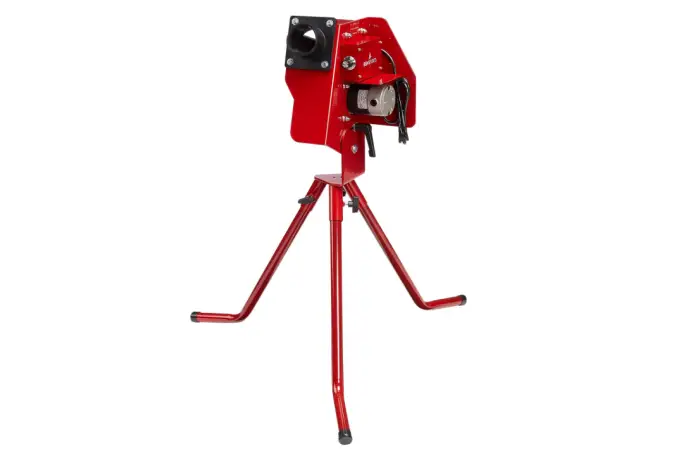 Pros: 
Convertible legs for both softball and baseball 
Lightweight design 
Runs on 110 VAC and ¼ HP DC motor 
30 – 60 mph 
Cons: 
Machine accuracy is not perfect 
Jugs BP1 Pitching Machine 
Jugs pitching machines are really great. They give you a lot of freedom in terms of mobility and choice. In terms of mobility, you can move these bad boys anywhere and everywhere to practice causally or seriously with your youth baseball players. In terms of choice, you get both options, a softball attachment and even a baseball attachment. 
Now, the other main reason these are with every dime in your pocket is that they can swivel around in all positions, so you can practice any type of ball easily. They come with a gap of a certain time before they shoot the next ball making batters really easy to practice with. You can do fastballs, curve balls, sliders, and even Knuckle balls with this machine. You can also adjust it for a normal pitcher's mood, just for the batter to gain the ability to swing better and even use them for ground balls or diving catches. This machine is honestly pretty neat to work with.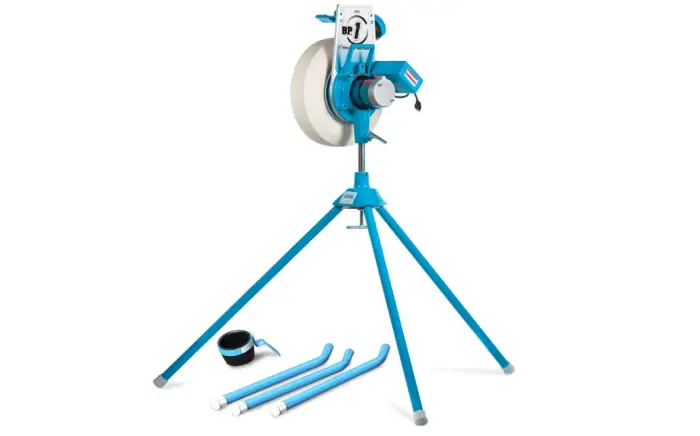 Pros: 
Portable 
Adjustable 
Great for offensive and defensive drills  
Perfect youth players 
Cons: 
70 mph is a bit too much for youth players to work with
Louisville Slugger Black Flame Pitching Machine
Looking for something that is not electric, simply because their expensive or just too big of a hassle, or maybe you don't have cable really close to you on your local ground. Well, for worry! The Louisville Slugger Black Flame Pitching Machine is absolutely terrific, they have absolutely all the things you need, even though they work manually. 
The balls can be thrown at a speed of 50 mph, so they are perfect for youth baseball players making their life easier, and catching such catches or even just trying to hit these with your bat will be quite easy and effective. These can throw from high fast pitches to ground ball pitches very easily, by switching it up. They are compatible with plastic, dimple, flight-restricted, hard, and even softballs. Fun fact to just throw out there, they are the official pitching machine for Babe Ruth and Pony League Baseball and Softball.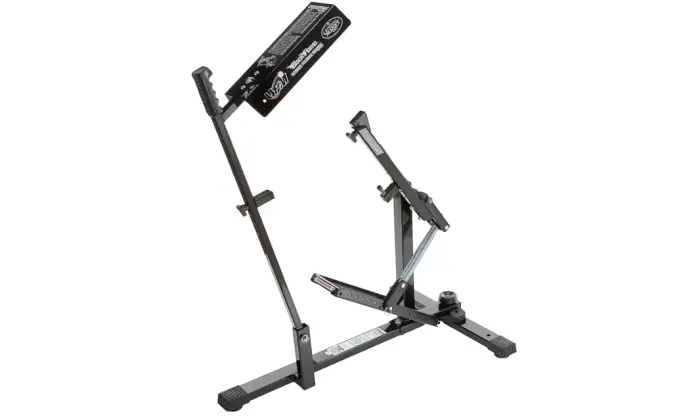 Pros: 
Great for youth players 
Can accommodate different types of balls 
Great speed for youth baseball players 
Cons: 
Not the same performance compared to electrical pitching machines
Heater Sports Heavy Duty Pitching Machine
Heater sports are generally really great in giving affordable pitching machines, that will prove to be excellent in terms of delivering and honing the skills of younger players. This pitching machine is the best for youth baseball and you should definitely consider buying one of these. 
The machine is great since it is made from metal, making them quite durable. Pitches can be thrown up to 52 mph, for real balls, which is perfect for youth players, since they won't be admitted by extremely fast shots. But if you are considering a lite baseball then it can go up to 80 mph, which is also sort of a blessing in disguise, since they'll be a safer option to work with. The pitching machine can also swivel around, therefore you can pivot it easily up and down to get flying hits or even ground ball catches. You can feed 12 balls easily into the machine so they'll be super convenient for you.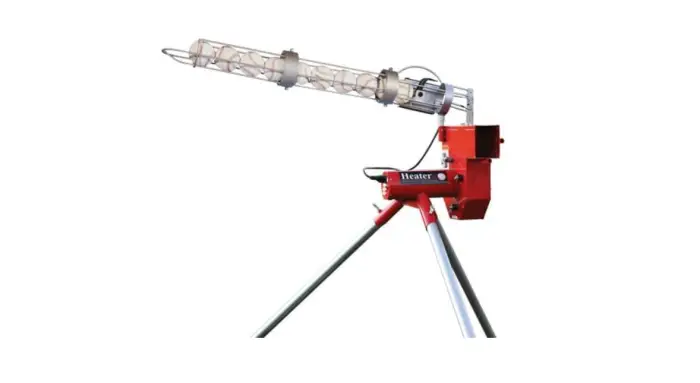 Pros: 
Perfect youth baseball players
Affordable 
Lightweight 
Durable 
Cons: 
Speed seems to vary between the real ballas and lite balls
How to Choose Pitching Machine for Youth Baseball 
Age and Skill 
It is pretty obvious when considering buying a pithing machine go for something which will be suitable for your age and skill level. Younger players of course need balls or pitches thrown at a lower speed, so as to not get threatened by the game, but enjoy it thoroughly. 
Speed and Pitch Types
Looking for the speed factor is of utmost importance because you don't wanna be working with something that will get you a really slow speed and you won't be able to hone your skills. You should also consider the type of pitches, like fastballs, sliders, curve balls, or even knuckle balls, these types of pitches will help you improve your skill rapidly. 
Accuracy and Consistency 
You should also consider something with great accuracy and consistency. The machine should have the capability that delivers consistent pitches in terms of speed, location, and movement.  
Safety Features 
Safety is a really important feature one must consider, especially for young players who need to be protected from dangerously fast pitches directly. You should take utmost consideration when selecting the right pitching machine. The pitching machine should have safety features like automatic ball feeders, protective cages or screens, and remote controls that allow coaches or parents to operate the machine from a safe distance.
Portability 
Portability is one of the major factors that one must consider when buying a pitching machine. The best pitching machine in youth baseball will only be 'best' if they are portable and easy to use on the field while having the necessary needs of power supply. You should also look for something that is adjustable and also super easy and convenient to set up. 
Durability 
You should definitely check something that will be able to withstand regular use and can endure the demands of youth baseball. Check customer reviews and product specifications for information durability. It is also highly recommended to choose something that has really great warranty period as well or even customer support will do, just in case any mishap, were to happen with the machine. 
Budget 
Finally, you must consider something that is well within what you can afford. Pitching machines can vary in price, so it is quite essential to determine what's best for you and your pocket as well. Balance it out with the features and the quality you need, aiming for the best within your value.  
Conclusion 
In the end, this is all up to you. If you are a parent simply looking to train your kids in softball and help them perfect and hone their skills then go for this choice without a doubt and for something heap preferably. But if you are a coach and you commit to giving the best for your students, then, by all means, choose the best in the game in terms of quality and features, because you'll be able to use this for other potential players as well. So it would technically be a one-time investment.