The Jugs PS50 pitching machine are they worth all the hype? Is this pitching machine really worth investing in? 
Well, I'm here to give you a detailed review of the Jugs PS50 and how great this machine is, and can be used for practice purposes. 
Let's get into it, shall we?
Jugs PS50 Pitching Machine Review 
 So when I ordered these, the packaging came in really great. There was a separate box for the legs itself and it was fairly easy to build it. The pitcher machine came in with 6 installable legs to adjust to the height and they have 3 rubber feet in their package which will help them to gain much more support on the ground. 
The pitching machine comes in this really beautiful blue color which is really stunning to look at. The box also came in with sandpaper so I'm pretty sure that was to rough up the wheel and try to get it more rugged so that it can get a better rougher grip on the ball. The pitcher machine comes with a handle so you can just simply hold the handle and try and shift it according to how you like it or where you like it to be placed. So it's pretty easy to shift and work with, kind of makes them transportable and easy to work with.
 Okay now, I'm gonna talk about this sort of knob structure present, so you can kind of twist it and turn it to your liking. So say you wanna do ground balls you just twist the knob and place the head a little down, there you have it practice ground balls. If you wanna go higher, twist it a bit and there you have higher balls, so it's fairly easy to use honestly and you don't need to be a genius to operate it. 
Okay so, when I mean this pitcher machine is versatile, it is like capital VERSATILE, like they have two different adaptor settings, so you can always practice with even softball or baseball settings. So it comes with an 11-inch adaptor which is meant for baseball. But there's a separate 12-inch adaptor meant for softballs, pretty neat if you ask me. So you can switch over to whatever you'd like to train with.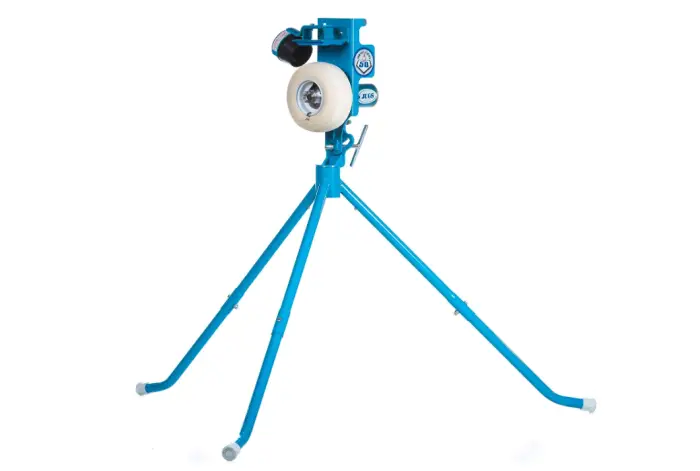 But what about the speed factor? You may ask well the Jugs PS50 has got that covered too. They come with a speed controller, which measures in miles per hour, so you can adjust them to whatever you like right from the very least to the maximum! 
This pitcher machine is absolutely perfect for training, if you have a partner but they really don't know how to throw you those balls then go for this because honestly, this machine really is great in terms of investment, it gives you the full package to master the game and your catches, making you a pro on the field easily.  Well in terms of the pricing point, this is actually really expensive, well at least for me it was. But if you are looking for a good long time investment and just maybe wanna commit to the game, then this is really worth your big bucks.