Looks like we have another review here. I'm guessing most of you must have heard about Hit Run Steal Gloves as they are specialized in customized gloves. 
But are they really worth it? Are they good enough as the other big sharks in the market?
Well here, I have a Hit Run Steal Gloves review. This will help you determine if these gloves are your best choice or fit. 
Let's see shall we? 
About Hit Run Steal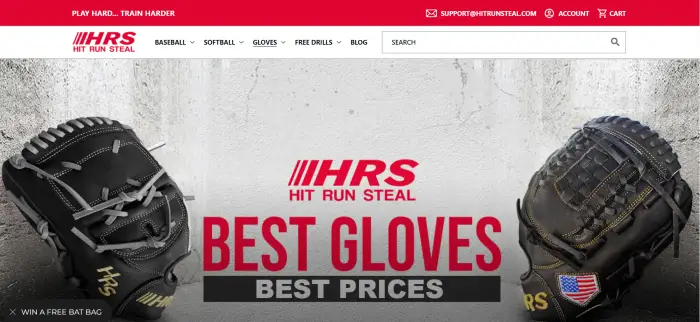 Hit Run Steal was founded in 2016. Their mission is to be able to supply baseball and softball equipment to any child who has an immense passion for softball or baseball. 
Hit Run Steal dedicates itself to creating top-of-the-line training equipment designed to help you improve and be at the top of your game. They offer gloves for different age groups and for all different players or the position they play in, they are designed to deliver comfort, durability, and performance. 
The gloves come in various webbing and size patterns that are catered to your specific playstyle. They're not very popular, as they have around 7K followers on Instagram. 
Hit Run Steal Gloves Review 
So in terms of gloves, the Hit Run Steal Gloves have three different series in terms of leather quality, Select Series, Elite Series, and Pro Series. I selected the Elite Series because I found them quite affordable for their selection of premium-quality leather. This gives you the ultimate feel and function, optimizing your performance.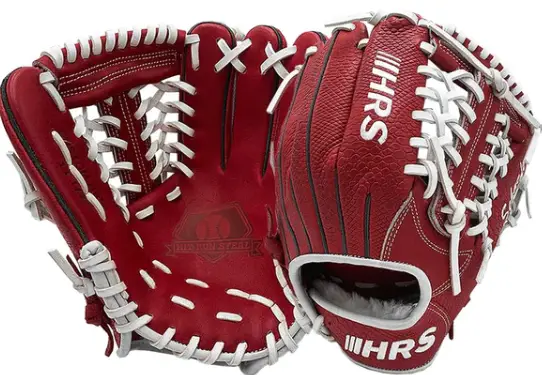 What makes me love these is their exquisite ShutOut leather which is produced in the exclusive Himeji glove tanning region in Japan. It gives an entirely next-level feel which is stunning. 
These gloves come in different options and styles, you could choose a leather snake pattern or even a flag pattern, but that would cause you a little more extra. They also have different webbing styles present catered to your specific need.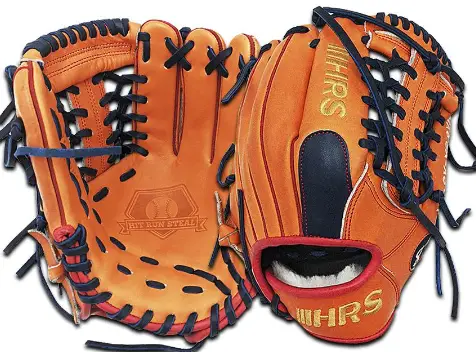 They have a DualPalm Padding and lining which adds comfort and durability. This also adds comfort and pocket consistency and durability. What makes these gloves the best, is it has 100% Wool Padding to give an undeviating pattern shape and resilience.
The price part is not half bad and that's something, you'd even notice in other high-end brands. But I'd recommend them to younger players rather than high school or college players.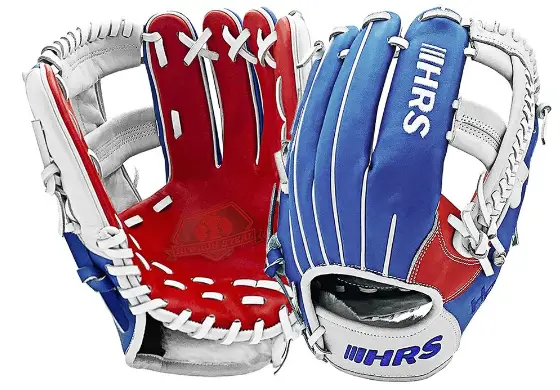 High school players should go with something like Wilson A1000, A2K, or A2000, or even a better option to consider is the Rawlings Pro Preferred. In terms of quality too, it's not as exquisite as these sophisticated brands. 
HRS is trying to produce almost everything too quickly so the quality is sort of lacking and is not as focused as much as what you'd see in other brands like Rawlings or Wilsons.
If you did like this review, then do check out similar review just like these, like the review of SSK baseball gloves. I'm sure you'd like it!
Custom Gloves from HRS 
So to put it simply. I found the customization process quite painstaking. The options weren't presented clearly. I've ordered from other gloves brands like 44 Pro Gloves and Rico gloves and their processes were fairly simple.
But for the Hit Run Steal Gloves, everything seemed so confusing and misplaced rather than put together, with the proper customization options. Wilsons and even 44 Pro Gloves all of these have the properties of delivering clear cut, processes thus giving customer ease and satisfaction. 
So if you're looking for something that is easy and better in quality, but also prefers a customization option then I'd suggest you go for Wilson, 44 pro gloves, or even Rico Gloves. If you wanna know more about 44 Pro and Rico gloves, then check out this review of Rico custom baseball gloves and this 44 Pro custom baseball gloves as well. I'm sure you wouldn't be disappointed!