Are you considering buying a pair of SSK Gloves? Don't do that until you have read this review of SSK Baseball gloves. 
I have given a detailed review of the SSK Gloves, how they are? And why should you consider buying them? 
So let's hop right into it, shall we? 
SSK Brand
Shockingly enough or not so shocking also! SSK gloves were made in Kyoto, Japan. Kyozo Sasaki was the founder of SSK gloves and set up his first shop in Japan. The gloves are created with the utmost craftsmanship, premium material, excellent quality, and durability. 
The SSK Gloves have been out on the market for almost 75 years and they specialize in baseball gloves, these are stitched and made with premium leather. The gloves get all their laces tanned, prepped, and cut back in Japan where it is then transferred to their own factory to further manufacture and assemble the glove. 
Popular SSK Glove Series 
SSK ZPro Baseball Gloves 
The SSK ZPro Baseball gloves are made with professional features that they claim are one of a kind and don't come in easily once they've sold out. They are made by their professional department with premium Japanese Nameshi Leather. 
The ZPro Baseball Gloves come in a lot of different options and they have a lot of styles they come in, so you can always choose what suits you and your playstyle the best. The gloves come in Pro Stiff, meaning that they do not undergo any of the factory break-ins that you'd notice with any other glove. So you might have to break in these gloves yourself. They have a combination of soft palm lining and smooth finger linings for the best feeling in a glove.
SSK Z9 Maestro Baseball Gloves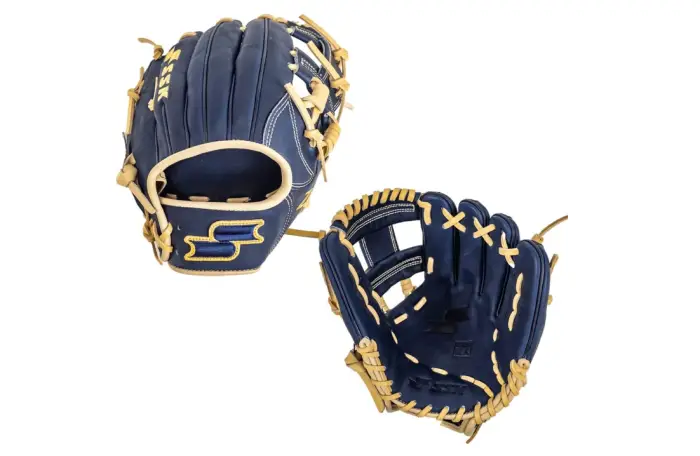 The SSK Z9 Maestro baseball Gloves are truly quite simplistic yet made in utter perfection. They have hand-picked hide from the most premium quality. This is then stamped with the Shokunin stamp, which is approved of quality by their Japanese Craftsmen.
The gloves are beautifully made, and honestly, they come in a variety of styles and different options that you can choose from. They have a soft wrist liner, which makes the player comfortable. They have top-grain leather lacing for long-lasting durability with High Tensile Strength. The glove also has an added feature of leather binding, which increases the glove control and the feel of the glove. 
SSK Z7 Specialist Baseball Glove 
These series of gloves that come from SSK are created with premium steer hide nameshi leather. The leather quality ensures that these gloves have the suppleness, smoothness, and softness to touch. While also they have a firm feel towards it and provide excellent shape retention. 
These gloves have rolled welting, which increases support but also maintains the shape year after year and season after season. The palm overlap that's present under the web increases the pocket stability and helps the gloves shape over time. So these gloves are honestly great for you to consider for your next investment. 
SSK Z5 Craftsman Baseball Gloves 
The SSK Z5 Craftsman Baseball glove series are just the same, they are made with Premium COwhide Nameshi Leather. These gloves are mostly broken in from the factory itself, so they come game ready enabling you to play with them as soon as you've got it out of the box. But fret not! They do make sure that these gloves don't sacrifice in terms of leather quality. They have an amazing feel, impressive design, and full leather quality that make the SSK Z5 unique at this price point. 
The glove also comes with an extra added feature of "Dimple Technology" What this does is basically reduce the spin of the ball while also enabling players to be able to catch these ground balls easily. These gloves are designed for players who want to hone their skills and reach the top of their baseball game.  
SSK ZSLOW Slowpitch Softball Gloves 
Now maybe you're not looking for something high-end or on the professional level. But you're looking for something that's worth your while, which also you to enjoy the antics of baseball or softball equally well fret not the SSK ZSLOW series are just the type for you. 
The gloves come with premium steer hide Japanese tanned leather. The slowpitch gloves feature a deep pocket and an incredible feel as well. The glove is designed to be able to fit pros as well as amateurs so you can be sure that these gloves are gonna be worth your while. These are a sure spend on your next splurge! 
SSK Training Gloves
While specializing in professional and leisure baseball gloves. SSK also specializes in training gloves. Like any other gloves, these are also created with Nameshi premium steer hide leather. The gloves are incredible in terms of training and they give utmost consideration when trying to craft these gloves. 
The SSK Training Gloves feel stunning when it's on your hand, offering incredible durability while providing a long time of use and enjoyment while learning the game. The gloves are designed to train amateurs and elites alike so that they can head to the next level of their game and train just like how the Pros do!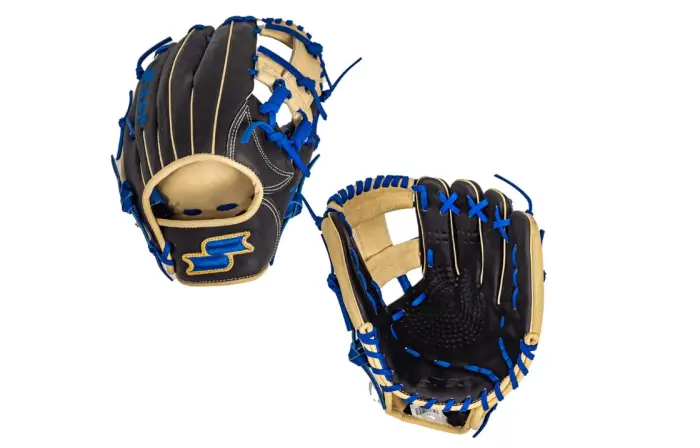 My Review Of SSK Baseball Gloves 
It is quite evident at this point that the SSK series of gloves are quite good, I wouldn't say they are stunning as such. The gloves obviously have a long-standing name and all that. But honestly, in terms of quality, there is a better market for baseball gloves. 
SSK Gloves are a good choice if you want to try and go for something affordable for the first time or maybe you wanna try something different. The gloves don't carry any extraordinary features. They have simple features that you'd have in any other normal gloves. SSK has specialized in creating gloves that are created in Japan, they have their own personalized factory which gives them a unique property than other brands out there. 
The gloves in terms of feel wise are great and the leather quality is actually not half bad. But there are some brands out there with much more selectivity, higher craftsmanship, and higher-end cutting and precision. The SSK baseball gloves are still quite endearing and stunning too. They have a good enough customer base, but not as big as most other long-standing brands out there. 
Now, if you found this review super great and wanna see more reviews just like this, then check out this review of Hit Run Steal gloves and if you wanna go for something more retro and vintage then consider checking out this review of Shoeless Joe Gloves. These gloves are absolutely perfect for the long-standing rigors of the game.
Final Thoughts
My final thoughts are that you should see what's the best option for you. The gloves are super affordable and they come with premium quality as well as professional design. Therefore it is worth buying these gloves as your next purchase. 
If you are looking for your very own personalised gloves, then I recommend checking out this review of 44 Pro custom baseball gloves, trust me, you won't regret buying them.
But of course, there are other brands there that are perfect out there, that are specifically meant for you.