*I may get commissions for purchases made through links in this post.*
A baseball glove, or commonly known as a "mitt" has now become an important part of the equipment required to play the game. However, in earlier days, baseball players used to catch the ball with bare hands.
But slowly players started using gloves for extra comfort and stability, and soon it became a common norm to use gloves.
The interesting thing is that there are different types of baseball gloves to choose from. There are different gloves for right and left-handers, standard gloves for fixed player positions, and these days you can also get custom gloves specially designed by popular brands to fit according to a player's need.
Rico is one such popular brand that has made its name by offering high-quality gloves specially made to fit the individual needs. In this article, we will discuss everything you need to know before getting your first Rico baseball glove.
Information about Rico Sports
The name of the brand "Rico" is taken from Spanish and Italian in which it means to be rich or of high quality. Just like its name, Rico stands rich and tall with its high-quality baseball products. The company is dedicated to delivering only the best of the sporting goods, making it one of the best baseball good manufacturers in the market.
First founded in the year 2013, Rico became extremely popular for its top quality uniquely designed baseball gloves. The company started designing custom gloves according to each individual player's need, making it very attractive for other players who would want to get their own custom glove made.
However, Rico is not just limited to gloves. It manufactures almost all types of baseball products such as gloves, bats, leather, conditioner, and even high-quality baseball jewelry. Rico is simply one-stop-shop for every baseball product you need, and that too in the best of the quality.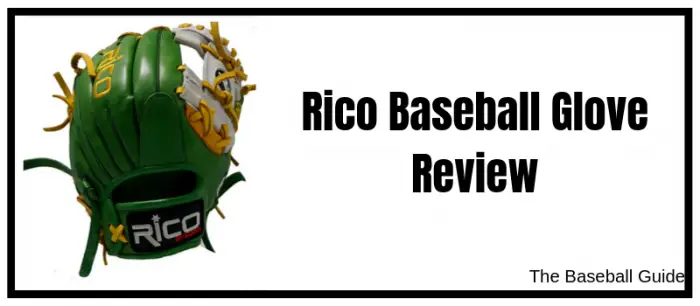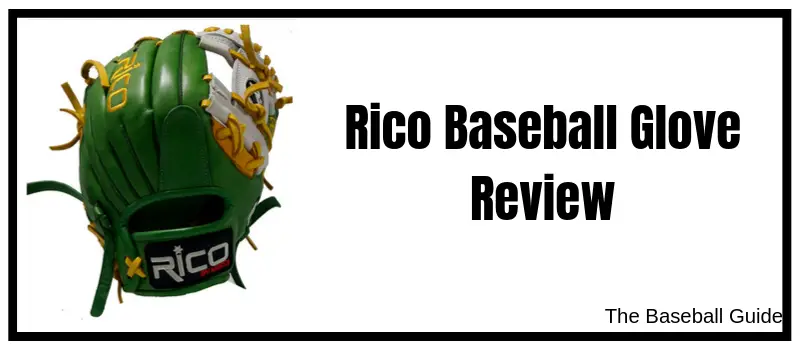 Are Rico Gloves Good?
Gloves made by Rico are extremely popular, especially the ones that are custom made. For those, who haven't tried Rico gloves yet, they are totally worth it. The gloves are made of high-quality leather providing users with extreme comfort and control upon wearing. Also, the lightweight leather allows the player to move the wrist freely without any obstructions
Rico gloves are designed for maximum performance. They are durable, lightweight, and always come in a flashy design making them look very attractive. In any case, Rico gloves are usually made in three different series with three different qualities of leather. These are
Prime Series – Tumbled cowhide leather in Adult and Youth sizing
Star Series – Smooth premium cowhide in Adult and Youth sizing
Ultra Series – Japanese tanned steer hide leather, which is a high-end leather
Apart from these three series, users also have a fourth special order option in which they can select any of the above series and choose Maruhashi Japanese tanned steer hide leather make for their custom gloves.
All things considered, Rico gloves are an excellent choice for those who are looking for a classy, comfortable, and unique baseball glove. Gloves made by Rico are always made from high-quality leather making them very durable. They are also very lightweight and provide complete control while freely moving the hand.
Customized Baseball Gloves by Rico
Rico lets you completely decide how you want your glove to look. You are free to choose everything, starting from the leather quality to the type of web style you want on your glove. Furthermore, you can also choose the colors you want on each individual part of the glove, such as the color on Palm, Pinkie Wing, Back, etc.
The best part about this is that you can design your custom gloves right at the comfort of your home. All you have to do is go on to Rico gloves official website and start designing your glove. Once you have done designing your glove, enter the measurements asked correctly. Finally, place the order and wait for your glove to arrive.
The process is very simple, but there are a few things that you need to be careful about. The most important thing that you need to understand is that the glove will be made according to the measurements given. Any wrong measurements given will ultimately create a glove that may not fit you properly.
Another important thing that you need to understand is that once the order is placed, the gloves may take around 6 to 8 weeks to process and ship. Also, ordering of a custom glove requires a USPS signature, which protects the glove from theft and ensures that the glove has reached the customer.
Also, keep in mind that once the production of the glove has started, there will be no cancellations, changes, or refunds allowed. If you have any questions regarding the making of the product, then you can contact the company's customer care directly.
Do Rico Sell Standard Gloves?
Apart from making custom gloves, Rico also manufactures standard gloves. The standard gloves made by Rico are made to fit for all. They are strong, stylish, and long-lasting. Rico often releases a limited edition sale for each of its standard gloves. If you are lucky enough, you can get yourself an excellent standard Rico glove at an amazingly cheap price.
Although not very popular, standard gloves from Rico are made from the same leather that is used in making the custom gloves. The quality of the gloves remains the same in both cases. The main difference is that the custom gloves are made to fit an individual alone, while a standard glove is made to fit for all.
Should You Buy Rico Gloves?
No matter if you are an emerging baseball player or an already established one, getting a Rico glove is going to excite you a lot. These gloves are not only made durable but also to fit perfectly comfortable. All the players who have used Rico gloves have really appreciated the feel, the quality, and the control that the gloves provide.
With these gloves on, you can improve your fielding performance greatly. The gloves are designed to help players firmly catch the ball and also pull it out of the glove when needed. They are lightweight and allow complete freedom of movement. Everything considered, if you are a baseball player, then Rico gloves are absolutely worth the try.
Conclusion
Rico gloves became popular in a very short amount of time. They have quality, comfort, and innovation. These gloves are also endorsed by many popular MLB players and have personally commented that they find Rico gloves actually effective.
With Rico gloves, you can make your catches and throws count. The amazing freedom of movement and the comfortable feel the glove provides is simply remarkable. If you haven't tried a Rico glove yet, then it is recommended that you get your first Rico gloves soon.