Looks like we have a new contender on the scene. The Rico Gloves, are they any better? 
The Rico brand of gloves has its lines of custom-made gloves. But do they meet the standards of the King Brands like Rawlings and the Wilsons or simply do they meet our standards? 
So, are you ready for a Rico gloves review? Well let's see how they meet the eye in terms of standard, quality, and performance. 
Well, let's figure that out, shall we?
Overview 
So well, yes, the Rico Gloves are super top notch and yes, they are pretty great gloves honestly. They have all the qualities that you'd need when playing on the field. Plus the more added value to it is that you can get to customize them, to how you would like it. 
But if you are willing to spend money on the ultra series, there are so many better brands out there that will give you the same type of price range but better quality, and oh the durability, it is out of this world, honestly speaking. Wanna know what they are? Pretty sure you've heard of them, folks! 
The gloves are the Rawlings Heart of the Hide and the Wilson's A2000, and if you've read my other articles, you'd know how much these gloves are worth the buy. They have amazing qualities, and great comfort, and are perfect for serious players. 
Each of these is worth all of your bucks and both of them are from the top brands in the baseball industry. The Rawlings Heart of The Hide has been used by many out there, even MLB players prefer them because of how easy they are to use and perfect to withstand the rigors of the game. As for the Wilson A2000, they are perfect and are also of superior quality as well, helping you to conquer each field you are playing on. 
About Rico Gloves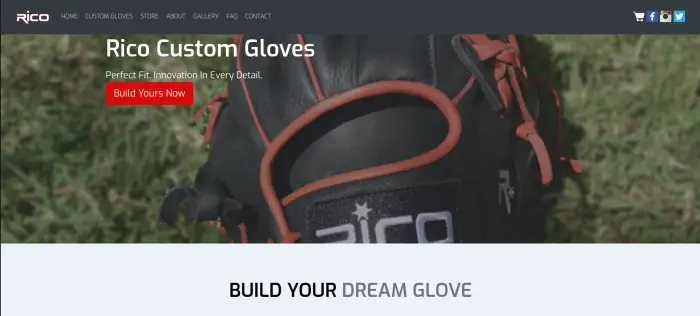 Rico Gloves is a humble customization glove company owned by a couple going by the names of Tony and Tara Maddi. The company started in the late 2000s has given a new definition to enjoying your glove, with your personal touch added to it.
The couple had a joint love for the game and thus gave the Rise of the Rico Gloves. 'Rico' means rich or high quality, and they dedicate their name to delivering such products too. The Rico gloves you customizable options while enhancing the technology, comfort, mobility, and flexibility. 
Rico gloves are pretty neat compared to the pricey and famous gloves, that you'd buy. They have affordable options, with top premium quality leather as well. 
Rico Gloves have around 60K + followers on Instagram and specializes in custom-made baseball and softball gloves. 
3 Series of Custom Gloves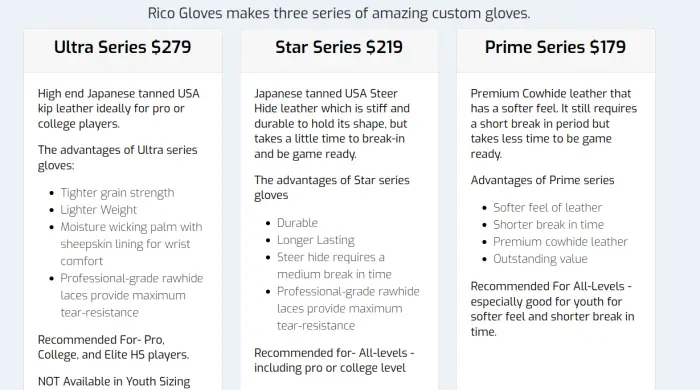 Rico Gloves offer customization of your gloves with the three series that they have available. The three series are differentiated in terms of their leather quality. 
The following series of gloves that you can choose from are as follows: 
The Prime Series: This series is made from smooth cowhide leather in adult and youth sizing 
Star Series: These are made from USA-tanned steer hide leather in adult and youth sizing
Ultra Series: The Ultra Series is made from Japanese Kip Leather-High end leather for pro, college, or elite players 
My Experience With Rico Gloves 
These are said to be the best custom gloves for baseball, well I don't say this, this verdict has been given by many loyal customers, who have the Rico Gloves. 
But well, I had to take a shot at these gloves myself. So, here I am, trying to deliver a review of the Rico Gloves as best as possible so that you could get some idea about how they are.  If you are looking for something that's customizable, while also being careful about your pocket, then well I was in your position and had the same thoughts, so fear not the Rico Gloves are super pocket-friendly, you wouldn't have to worry about the Price range of these gloves 
First, let me add that the customization process was fairly easy it was the waiting part that was tough. After 6 impatient weeks of waiting, I got my very own custom-made Rico Gloves, right off the bat, they were super good-looking, and honestly, I was already hooked on them. These gloves feel personalized as soon as I got the package it may be because Rico customizes these gloves with your personal touch catering to your needs, while still giving all of their quality assured.
I got it in a Royal Blue, with the Web being a cream color and an H-style Web. But, more of what I ordered a little later. The leather on the gloves gives you a great feel, they are amazing, and they give you durability and even a flexible property. 
In terms of protection, the padding is placed strategically in a place where it's needed, so whatever type of catches came my way it was fairly easy to get a hold on. In terms of comfort, these gloves take it a scale-up. They've added a certain level of cushioning within the glove that gives it enough impact resistance while maintaining the natural feel of the glove as well. 
The webbing pattern I used gives an added touch and flair to the gloves as well. The webbing gives me control and the added functionality of trapping the ball perfectly within the glove. And of course, because of their bottomless pockets, transferring the ball has been super quick and hassle-free. 
These gloves have moisture wick lining that sort of absorbs the sweat from your palms, so it doesn't you that suffocating or icky feeling. 
Overall, I love these gloves, but the only issue for me was that the break-in process, was a little more challenging than usual, so it's not so much as game ready as it needs to be. But I think that contributes to its longevity factor. would I recommend these gloves purely to anyone just like that? Hmmm…not likely I think, if I were to recommend something for the same price level, Wilson A2000 or even Rawlings Heart of the Hide are a great option! Sure you gotta shell out some more bucks, but I think it's worth it.
How to Order A Rico Custom Glove 
Okay, so I'm gonna show you how simple the customization process of Rico gloves is. So, you can order yours, and your new customized glove will just be a click away. 
So, you first enter Rico's home page,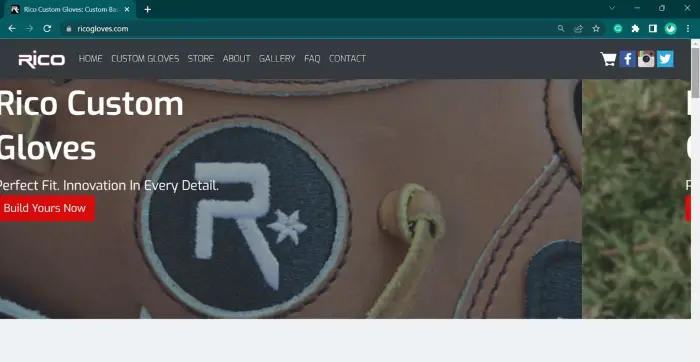 As soon as you enter, you'll see the "build yours now" option, click on it, and let's get started.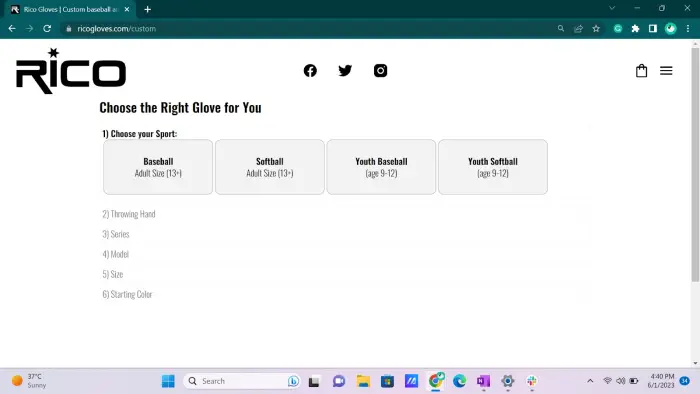 You'll come across which sport to choose, of course, I chose baseball. But of course, you have other options and you can definitely try those out too.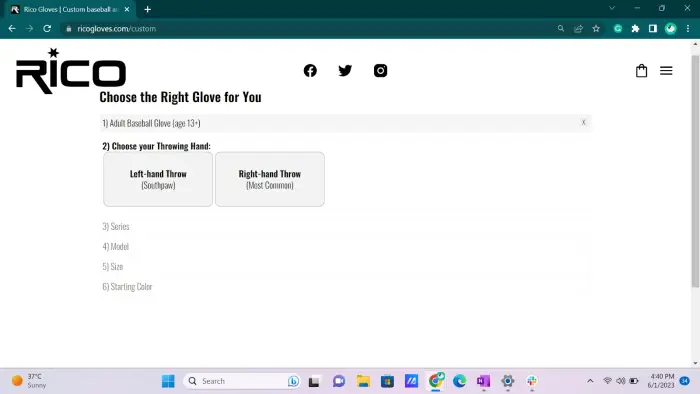 Of course, you gotta choose your hand orientation, I chose mine as the right-hand throw.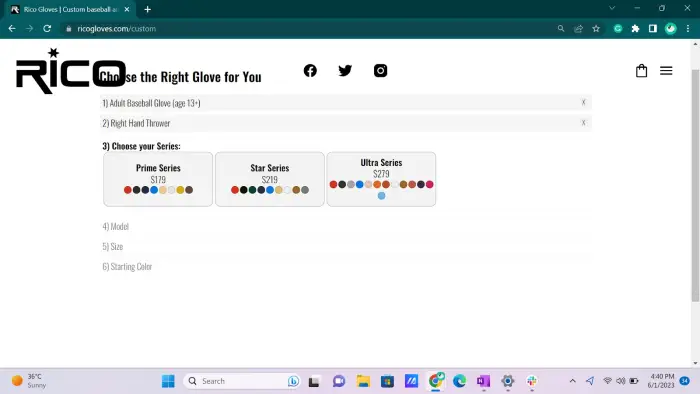 Here they ask you the series you'd prefer, I went for the Star series, because of their premium leather quality. The Ultra series and Prime series are also perfect choices since both of them are good quality leather that you can choose from.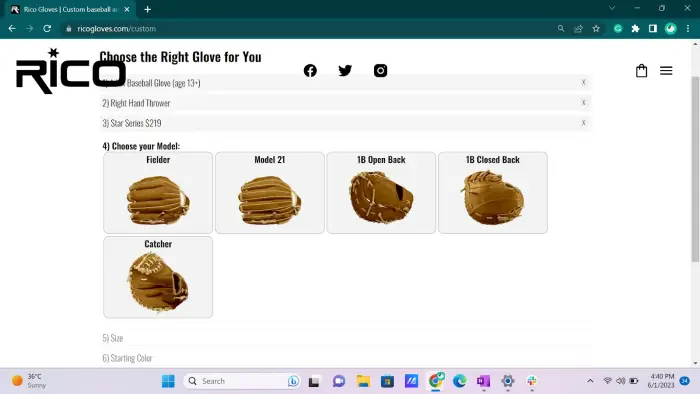 They ask about your model or the position that you play in, I chose Fielder since I play at third base.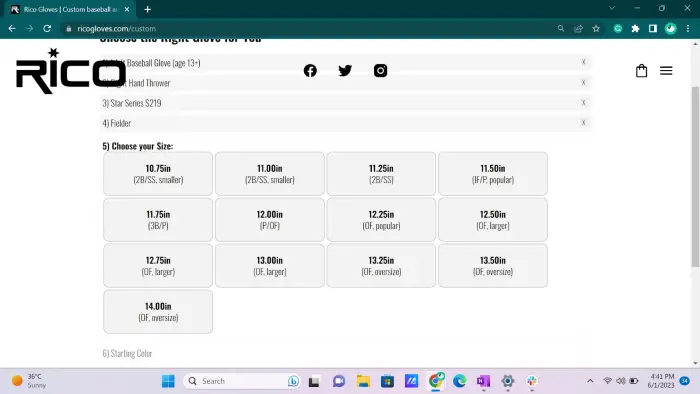 They then ask you for size specifications, I went with 11.75".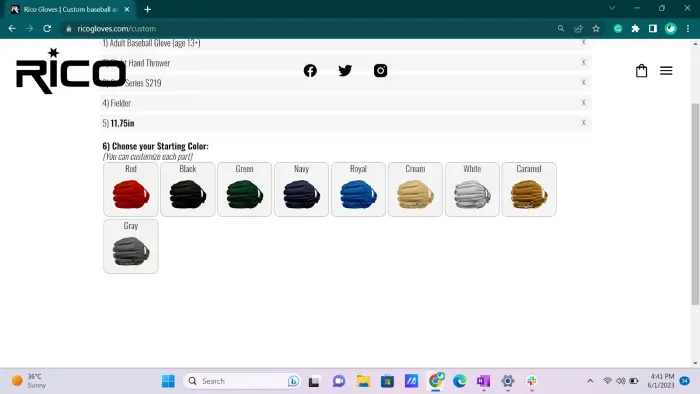 I went for royal blue as my primary color.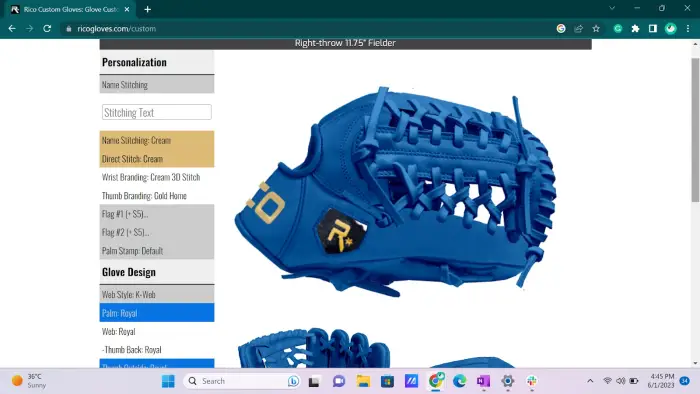 You end up with a page looking like this, in which you have several options, I was honestly first taken aback by their various customizable options. You can customize it however you like.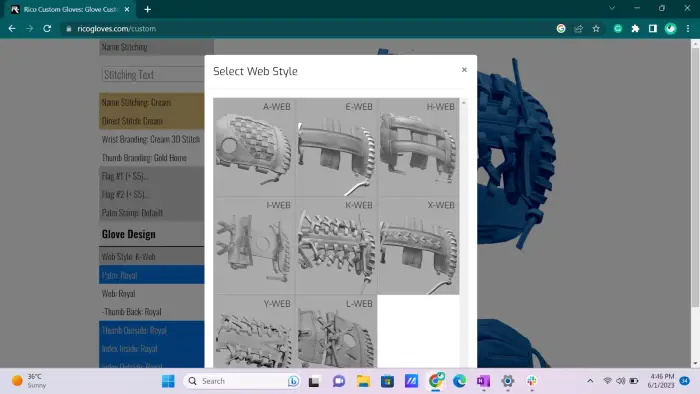 Further down you are greeted, with the webbing style you can choose from, I chose an H webbing style. 
You can even customize your lacing, webbing color, and welting and there are so many options present out there that are customizable. 
I tried to go for a sort of contrasting looking with my gloves, customizing their color to be a royal blue and giving a cream hint to certain areas. 
So what are you waiting for, go ahead and try customizing your new Rico gloves today.
Rico Vs. 44 Pro Gloves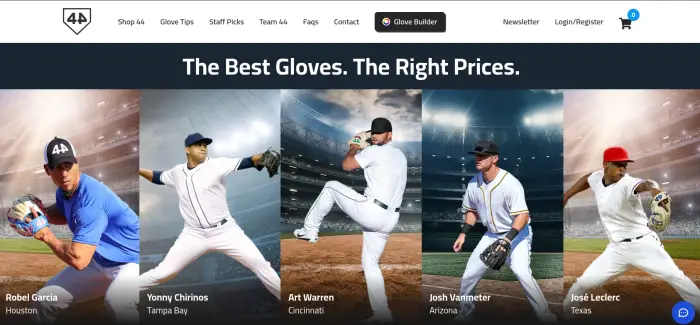 The 44 Pro gloves, in terms of website design, have something more attractive to catch their customer's base eye. Unlike Rico Gloves, the 44 Pro gloves are recommended and worn by many, including some of the major league baseball players, Adam Cimber from Toronto, Richard Rodriguez from Atlanta, and Nestor Cortes from New York just to name a few. 
Moreover, 44 Pro gloves tend to incorporate technological elements into the gloves, making them more technological advancements in terms of design and performance. Even the technological advances the 44 Pro Gloves ensure to give you a much more personalized touch to it. 44 Pro gloves also give you extensive customization options to choose from. 
We have a review of 44 Pro Gloves, be sure to check it out, if you wanna know something more about the 44 Pro Gloves. 
Frequently Asked Question 
How do you break in a Rico Glove? 
So you could break these like how you would with any other gloves either play catch to try and loosen it up or you could use conditioner, or even petroleum jelly. Another way is to try and stretch it out using the ball in the pocket. These are just a few ways you could break in. 
What type of leather do Rico Gloves use? 
This all depends on the type of series that is purchased either the prime, the star, or the ultra series. Each gives you a different type of leather in terms of quality and price point. 
How long does it take to receive a Rico glove? 
Mine took around 6 weeks. But it comes within 4 – 6 weeks usually. 
Final Thoughts
I think that the Rico Gloves are quite the steal. In terms of the glove itself, these are perfect, and the leather quality is also extremely great. Other brands like the Wilson A2000 also do customization but they are placed on the heftier side of the price scale. Even the Rawlings Heart of the Hide is a great glove compared to the Rico gloves but yes, even their price point is a little higher.
If you wanna check out something maybe with a similar price range and something that gives quality as well, then I do suggest that you check out this Shoeless Joe baseball Gloves review and even the Hit Run Steal glove review as well. These two brands are made to cater to the players specific needs, making you comfortable, even during the intense moments of the game!
There are other great gloves like the 44 Pro Gloves, but the Rico gloves are very affordable and don't compromise on quality and performance. So if you're still finding a reason to go and buy your very own Rico Gloves, well here's your chance to get them on your next big splurge.