Everyone recommends Wilson baseball gloves.
I also agree that when it comes to baseball gloves, then Wilson and Rawlings are the most trusted brands.
If we dig deep, we will find that Wilson A1000 and A2000 gloves are the most popular among baseball players.
So, if you're thinking about buying a glove, should you go with A1000 or A2000?
Both are good, durable, tried & tested by hundreds of players.
That's why we are doing this comparison of the A1000 and A2000.
Comparison Table of A1000 vs. A2000
Comparison of A1000 and A2000 Glove
It's not a good idea to compare two baseball gloves of different webbing styles. Like, if we compare an H Web Glove with a Modified T Glove, then we will not get good reliable information.
If you really want to compare gloves, then you should compare an H Web A1000 Glove with an H Web A2000 Glove of the same size. If you do that, you'll see a lot of valuable information.
Let's compare these gloves in H-Web Styles. The compared sizes are 12.5 and 12.75.
You may also want to compare Wilson A1000 Glove with other similar gloves from different brands. So, I did this comparison of the A1000 glove with Rawlings R9, Mizuno Pro Select, and Shoeless Joe Professional. All these gloves are really good, and if you have to buy one, you can choose from any of them.
A1000 vs. A2000 (In a Nutshell)
The main difference between them is the leather used in manufacturing which is responsible for the feel, break-in, and the time it lasts for.
Though the Wilson A2000 is more expensive, it is used by pro players and has better material and life. But, it doesn't mean, A1000 is a cheap quality glove.
Both are very easily available in different sizes and for both hands even for different positions.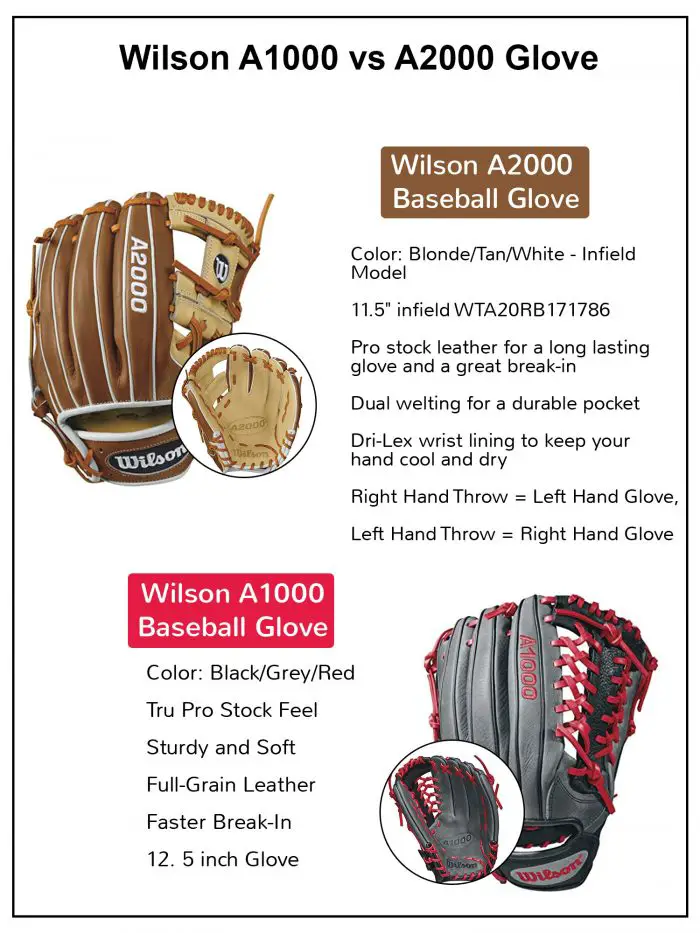 The A1000 is more sturdy and soft and is made of full-grain leather. The A2000 has a flat finger binding and has a dual welting.
Though the A1000 gives a very good pro stock feel, the A2000 only has an actual pro stock pattern on it. The webbing is also different. The A1000 has an open web while A2000 has a closed web.
Wilson offers both these gloves in different colors, designs, and web styles, and this makes it a perfect option for players at all positions.
I highly recommend that you take a look at the price and reviews of both gloves to receive from their users.
Comparison of Wilson A1000 and A2000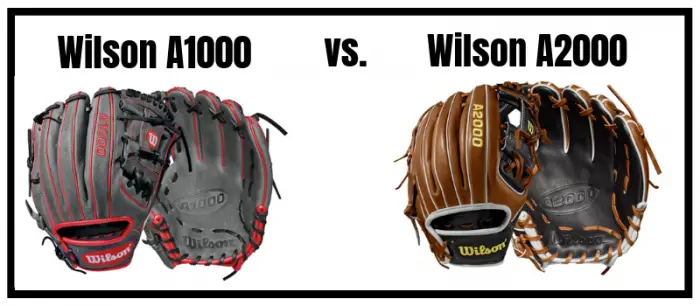 Design
The design of the Wilson A1000 and A2000 do not have many differences. Both are perfect for playing baseball.
The Wilson A1000 and A2000 are designed in such a way that they can be used for all positions. They are also available in many different sizes. There is a super skin model available in A2000 but not in A1000.
The A1000 comes only in a black or grey base color while the A2000 comes in many base colors. It is designed for both left and right-hand throws. Both the gloves have an open back.
The design you need to choose depends on the material you need and the position you will be at. Another difference is that A1000 is made with game-ready material.
Webbing
The webbing on the gloves is the web that connects the thumb of the gloves to the rest of the fingers. There are many different webbing styles on both of gloves. Each glove has its own type of webbing.
There are close and open webs and many other types. The A1000 series has an H, pro-laced T, and half-moon web while the A2000 has all of these and many more.
The webbing depends on which gloves you buy in the series as each one is used in a different position. The open web has a very good and proper opening for the dirt to fall through. The closed web is very good for catching support.
The A2000 is usually preferred by catchers and outfielders, as they have a lot of catching involved in the game. It has a perfectly stitched closed web.
Availability for Different Players
These 2 gloves are made in varied sizes. The sizes are dictated by the position in which it is used. Due to this, it can be used almost in all positions.
The A2000 can be used for softball and baseball whereas, the A1000 can be used only for baseball. The most important difference between the two is that A1000 is more flexible and is used more bycatch grounder and youth players while the A2000 is suitable for pro league level performance
Availability for Both Hands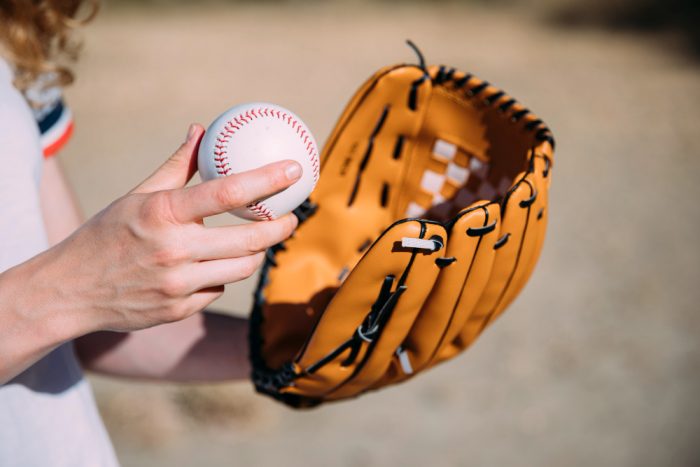 The availability of the A1000 and A2000 series for both hands also depends on the size and the stock availability. It is available almost at all times on the internet and on E-commerce websites.
They are available for both left-hand and right-hand throw. In case, it is not available when you are looking for it, you can select the option to get a notification when it is available.
Price
The price of both these gloves is totally worth it as they actually serve the purpose and are also made of the best quality.
The Wilson A2000 is more expensive than the A1000 as it is made with better materials and is usually used by pro players. There may also be seasonal offers and discounts which make it cheaper.
Leather Quality
The A1000 is made of leather and the A2000 is made of pro stock select leather. The pro stock select leather is the top American steer hide. It is more durable than normal leather and can be made to give a very unique feel.
Material-wise, the A2000 is always a better choice. The leather does not give that soft and unique feel.
Break-In
The break-in time is the time taken by the leather of the gloves to soften a little to make it better for use. This is faster in the A1000 compared to the A2000.
This is not a problem as there are many methods to make your gloves ready to use. You can use oil or any other lubricating agent. These lubricating materials can also be brought as a package along with the gloves. The A2000 has a long-lasting break-in.
Who should buy the Wilson A1000 Glove?
The A1000 glove is made of leather and is cheaper. This is also very easy to break in but can be used for all positions.
This makes it easy to handle. It is very suitable for youth as it can perfectly fit their palm size. Also, the people just starting to learn to play can choose to buy a Wilson A1000 glove, which is one of the best Wilson Gloves available.
Who should buy the Wilson A2000 Glove?
The A2000 is made of better material. This glove is for players who are older than 13 years. It is available for all the positions. So, whether you're a catcher, pitcher, infielder or outfielder, you can find A2000 glove of your choice.
Final Thoughts
The two gloves are very different from each other but they are perfect to serve the purposes that they are intended to. The A1000 is meant for youth use and the A2000 for big players.
With supreme quality, they are one of the best gloves out there.
The youth find the A1000 perfect and the older players find the A2000 very comfortable. The Glove that suits people depends on their position, the hand they need the glove for, and many other factors. It is important to choose accordingly.