Aah…the Nokona Baseball gloves, a prime yet timeless piece in the glove-making market. But is Nokona worth all the attention? 
Is it as good as the dominators of the Baseball industry a.k.a Rawlings and Wilson? 
Well, you're in for a treat because I have a detailed Nokona gloves review. Through this maybe you'll get your next pair and deem it worthy of investing. 
Let's find out, shall we?   
Summary
Nokona gloves are expensive but they're really good, totally worth the price. Nokona is one of the few brands that still make their gloves in the United States, while big brands are making their gloves in different countries. They're very durable, if you purchase them, you can expect to play with them for at least a few years.
If you take a look at Nokona Gloves on Amazon, you may find that they do not have many customer reviews but don't worry about that, because with Nokona, you always get the highest quality glove.
If you play at first base, check these Nokona first base mitts.
If you play infield, outfield, or pitcher, check these Nokona gloves for your preferred size.
However, if you're a catcher, you should check these Nokona catcher's mitts.
About Nokona 
Nokona might be familiar to those in the glove-making industry or even to any baseball fanatic like yourself. But if you aren't familiar with it, they are a company that was established back in 1934. They are one of the few companies that still produce gloves in the United States.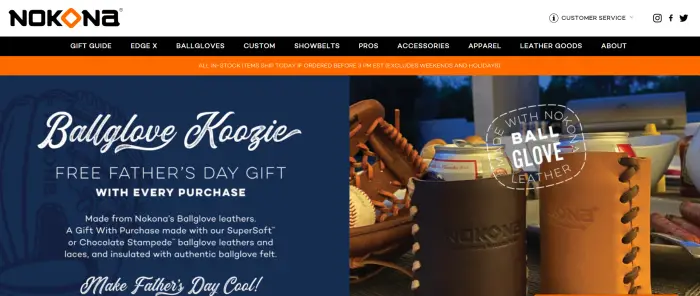 Ironically, they were formed in Nokona, Texas and so it derived its name Nokona. Interesting isn't it? Well, what's more, interesting is their noteworthy craftsmanship and attention to detail in most of the products that they create. 
Their products have also gained huge popularity throughout the years among amateur and professional baseball players alike. In terms of popularity, Nokona is more famous than Akadema, but not as famous as Rawlings or Wilsons. 
Nokona has a following of more than 40K on Instagram so that's something right? 
My Review Of Nokona Baseball Gloves 
So what do I think about the Nokona Baseball gloves? Well, you see I find that these gloves are made from extremely good leather and yes I know a lot of the brands out there use the best. 
But the feel of the Nokona gloves is just superior compared to most, they feel super lightweight and comfortable. These gloves are made by USA artisans so you can be sure that they ensure that they deliver top quality to you.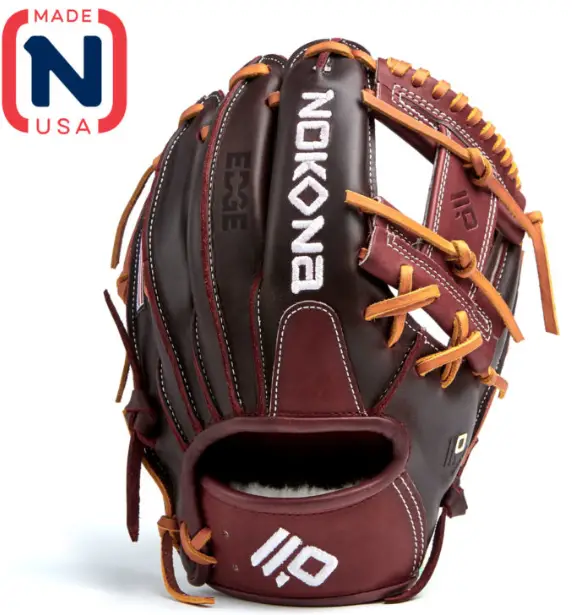 Nokona has gloves that are perfect for you and the position you play in. Nokona makes sure that these gloves are catered to your play style and what position you play in. Depending on that they have several options available for infielders, outfielders, and even catchers. These also come in different webbing options, so you can choose from the wide range of selections presented to you. 
These gloves come mostly in adult options, which is perfect because you can easily determine what type of glove you need in what position.
When I say that each of these gloves is given attention to detail, I mean from the cutting to the stamping to the lacing and embroidery all of this is dealt with with extreme precision. These give their own identity and feel which are stunning. The reason that Nokona stands out for me is because of their dedication to creating the best of the best baseball gloves, all with knowledge and perfecting techniques that they have used for 85+ years to deliver to you what's best. 
These gloves have a little stiff off a breaking period. Although the company says that these gloves come out game ready out of their factory, personally when I was using them they felt stiff but that's not a bad thing necessarily, that stiffness comes out from their extremely good leather quality. This gives the longevity factor and thus makes these gloves extremely durable so the Nokona gloves are gonna last you for years to come. 
Now, with every good thing, there's always another side to it. All of these terrific qualities come with a price. No, they do come with a hefty price tag! They are super pricey and I was honestly taken aback at first. Nokona gloves although less popular than its competitors have higher pricing, it's probably because of the leather quality being used. But in all honesty, the Wilson and Rawlings are comparatively cheaper and affordable if you look at these gloves.
I wouldn't per se recommend these gloves to high school students because of their budget and price range these can be extremely expensive, so it could be a little problematic and if you go down a few notches you could get yourself a Rawlings or Wilsons for cheaper and better quality. 
Other than that these gloves are still quite good if you ignore the price tag that is. 
Do any MLB Players Use Nokona? 
There are a few MLB Players that use Nokona's and they are Michale Kopech, a Chicago Pitcher, Ryan Pressly, a Houston Pitcher, Taylor Ward, playing for LAA as an outfielder and Cole Irvin playing for Baltimore as a pitcher. These are just a few of the MLB players that use Nokona Gloves. 
Nokona Vs. Rawlings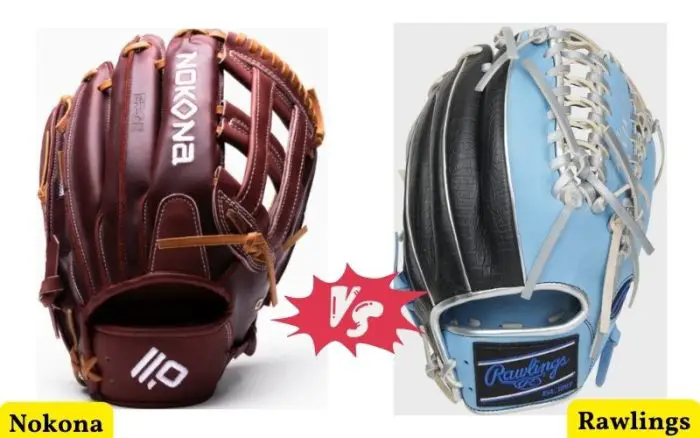 Rawlings has been out in the market for a very long time. Plus if you were to even ask a beginner of baseball, they'd choose Rawlings no matter what. It's because the Rawlings don't only come in affordable price, but they are also super popular, and a lot of the MLB players use the Rawlings more than any other baseball glove out there. Most players either use the Rawlings HOH ( heart of the hide) series or the Pro Preferred gloves. 
While if we're talking about Nokona, sure MLB players use them but not as much as Rawlings is preferred in the baseball domain.
Nokona gloves also cost more than Rawlings premium gloves (Rawlings HOH and Pro Preferred), but with Nokona, you also get better quality.
Nokona Vs. Wilson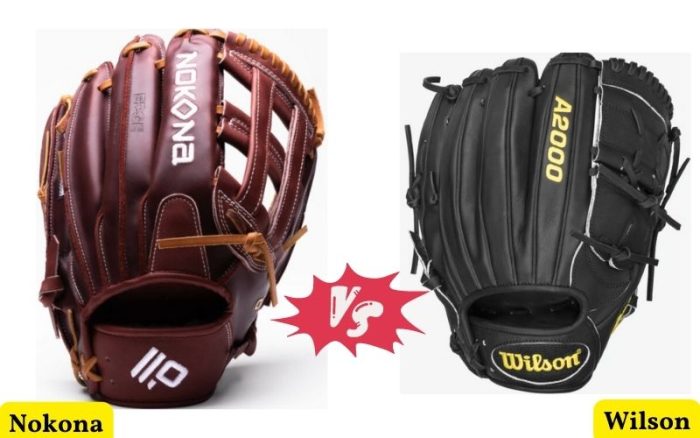 Well, if we are being honest with ourselves, we know that right after the Rawlings, the Wilsons are the most preferred brand out there in the baseball market. The Wilson A2000 and the Wilson A2K are used by many MLB players so of course, Nokona will stand short in comparison with Wilsons too. 
And in terms of price point, Wilson's A2k is almost equivalent to Nokona's standard choice of gloves, so yea I feel it would be more worthwhile to invest in an A2K because of their popularity plus their ability to deliver the performance. Cause Nokona's expensive price tag is way out of line and in that price tag you could get the A2000 or even A2K if you prefer. 
But, still, Nokona is expensive, but if you can afford it, then go for it.
If you don't want to go for any of these brands then there are plenty of Softball glove manufacturers out there, which specialise in making the best gloves catered for you.
Final Thoughts
Let me put out without any of the flattery, I'm not a big fan of Nokona. I mean sure, they have a longstanding name in the industry and they also have a good market reputation in terms of quality and craftsmanship. 
But anything above $200+ just seems super unrealistic and expensive to buy. There are affordable options out there that seem best for colleges and high school baseball players, like the Wilsons and the Rawlings. 
However, as I told you earlier, Nokona gloves are expensive, but they're worth the price if you can pay for them. Feel free to check out these Nokona gloves, and buy yourself a good glove for your needs.
Oh and if you did enjoy this review we do have other reviews that are just as worth it, check out the, Softball Bradley gloves complete review and even the testing of Capire gloves. These articles have everything that you need to know about these two brands and how each of them are super great in terms of performance.