Hmm… Capire gloves you ask, eh? Well, these gloves have got a small name in the baseball glove-making industry. 
So I wanted to try it and see whether it's really worth it or just a regular type of glove.
So here, I have the Capire Gloves review, how it is, and whether it's worth the buy or not.
Capire Gloves 

Capire Gloves was founded in 2013. A person going by the name of Mike and Ming created the Capire Baseball glove company, with the skills and craftsmanship they had. 
Both of them knew and learned every step there is to make baseball gloves. They equally had experience in the field of glove-making from the making, to the production to its assembling and trading skills. Thus was created the Capire Gloves company. Capire gloves have almost a 15-step process in their glove-making process from leather selection, cutting, stitching, forming lacing, and final shaping carefully done by exceptional craftsmen. 
The brand's mission is to provide high-performance baseball gloves and provide unmatched customer service to players of all skill levels. 
My Experience with Capire Gloves 
So right off the bat, these gloves come exactly like how I wanted them to be. I mean it's like I 3D printed these cause they look so similar to like how they did on screen. 
The quality is good too I wouldn't say better than most gloves that I've bought, but yea it's still pretty good. 
In terms of comfort, flexibility, and mobility these factors have checked out of my, list with these gloves because honestly, they're pretty solid looking in looks and feel wise too. So yea, they are just great gloves overall. 

But no, there's nothing out of the extraordinary with them. They do not have any over-the-top features which I have experienced in most gloves. 
I mean, I have bought a few of the customization lines of baseball gloves including, Wilsons, Ricos, and even the 44 Pro gloves, so I mean in terms of quality and other factors, I'm trying to compare these gloves to the ones I previously bought. 
And to put it out there real straight these gloves are not worth that much, I mean they don't have that much of an excellent leather quality and personalized styles and all that, and for me, it feels a little pricier. 
I have tried the Rico gloves and the 44 Pro gloves both of them are excellent. Especially the 44 Pro gloves, because they're literally worth the money, in fact, I bought their most premium series the "Signature Series" and I still didn't burn a hole in my pocket. 
And in terms of the customization process, I found this fairly confusing and difficult, don't get me wrong I have ordered from the 44 Pro Gloves site and even from the Rico Gloves site and both of the customization processes are super easy. 
But, with the Capire gloves, the customization process looked a little baffling, I mean I couldn't understand the placements that well, and also everything just seemed a little overwhelming with the options being present and all.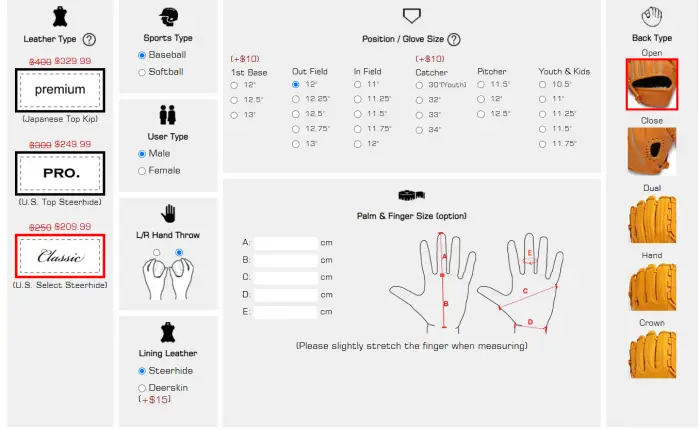 If you look here closely the process looks a little complicated, it was everything at once just being put to you, rather than step by step, like what I've noticed in Rico and the 44 Pro gloves website.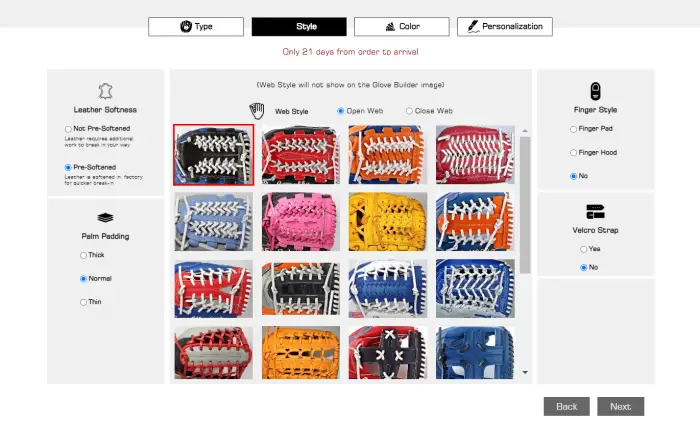 Here's just another example of how it gets complicated, now for me it was fairly easy to differentiate, but if someone were playing baseball for the first time and just know the names of the webbing styles rather than its image, I think this would be fairly perplexing to choose from. 
Yea overall these gloves are good but they're not as barely superior as compared to the Wilson's, Rico, or 44 Pro Gloves.  
Final Thoughts 
So here's the cold hard truth, I would not prefer these gloves, I find that they are overpriced, and it's unreasonable too. There are far better gloves out there and for the same price point, you'd get your very own Wilsons A2Ks, customized that too! 
And if you are looking for something on the cheaper side of the price scale then I'd definitely suggest you try the 44 Pro gloves, they not only have good quality but a lot of MLB players suggest them too. 
Or if you are looking for some other brands, that are all together different, then check out these two reviews, the review of Akadema baseball gloves and Nokona gloves review. These two brands are sure not to disappoint you and just maybe, they might end up on your wishlist!
Oh and if you thought that I forgot about you softball girlies, then you're wrong because here are some of the best softball glove brands, that are guaranteed to make you perform well on the field.
But if you are comfortable with Capire's price range and just want premium quality, then you should definitely go for it.