I was super curious about the Bradley gloves. These gloves are not your regular pair of gloves they are catered to children. 
But what else makes them special? Are they any better than the bigger brand gloves out there? 
Well, here I have a review of Bradley Gloves, what do you need to know about it and are they worthwhile enough? 
Bradley Gloves 
Now I did a little research about Bradley gloves, and they are an American company. They were founded back in 2016 by Jeff Bradley. Jeff Bradley was an enthusiast about baseball and he was completely fascinated by how baseball gloves are designed. 

He studied each aspect carefully and created something to cater to the younger players. He wanted that the baseball game to be enjoyed by even the younger generation as much as he enjoyed it and that vision led to the creation of the company Bradley. 
Bradley although coming in late in the baseball industry has gained popularity amongst younger baseball players for their perfect designs catered to their sizes and playstyle. 
My Review After I Purchased Bradley Gloves For My Kids 
So, when I was browsing through some new gloves to get my son, I came across the Bradley gloves and I got them immediately because I needed to check out how good they were. 
I got these gloves and he immediately took a liking to them. He wouldn't stop talking about these gloves and he was completely obsessed with them. He played longer sessions of catch with it. 
I got him the Next Play series because he's 10 years old right now, these gloves are made for infielder players or even for utility purposes so you can always be sure that they cater to the design specification of kids.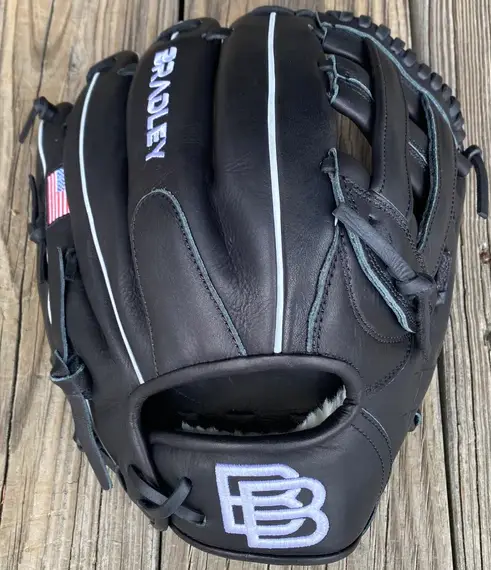 I got him the glove in a cream color with blond lacing. So what my son loves about these gloves is that they are super comfortable, he kept sweating a lot on his palms with his older gloves, but these gloves have a wool lining that kind of prevents him from sweating and gives him a longer grip and control on the field. 
In terms of quality, this feels good to the touch, they are made from native steer hide leather, and they also have cushioned palms so all those impacts that come to the kids, won't affect them too much. 
Now what I love about these gloves, namely three things, is their break-in point these gloves don't need too much break-in, they are already game ready before you hit the field, and as soon as you've purchased them. My son had a Rawlings Select Pro Lite Youth Glove (take a look, it's a good glove for kids) and that took some time to break in but this glove was super supple and broke in within no time. 
Another thing is that these gloves have velcro straps, so I was confused at first whether the gloves would fit him or not or would it be too big since I purchased them online, but each has velcro straps so any type of adjustments can be done if you're looking for that. 
And of course just like any parent I didn't want to burn a hole in my pocket since he's still growing so the gloves will grow out for him, but I still wanted a good quality, so the Bradley gloves were honestly the perfect choice to go with.  
So if you're looking for something affordable, and good quality, whilst giving your kids to enjoy then you should go for the Bradley gloves because they work like a gem and your kids will get hooked on them in no time. Now, if you are looking for something for your girls instead, then check out some of the best softball glove companies, that specialise to give you the best type of feel when playing on the field.
And if you did enjoy this review, I have so many more reviews just like these of other brands, including the review of Nokona baseball gloves and I even reviewed Akadema gloves as well. Do check them out, to see if they match your preference! Until next time!