" What's more worth investing in: The Rawlings R9 Series or The Rawlings GG Elite glove?"  I'm sure this thought must be running through your head 
Choosing the right gloves can be super confusing. Moreover, would they be right for you to start with, it's a question that keeps spinning your head. 
Well, let's erase all those confusion, because I am here with a review of both of these gloves, which will not give you an idea about what's right for you, but also enable you to decide what's your choice for the longer term. 
Rawlings R9 
The Rawlings R9 series is a really popular choice amongst most high schoolers and college players for the most. Like most Rawlings gloves these are made from, full-grain leather material, enhancing the quality and durability of these gloves. 
These gloves like any other come in different styles, for the different types of positions you play, and they also have two types of different hand orientations a.k.a Right Hand Thow and Left Hand Throw.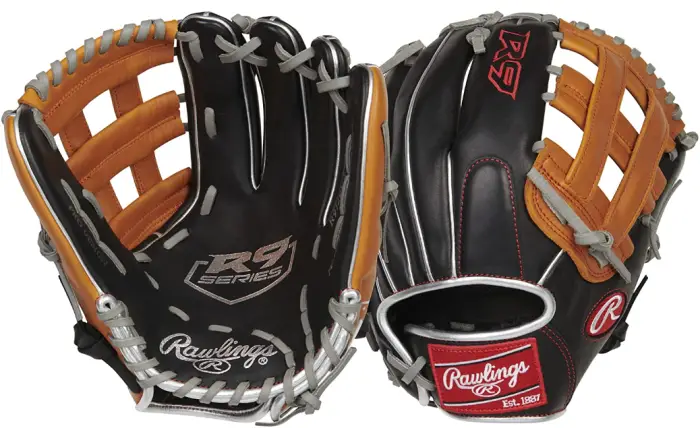 The different styles have different web forms that most of you are familiar with the I, the H, the trapeze, and even the closed web design that most pitchers prefer. 
Compared to most Rawlings gloves the R9 Series comes almost 80% broken in that spares you the time and energy to soften or break the leather. That enables you to immediately start playing with these gloves as soon as you have purchased them. Another feature of the Rawlings R9 series is its Pro-Grade laces that ensure the longevity of the gloves. It is this feature that enables the glove to withstand the rigors of the game, therefore enabling you to use it for many seasons. 
Rawlings GG Elite 
So here's the thing about the GG Elite series, these series have quite the support and durability that you need throughout the season to play. 
These gloves come with soft leather beforehand, not like what you'd get in other gloves that you purchase right off the bat. With other gloves, you might have to soften it up before actually playing with it, but the Rawlings GG elite already come with that added feature.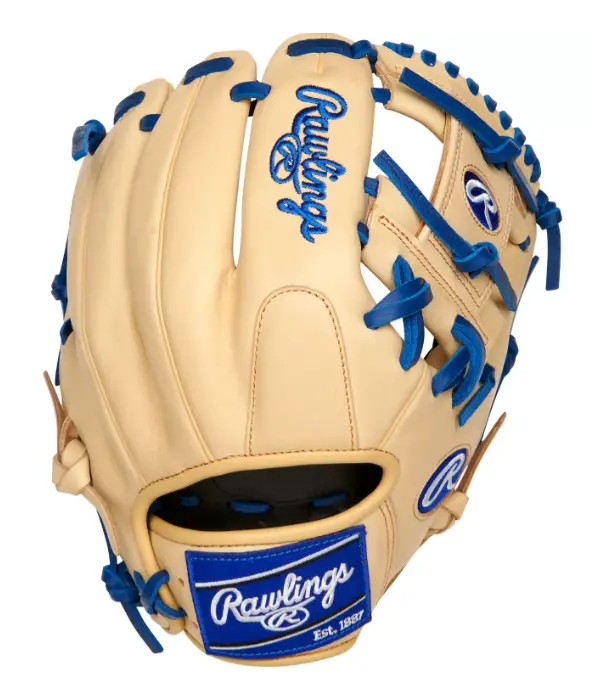 These are available in different styles, for the different positions you play. Also, they've included a padded finger and palm lining that increases comfort and flexibility when you're in the field. 
The GG Elite series is designed to make you excel on the field, Rawlings has incorporated the best of the best professional pattern such as pocket depth, web design, and finger lining all to make sure that you excel on the diamond field. 
Rawlings R9 Vs. GG Elite Glove 
Now, this places these two models on either side of the ring. And of course, you might find both of them excellent, but you have to make a choice. So, you choose the best and perform the best too. 
So, Let the Showdown Begin!
R9 Series is Available Everywhere
The R9 series is available in most stores, including the world's biggest online shopping platform Amazon. 
If you were to try to find the GG Elite glove series on Amazon, it doesn't seem to be available leaving you with an option to go either to the official Rawling's Website or Dick's sporting goods website to make a purchase. 
Maybe you might think, how is it any different from buying from the official website and Amazon, well the official website might not be able to deliver to some places, leaving you with nothing to buy from. 
GG Elite Series meets Professional Standards
Now what I mean by this is that the GG Elite Gloves are sort of designed for professional players, in different positions such as catchers, pitchers, infielders, and outfielders. Sort of putting it in the drawback.
But if you look closely at the R9 series it gives you a lot of freedom and accessibility, making it inclusive for all, especially beginners like yourself. Maybe, you're not a beginner, but you're definitely not a pro, or even match the level of a pro. Therefore, the Rawlings R9 series is perfect for you giving you the ability to learn and hone your skills as a beginner or an intermediate player. Take a look at the R9 Series Glove, a lot of other baseball players use them, and they really like it.
BOA Hand Opening Method In GG Elite Gloves 
So, the GG Elite series has a Boa opening hand method this involves the twisting boa dial to make any adjustments in the tightness or looseness of the glove and how it grips the wrists. This feature makes micro-adjustments whilst trying to make the glove fit perfectly on your wrists. 
This is not present in the R9 series and mostly they have the traditional velcro straps, that allow you to make necessary adjustments to your gloves according to your liking.
Lower Price Point of R9 Series  
Now, here's something to consider, if you're a college student or maybe just a high school student who's looking for something affordable and maybe a little on the cheaper side, still having all the necessary properties of a great glove, then go for the R9 series. Because these series tend to have great high-quality materials solely tailored to your comfort and liking. 
While most GG Elite Gloves, too have good high-quality material but the issue is that it's mostly tailored to meet professional standards than ordinary players. Therefore, they are also placed at higher price points. 
Should I Buy R9 or GG Elite?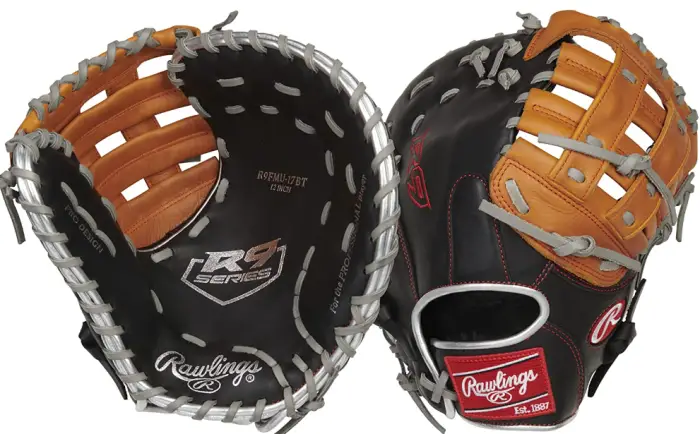 Both gloves are great, they are perfect in each way. But if you are looking for something affordable and comfortable for a player like yourself then I'd for sure recommend the R9 Series of Gloves. Now if you already liked this comparison then I suggest you look at these ones as well, Sandlot Vs. Player Preferred, or even HOH VS. Pro Preferred these are both from Rawlings and are absolutely perfect for beginners and Pros alike!
Take a look at R9 Glove for different positions. They're available for both hands (left or right hand). If you're unsure about the size, you can find the size chart on the product page.
The reason is that these gloves are not only affordable, but they also have a lot of great features that are required to perfect your skills, giving you the space to learn and the quality to perform. 
When it comes to some of the best Rawlings Series, then Heart of the Hide, has captured hearts of many. Not to mention, if you consider buying something expensive from Rawlings then this should be your pick, you could check any review of Rawlings HOH, to see if it fits to your heart's desires!
Well other than that Rawlings R9 is perfect for those training in the beginning stages of their baseball game. So, what are you waiting for, invest in R9 Series, and for sure wearing these gloves will make you have all eyes on you.