The Heart of the Hide gloves is quite different than the Pro Preferred gloves in many ways. 
But you might be confused about what to choose for yourself. So, I'm gonna compare the two, Rawlings Heart of the Hide Vs The Pro Preferred gloves and present this comparison to you. 
To make it even easier for you, I have added a table so you can check Rawlings HOH and Pro Preferred for each position.
Summary
The Rawlings Heart of the Hide and Rawlings Pro Preferred are both high-quality and comfortable gloves. There are a few minor differences like Pro Preferred gloves are slightly easier to break in as compared to Heart of the Hide. Along with that, Pro Preferred is also more comfortable. But, HOH is more popular and gives better value for money.
Let's take a look at these gloves for each position.
Rawlings Heart of the Hide
Now the Heart of the Hide gloves are quite popular. They have been quite the popular series in Rawlings's brand. We have a review of Rawlings's Heart of the Hide, feel free to check that out if you wanna know the immense features that the Heart of the Hide has.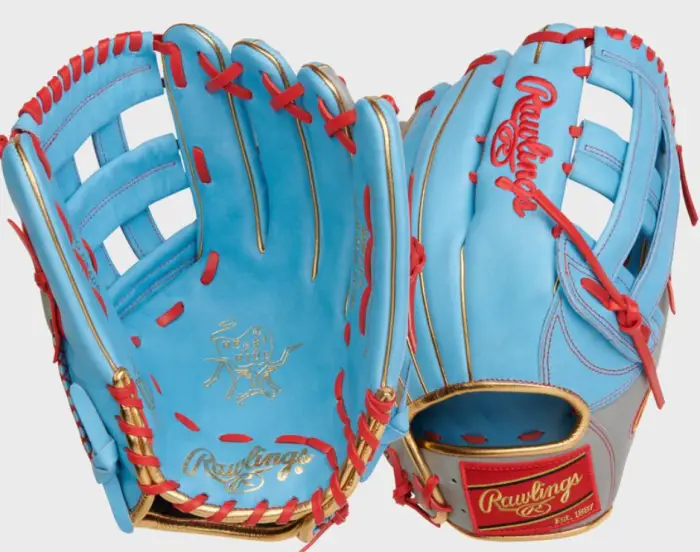 The Heart of the Hide is mainly popular because of its longevity and how it can be durable throughout different seasons of your game. It has this characteristic, because unlike other Rawlings gloves these come with a 60% break-in from the factory itself, and 40% of the break is done by you. This makes the gloves last for a long time. 
These gloves are also made from premium-grade material and are recommended by most MLB players making them quite a steal. The gloves also have a padded lining present on the fingers that make have added comfort and flexibility whilst playing. If you already like the sound of Rawlings's Heart of the Hide, do be sure to check out a Review of the Rawling's Heart of the Hide.
Rawlings Pro Preferred 
The Rawlings Pro Preferred Series, are a remarkable series that are made from high-grade materials. This glove is made from kip leather, which makes it all the more surreal in terms of its look and how it feels. 
The best part about the Pro Preferred gloves is they incorporate Pro Player design characteristics into its glove, to give you that extra feel of playing like a Pro.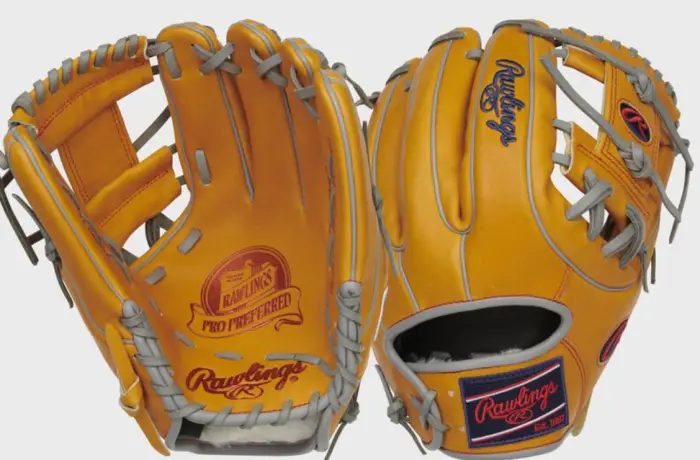 When you play, most of the time you sweat on your palms, making it almost difficult to concentrate but with the Pro Preferred glove series, with Pittards Sheepskin Lining material on the palm, these ensure to keep your palms dry throughout the game. 
The Pro Preferred gloves are customizable, giving you the ability to add your very own personal touches to them. These gloves are crafted with utmost craftsmanship and attention to detail in each of its pieces. 
These gloves are chosen by many Major League Baseball players and therefore remain the priciest series in the range of Rawlings's.
Comparison of Heart of the Hide Vs Pro Preferred
Now of course there are worlds apart differences between the two. Here are some of the stark differences between HOH and Pro Preferred gloves. 
 So, let's dive into it, shall we? 
Heart of Hide is Available in More Styles
If you're an avid lover of Rawlings, you might very well know that the Heart of the Hide is the most longstanding series in their range of gloves. Therefore they have a wide variety of colors, sizes, and styles according to their positions. 
Well of course, even the Pro Preferred Series also has the same amount of styles and sizes, but in terms of the color ranges they don't have a lot of options available. 
Pro Preferred Gloves are More Expensive 
The Pro Preferred gloves are recommended by most MLB players and most MLB players use them, they are quite costly, and they're expensive also because of the high-grade quality material used in them. 
In comparison, the Heart of The Hide gloves are much reasonably lower but do not sacrifice the quality of material either. 
Heart of the Hide Is More Popular 
Because of their timelessness in the baseball industry, and the oldest series in the Rawlings range, they are quite popular. Not only that most people find this range of gloves quite affordable to buy for themselves for longer investments. 
While, the Pro Preferred gloves have come recently into the market and because of their high price and low options, they have lesser popularity. 
The Pro Preferred Gloves have Lesser Break In
The break-in period of Pro Preferred gloves is only 30% to be done by you, whereas 70% of it comes from the factory. 
While the Heart of the Hide has 60% break-in done by the factory and 40% will be done by you, this gives its characteristic longevity property. 
Now, if you are looking for some great pair of softball glove companies, then well I have just the article for you. And oh! If you did love this comparison itself well then, we do have a Wilson A1000 and A2000 baseball glove comparison as well.
Which One Is Good for You? 
If you are looking for something customizable with premium grade material and has extra comfort while playing, that makes you almost feel like a pro, then Pro Preferred Series is your best go. Well, before I do conclude this article, ever wanted to have your own customized gloves, something with your own added personal touch? Yea me too! And that's when I came across some of the best custom glove brands, these will knock your socks off, quite literally!
But if you are looking for something affordable without compromising the material, comfort, and durability then the Heart of the Hide is your best shot to go for.