The Shoeless Joe Gloves? What's so great about them? Are they even that good? Is it worth my dime?
I'm sure questions like these must run in your mind. But, Hey! I'm here to give you a solid review of the Shoeless Joe Gloves how they are? And are they worth your time and investment?  
So let's jump straight into it! 
About Shoeless Joe Gloves
A little fun fact that I'd like to throw in there, is that the name Shoeless Joe was ironically derived from a famous Major League Baseball player who played as an outfielder in the early 1900s, his name was Joseph Jefferson Jackson. Ironic or not Shoeless Joe has been out for some time in the baseball glove market. 
They have gained increasing popularity for their sort of vintage looks but more on that later. The Shoeless Joe Baseball gloves are good enough to deliver you the performance that you need on the field. Although they don't have a wide customer base, they meet the needs of specific types of people who have tastes for old things. 
My Review of Shoeless Joe Glove 
Here is my Shoeless Joe Gloves Review. First, let's talk about how these gloves look. In terms of look wise, these gloves, are brown in color and are extremely gorgeous, like honestly if you are into that old-money style, with a vintage and antique hint, then these gloves are just the type for you. The reason that these gloves are like this, is because the company wanted to try and incorporate the looks of the 1900s into the glove itself, therefore, reminiscing the looks of that time. Incorporating these factors together, gives people a sense of aesthetics in these brown baseball gloves, thus making specific people want them. 
Now let's talk about the quality of these gloves. In terms of quality, the gloves feel extremely good to touch, and kind of drive you back all the way to the past. The gloves are made of tobacco leather so that again gives it that really smokey look and a more flawless touch. The gloves are made with full-grain leather so which contributes to its durability factor and can withstand the rigors of the game. 
Now the break-in factor, so these gloves, whilst having that soft yet rugged classic feel, that'd you get in a vintage glove, are also broken in perfectly by the factory itself. What they basically do is hand rub some of the old-time ingredients into the glove which eases the breaking-in process. Once the glove is broken in, it gives it the characteristic soft look and worn out feel in the glove. This is one of their trademark properties known as "game-worn", this property allows it to easily break in and use the glove as soon as possible when you hit the field. 
In terms of protection, the Shoeless Joe Baseball gloves are perfect since they come in with an XRD foam, present in the palm of the glove. What this does is basically, upon the heavy impact of the ball, the foam absorbs the impact and then dissipates throughout the glove, therefore, reducing the risk of injury completely. 
Overall, Shoeless Joe Baseball Gloves have been out in the industry for almost 100 years and they keep perfecting their style while also adapting to the needs and desires of people. They also incorporated technologies like XRD to give players the ease and comfort of playing, while even catering to their specific play styles. Shoeless Joe Gloves are meant for people with peculiar tastes, those who enjoy vintage looks, and the ones who savor the aesthetics of the 20th century, Shoeless Joe is quite literally a feast for their eyes.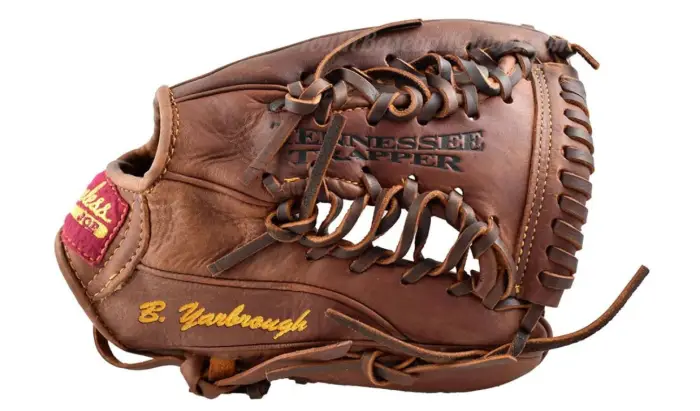 Do Any MLB Players Use Shoeless Joe Gloves? 
Well like I said before Shoeless Joe Baseball Gloves, are meant for people with a particular taste and the ones who want to get a taste of nostalgia. So, these gloves are not widely used by MLB players, because there are other brands that have extraordinary features, therefore downsizing Shoeless Joe. But quite honestly they are still quite stunning and flawless to look at. And if you thoroughly enjoy the look and feel of vintage, then these are your best shot. 
But, if vintage is just not your thing, well then I suggest taking a look at the SSK gloves, I find them to be super awesome and sleek, while giving you immense comfort during the rigors of the game.
Final Thoughts 
It's quite understandable at this point that Shoeless Joe Gloves are specifically designed for those with a unique taste in antique things and if you are looking for a dose of nostalgia then these gloves are really worth the buy. 
But these gloves, are not great compared to most of the gloves, most gloves have extraordinaire properties that are not in comparison to Shoeless Joe Gloves and that's why most MLB players don't use Shoeless Joe as much.
Hold up! Right before I conclude, ever wanted to have your very own personalised, custom made gloves, then check out the Rico custom baseball gloves and even this article, "Are 44 Pro gloves good" Trust me, you won't be disappointed! Until next time, then!