There might be a lot of thoughts encircling your head about the Wilson A1000, "Is it as good as it claims to be?" "Are they even worth buying?" 
I know these questions might hinder your decision to invest in these gloves. So, I'm here to give you a detailed review of everything there is to know about the Wilson A1000 glove series. 
Let's get right into it!
Wilson A1000 Glove Review 
The Wilson A1000 glove series is quite the typical type of glove. They are made of full-grain leather material, which gives strength and durability while also ensuring the comfort factor of each of its players. 
There is also the microfiber material that makes up the glove, which gives its lightweight characteristic and also makes it moisture resistant, making it easier to clean than traditional leather. 
Now some of you might have hands that are on the smaller side, well the brand catered to the customer's needs and added this incredible feature to the Wilson A1000 gloves. Said incredible feature is, the Pedroia Fit, now what this does, is it brings the thumb and the pinky closer whilst maintaining the pocket size and shape. Ensuring a secure fit for those with smaller wrists, or hands and maximizing strength and control.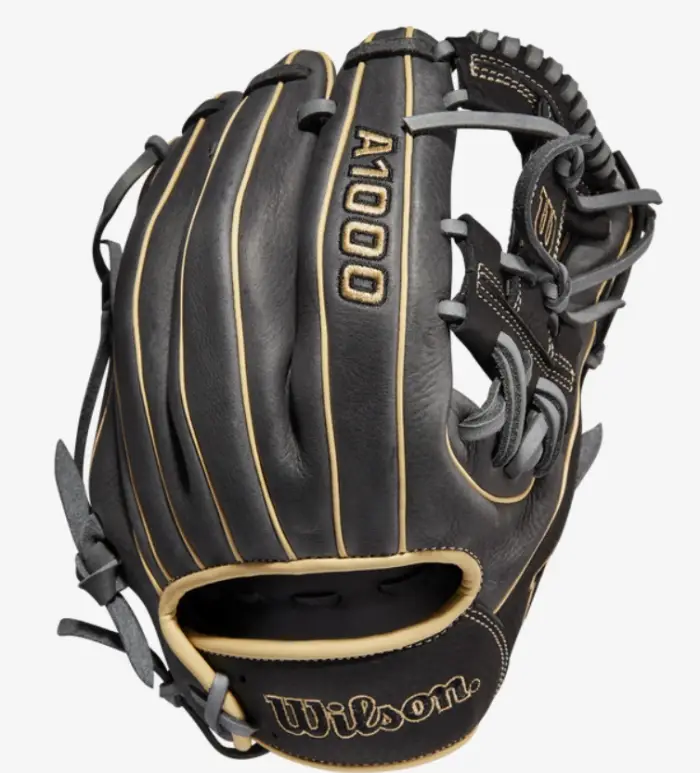 Another striking feature of the Wilson A1000 is the dual welting technology. This means that there is double stitching along the back of the fingers and the palm, this maintains and gives shape to the glove and also contributes to its resilient characteristic. 
The Wilson A1000 glove offers several different styles in terms of webbing and the positions that you play in. These are all designed to cater to your specific needs and playing style. 
The DriLex Wrist Lining that is added to the Wilson A1000 gives it the property of keeping your hands dry throughout the entirety of the game. A thin heel pad design allows quicker break-in and better closure. The break-in time for the Wilson A1000 series is relatively short allowing you for an easier break-in, just by playing a few throws, or even using leather oil or conditioner to soften the leather further. 
Overall, the Wilson A1000 is a pretty decent glove if you're in college or high school-level baseball. 
Some Alternatives Of A1000 Glove 
Although the Wilson A1000 gloves are great gloves, there are better gloves out there in the market that are far better than them in terms of quality and performance. 
Let's say, the Rawlings' R9 Glove, for example, has top full-grain material and is available for different types of specific positions that you play. Rawlings is one of the leading brands in the baseball industry so when it comes to premium and top-notch quality with delivery of excellent performance, I'd say that Rawlings doesn't miss a spot. Moreover, these are also available at a similar price range to the Wilson A1000, so if you don't wanna compromise on quality then Rawlings's R9 Gloves are your best bet. Please take a look at the price of A1000, and the price of Rawlings R9, so you can compare them. If you wanna see a more descriptive comparison between Wilson A1000 and Rawlings R9 Gloves, then you check them out here.
Of course, if you're willing to compromise on your price range and you do want something from Wilsons itself, then you should for sure go for the Wilson A2000, but this is placed on the heftier range of the price scale. This is all up to you, your preference, and your choice of quality or brand. Wondered what's better the Wilson A2000 or the Wilson A1000 baseball glove? Yea, the question keeps spinning in my head as well, well I got just the perfect comparison for you.
Final Thoughts 
In my opinion, if you wanna go for something in terms of quality and no exception for performance then the Wilson A1000 is worth a shot. 
These are quite affordable, so you can always keep experimenting to see what suits you best. And of course, they make no excuse for providing the best! If you did like this review of A1000, then do check out the review of Wilson A500 as well.
So be it any type of position that you play for, you can make sure that the Wilson A1000 will give you the mobility, durability, and comfort factors all in one.