Finding the right glove, to get you started on the baseball field is quite tricky. Of course, you are no pro. Heck! You don't know what positions you might play in yet. 
To get all this confusion away, I am here to give you a review on the Wilson A500 series, one of the best utility gloves out there, and it's also available in the size 10.5" to 12.5".
So, what are you waiting for? Let's delve right into it. 
Wilson A500 Review 
The Wilson A500 is a perfect glove to get started on the baseball field. The glove is made of Full-grain leather material, to give you a traditional feel when you play and it's combined with synthetic materials to give you lightweight and durable properties as well.
The glove features their ever-iconic webbing style the H-web, they mostly have the glove present in this webbing style, to give you flexibility while playing. The Wilson A500 gloves also have a shallow pocket that makes you get the ball quicker out of your hand. These gloves also have redesigned their hand opening by making them more adjustable so that they are more suitable for smaller hands or younger players, giving you the perfect fit. 
The Wilson A500 comes in both hand orientations and different colors to pick from. The glove also comes with a 75% break-in, which gives you a room of about 25% more break-in, which gives you the benefit of being game ready as soon as you've purchased it.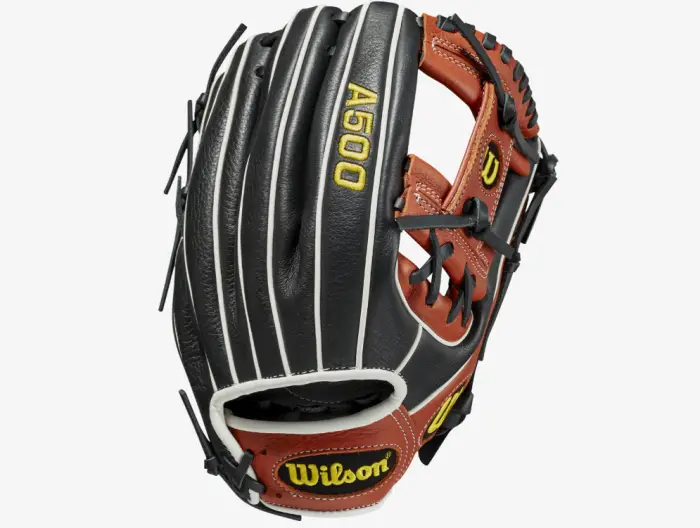 On the other hand, the catcher's mitt from the Wilson A500 series is also perfect for youth players. These are much more lightweight and smaller in size than most catchers' mitts used. They have adjustable features, such as a hook and loop strap system.
These gloves have better padding and protection for high-impact throws that come their way. The padding helps absorb the force of the impact, reducing injury or any other serious damage. These also come with added features of durability and longevity for intense baseball games throughout different seasons. 
These are great gloves to kickstart your baseball game, as these are comparatively quite affordable than most glove brands out there. Various utility models are present for these gloves, making them versatile as you can play them in different positions and try and figure out what playing style or position is best for you, without needing to purchase various types of gloves for each style you play. 
Who Should Buy the A500 Series? 
These gloves are perfect for younger players from ages 7-12 yrs. The Wilson A500 gloves and catchers are quite astounding because of their resilient and resourceful nature. When it comes to the basics of baseball, these series of gloves get you into action on the field
The Wilson A500 series comes from a very trusted brand in the baseball domain, they offer excellence in youth performance. They work like a gem for young players, giving them a lot of mobility and flexibility, because of the lightweight property. They also allow proper ball control, adequate support, and protection in the early stages of baseball gaming. 
Below, I have shared the different sizes of A500 gloves for different age groups of kids. However, these are just suggestions, because the exact glove size will depend on your kid's hand size.
Who Should Not Buy the A500?
I'd definitely not recommend these gloves for high school or college players. Because, these gloves are utility gloves and they are better for beginner players, or kids who are just getting down the basics of baseball down. 
High school players and college players have specific positions to play and that's why require a high-quality glove, in terms of web design and of course, the position that they play in. 
The Wilson A500 is not only smaller in size but they lack certain technologies that higher-end gloves have present in their gloves, therefore making it less suitable for college or high school students to use them. 
I know some of you must be like, " But Rawlings is better"! Yeah, I figured you'd say that. And you know what? I do agree, both of these brands have a completely different stand in the baseball industry. But we do have a comparison between Rawlings R9 and Wilson A1000, both of the Brands's best gloves and how they differ in terms of quality and features as well, and also what's best suited for you. This is gonna rid you of all your confusion and get you a clearer understanding of, maybe not the best brand in the industry, but what might be best catered for you.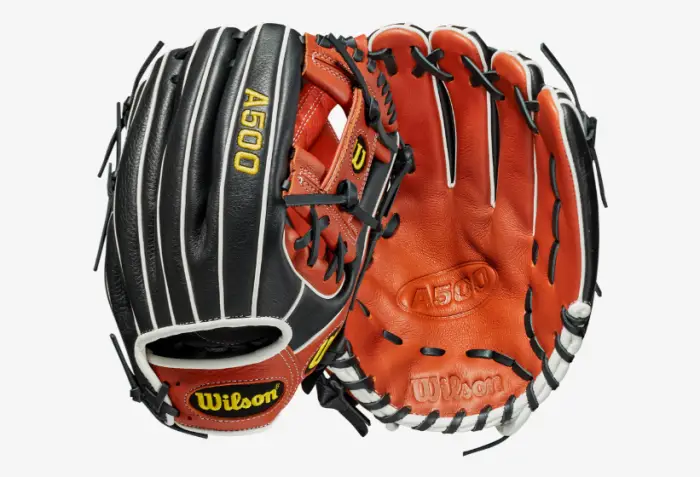 Final Thoughts 
The Wilson A500 gloves and the catcher's mitt are the perfect set of brands for you to get started in the field of baseball. They give you the right size and adjustable features, without compromising on their comfort, protection, and durability factor. Of course, buying these gloves won't make you regret it. Now, if you did love Wilson A500 or if you just love Wilson products itself, I do suggest that you take a look at this Wilson A1000 baseball glove review and also this comparison of Wilson A1000 and A2000 gloves as well.
But if you were going for a longer-term investment then I'd have you choose the Rawlings Select Pro Lite Youth glove these come in different web styles and positions and they even come with the utility option too.