The A2000 gloves are such amazing gloves. They are gloves that are recommended by most famous MLB players. 
These gloves help you shine in your baseball performance, but they also give you excellent comfort and durability. But other than that what makes the gloves so special? Is it worth investing in?
Well, I'm here to give you a review of the A2000 and why are they so popular.  
So let's dive into some of the characteristics of the A2000!
Specifications Of Wilson A2000 Series 
The A2000s come in various styles and colors. These also come in the various types of positions that you play. They also come with the size specification, of each baseball position that you play in. 
The Wilson A2000 is designed for extra comfort during gameplay but also has durability. They have Pro Stock leather that gives you an incredible feel and the material gives it a resilience characteristic as well. These come with adjustable straps making them perfect, for those who have smaller hands or have the need to adjust regular glove sizes.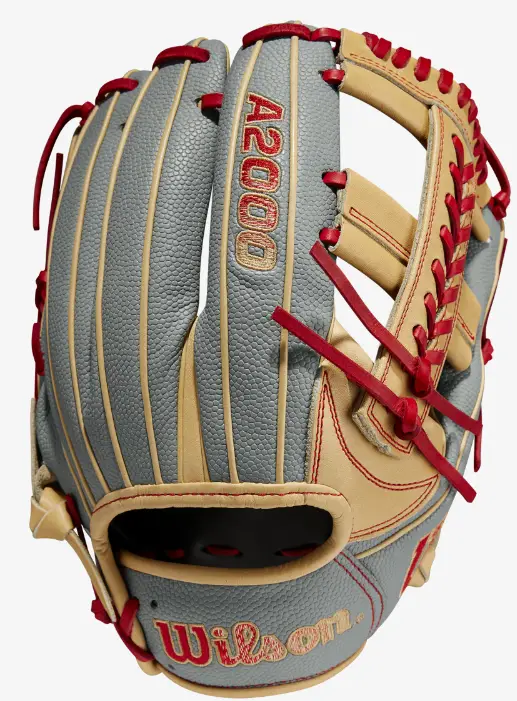 If you thought the A2000 couldn't get any better, well, you're wrong!
They have improved its technology further, what Wilson's has done is included what they call the spin technology. This reduces the spin of the ball by rapidly increasing the friction at the moment of contact between the ball and the glove. A dimpled pattern in the Pro Stock Leather in the palm and web of your A2000 helps achieve this property. 
They are present in both hand orientations and have different webbing styles for different positions played, the A2000 catcher's mitt, a single-post web for first base, etc. In this Wilson brand, the most popular series are the Wilson A2000 and A2K baseball glove. When considering buying either of them, you must try and read some of their point of difference to check which is most suitable with your play style.
The A2000 is quite the splendid type of gloves, they come with quality and flexibility added too. 
Why I Love Wilson A2000 Series Gloves 
What makes me so hooked about the A2000s? Well, firstly let's just go over how stunning each feature is, they have given the utmost attention to detail while constructing these gloves. 
The gloves are extraordinarily durable, and by that I mean, it takes almost weeks to try and get this big boy loosened up. The break-in point of these gloves is what gives them the longevity factor. So, you can be sure that if you were to buy yourself a  Wilson A2000 it will last you for quite a long time.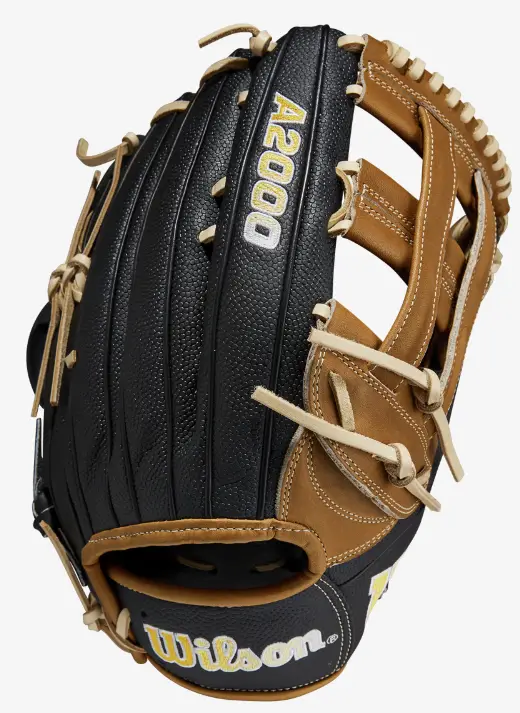 These gloves also come up with curled-up finger stalls, how is that necessary? Well, that sort of gives you the freedom to catch a bunch of catches without the reason of getting affected by the impact or force of the ball.
You will notice a difference when you start playing with the Wilson A2000, they give you the ability to perform excellently on the field, whilst improving comfort, flexibility, and mobility. Now if you have come to this article after reading the Rawling HOH article and you wanna know what's the difference between these two, well then check out this comparison between the A2000 and Heart of the Hide.
This gets me to my next point, are these gloves worth investing in? According to me, the Wilson A2000 gloves are really good gloves to invest in, if you're looking to play baseball in the long run. Sure they are on the pricier side, but aren't the aforementioned qualities worth investing in? In my defense, of course, they are, because they'll run you for a longer time and also they are much better than the cheap ones that will be scuffed up in no time.   
But The Wilson A2000 Is Not For Everyone
But alas! All good things come with a small downfall, these gloves since they last you for a long time, giving you prolonged longevity, which means it takes a lot of time to break in, which could affect your performance in some way or the other, mostly by not giving you enough flexibility or enough mobility. 
And maybe if you don't spend a lot of time on baseball this advantage could turn into a disadvantage real quickly. But oh well, if you do spend a lot of time on baseball and consider being a professional, well then good news! There's another option out there in the horizon and that's the Wilson A2K. You could check out the Wilson A2K review to see if it is made for your playing style.
Although the A2000 gloves are designed to fit smaller wrists, they are quite big for kids in the age group of 9-10 years, so it is often advised to get these kids a much more comfortable brand and size initially to work with.
Where to Buy Wilson A2000?
There are many places where you can buy A2000 but I recommend the official website of Wilson because, on the official website, you can get the latest A2000 model which may not be available on other e-commerce websites.
Other than that, you can also buy it from Amazon because we all do shopping from Amazon, so it's a lot easy for us.
In this table, I have shared the links of Wilson A2000 series gloves for different positions. But, finding the right size of glove is very easy on the official website.
Final Thoughts 
I can say that the Wilson A2000 Gloves are quite the gloves. They come with extraordinary features, materials, and amazing characteristics, that make them a glove that is one of a kind for sure. 
Not only me but a lot of MLB Players love these gloves because of their durability and longer break-in period, most MLB players prefer these gloves because of the feel they provide while playing. The deep pocket allows them to pick up the ball and pass it swiftly, such properties like these, made the Wilson A2000 an MLB favorite.