Wilson A2000 and Rawlings Heart of the Hide Glove are two baseball gloves of the highest quality.
If you want a glove for your big game, then there is nothing better than these two.
Both of these gloves have almost the same price. So, which one should you buy?
So, let's compare the Wilson A2000 Baseball Glove with Rawlings Heart of the Hide Series Glove.
Wilson vs Rawlings: a2000 vs Heart of the Hide Gloves Comparison
Some of the most iconic gloves are the product of Wilson. They have carried on the saga of making impeccable and meticulously crafted gloves as far as we can remember. Wilsons is also the most preferred and trusted brand of gloves among MLB players, high school players, and youth players.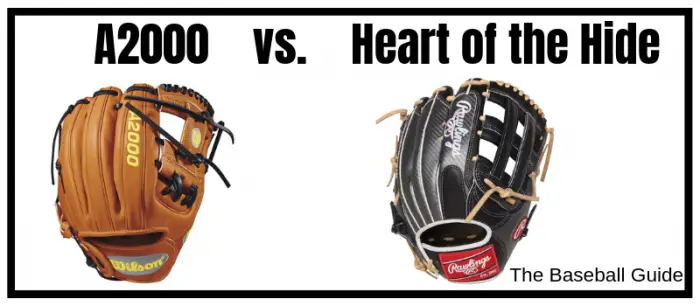 On the other hand, for over one hundred and twenty years, Rawlings has been interchangeably used with baseball. Of extremely high quality to exhibiting excellence in the field, Rawlings marked its place by providing unforgettable gloves to both youth and pro players.
Design
Both the Wilsons A2000 and Rawlings Heart of the Hide gloves lines are undoubtedly the best baseball glove lines.
With more similarities over contrasts, the difference in designs is not as huge except that you would only go for one over the other keeping into account the comfort and familiarity with the brand than any substantial other factors.
Since the beginning of the time, both these brands have been serving baseball just as right and it would be only safe to state that there are the same sized and webbed A2000 as Rawlings Heart of Hide gloves. For more exact specifications, you can always customize one on both lines.
Webbing
To choose the right glove for you, webbing is another important factor to have a fair knowledge of. The web type of glove has more functions than just being aesthetically pleasing and unique. The lightness or the heaviness in weight, flexibility, and visibility are all affected by the web type of a glove. The differences between the webbing of Wilsons 2000 and Rawlings Heart of the hide are:
Wilsons A2000
The 12" is the first base model with a reinforced single post web that provides flexibility and visibility. Horizontal or vertical leather strips woven together make up this type of glove.
Pitchers or infielders use the 11.5" is a pro-laced T webbed. It looks almost like the traditional T web with a lace interlacing, however, it has a strap of leather along the top to add stability.
Alternatively, pitchers also prefer the 11.75" with a 2-piece web glove. This type conceals the ball and is also a solid webbed glove.
The 12.25" is another pro-laced T web glove.
The 12.5" is an outfield glove that is also equipped with a pro-laced T web.
On the other hand, the 12.75" is an outfield model with a 6 finger Trap web.
The 11.25" is an infield model constructed with an H-Web, which is the most commonly used webbed glove. The name also suggests the type of web woven with the strips of leather that form the shape an 'H'. Gloves with H webs are typically sturdier than any other weave.
The 32.5 is a half-moon webbed model is a catcher's model which allows the catcher a flawless catch.
The 33" inch is also a catcher's model with a half-moon web.
Rawlings Heart of the Hide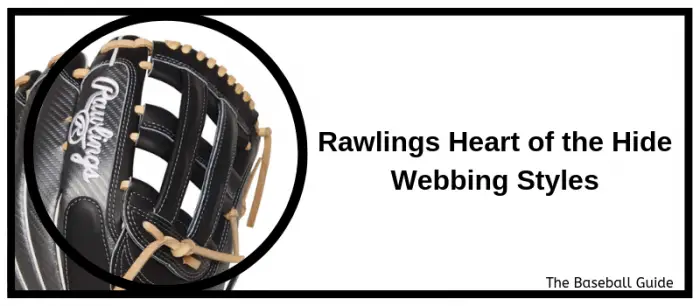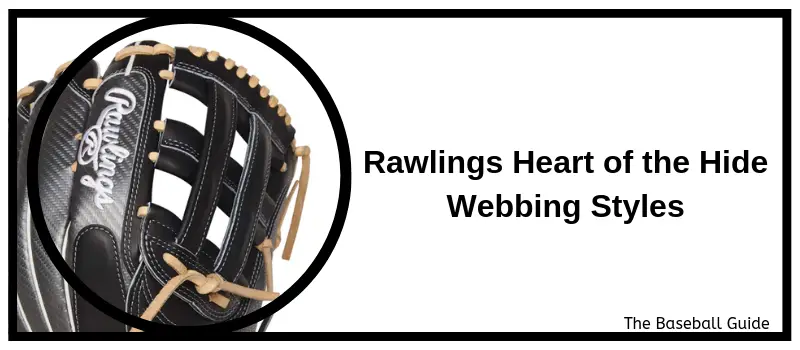 The 11 ½" is an infield glove with Pro I web, which helps infielders to retrieve the ball more quickly.
Alternatively, the 12 ¾" is for the outfielders and is constructed with a web type of Pro H web.
Availability for Different Players
If you are looking for the most robust glove, your quest ends with Wilson's A2000. The availability of every size for all players be it, infielders or outfielders or for left-hand users or right hands pros, you name it and they have it.
The reason being the most popular brand of gloves across the globe is also because these gloves can be used by a larger mass of players irrespective of their hand sizes or preferences.
The Rawlings Heart of the Hide is another favorite line of glove among the baseball buffs. They also come in all shapes and sizes and designs that one can think of. These gloves are available for left-handed throwers as well as right-handed throwers. Models specifically made for infielders, outfielders, and catchers are available.
Availability for Both Hands
Both these brands make their gloves available for right-handed as well as left-handed players. Rawlings, however, offer more options to choose from that roughly count up to 64 stock Heart of Hide options whereas Wilsons offer 49.
However, there is an option of customizing a glove in Wilson's custom site but could be slightly on the higher end.
Price
The Wilsons A2000 is made of a bovine leather called steer hide which is made of the hide of male cows also known as steers. Each A2000 is a well-crafted handmade glove made by experts. In addition, the process of making one Wilsons A2000 takes about 18 hours.
There goes a lot of effort and skill to retain the quality of these gloves and therefore the price that you pay is justified. Indeed, considering the quality and longevity of these gloves, the investment is not too exorbitant like some other top-of-the-line gloves.
The Rawlings Heart of the Hide gloves is also some of the best gloves for baseball and softball. With the quality hide and comfort that it offers, the amount you invest in these gloves is still reasonable. Under $500, you cannot really ask for better quality gloves than these two brands have to offer.
Wilsons A2000 baseball gloves and Rawlings Heart of the Hide gloves that baseball players wear cost anything between 200 to 500 dollars and the price is justified as these are quality brands and can last you for ages.
Cheap gloves are easy to break in but also wear off pretty soon. Certainly, there are many brands that offer cheaper gloves but compromise with the material. Remember the gloves you wear are an extension of your hand so they should be comfortable enough to help you play better.
Leather Quality
The making of Wilson's A2000 begins with a careful selection of Wilson's American steer hide leather. This leather specifically makes up Wilson gloves. In particular, this leather is of top-notch quality as considered by experts and has the ability to break in quickly. The durability is another key characteristic of this leather.
The leather used in Rawling's heart of the hide gloves is made from 5% of steer hides and is also a top-grade leather. This leather is the prime cut and known for its durability when compared to other leathers. It is thick in nature that helps to make firm gloves. This leather is also easier to shape.
In a technical sense, there might be some difference in terms of the leather as the leather for Wilson's A2000 comes from Japan bred cattle while the leather used in Rawlings comes from their own tanning service in Tennessee. But other than that there is no such difference in the quality as both the leathers are top-notch.
Break-In Period
The break-in period for Wilsons is pretty long. It takes a lot of time to be game-ready. There needs a lot of mallet work for the gloves to mold according to the size of your hand. The quality of a glove is usually determined by the stiffness of the glove. Once the stiffness subsides, the real potential of the glove is unleashed.
The Heart of the Hides gloves comparatively takes lesser time to break in but the leather is of great quality. The leather is a bit thinner thus making it easier to break in.
Who Should Buy Wilson A2000 Glove?
To wear a Wilson A2000, you have to have a lot of experience in the game. To wear an A2000, you have to earn it. The Wilsons A2000 is best suited for Pro-league players. However, 12-15-year-old youths that can play with balls thrown at higher speed could be qualified too to use these gloves.
The 'Pedroia fit' is usually for smaller hands. So, if your kid is finding it difficult to fit into the normal gloves but is eligible for a pro game, can buy the Wilsons Pedroia Fit. Many pro-league players too use the Wilsons.
Who Should Buy Rawlings Heart of the Hide Glove?
Anyone who would not want to spend a fortune on a class A glove but still wants to own a good glove that is firm and provides a nice snug without taking much longer to break in, Rawling's Heart of the Hide is your pick. Many MLB payers also use the Heart of the Hide gloves.
Final Thoughts
Wilsons and Rawlings are the prime lines of baseball gloves without any doubt. Both the brands have offered their service to baseball since time immemorial. Many pro-league players prefer these two brands.
Wilson, as well as Rawlings, has dedicated themself to excellence and quality. It is solely a matter of preference to what a player with proper knowledge of baseball wants to play with.