Just as the title suggests I am on a quest to find out whether these gloves are worth investing in or not. 
Are they just like any other ordinary gloves or are they any better than most gloves that you see out there in the market? 
Well, let's find out ourselves! I have got you a detailed Akadema Gloves review, and all there is to know about it.  
Summary
Akadema is one of the most trusted brands when it comes to baseball gloves. However, Akadema is not the only brand that makes good baseball gloves. Everybody knows that MLB players prefer Rawlings and Wilson baseball gloves. But, small glove manufacturers like Akadema offer baseball gloves of similar quality, but at a much affordable price.
So, if you want to buy baseball gloves that give you the best bang for your buck, you can go with Akadema gloves. Yes, I recommend them, and you'll never regret it.
About Akadema 
According to Akadema, they claim themselves to be an innovative sporting brand. This claim is true since I find their equipment quite innovative for this century of baseball playing. The company was founded by a former professional baseball player by the name of Lawerence Gilligan. 
He had the urge to start this company because of the lack of technological advancement in the field of baseball. With his brother Joe Lawerence, they started the company. And that was the beginning of the Akadema Gloves series. 
Their most innovative glove was the reptilian – this was a fingerless glove that was designed for infielders specifically, to transfer the ball effortlessly and quite quickly too. 
Akadema Gloves have been in the baseball industry for 26 years and they have a following of over 12K on Instagram. 
My Review Of Akadema Baseball Gloves 
So here comes the part you have been waiting for, the Akadema gloves are great gloves. And with its mission to make innovation and technology come together in designing gloves, I feel that it fulfills that purpose completely. 
These gloves are quite durable and of good quality too, they can withstand the long rigors of the game. So you can be sure that these gloves are gonna stick with you for a very long time. The quality of the leather used contributes to its longevity.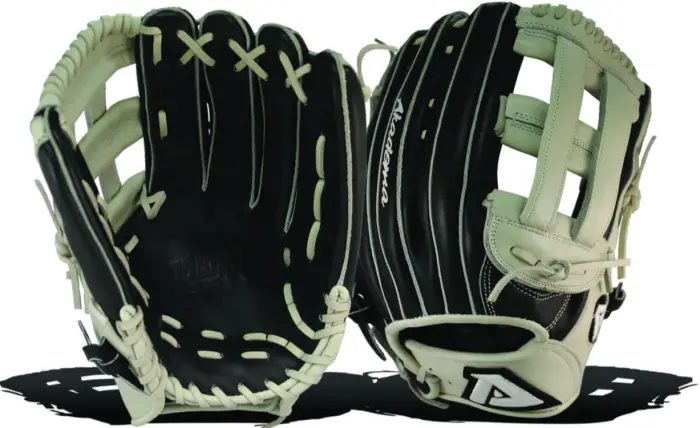 The comfort factor in these gloves is literally top-notch. After I received these gloves, all I needed to do was play a few catches and they were good to go. In terms of comfort, they have a really snug fit so I didn't have any difficulty while playing with these gloves.
Since I play infielder I chose a glove that was catered for its position. They have options for different positions you play like an infielder, outfielder, and even catcher so you can be sure you can get the type of gloves that you need, which are catered to your design and play style. Because of their innovative technology-incorporated gloves, these gloves have specific designs that will enhance your playing styles, such as deep pockets, specific web patterns, and specialized padding. 
They do offer customization options too, but I prefer the Rico Gloves and 44 Pro gloves since these have a fairly easy customization process compared to the Akadema gloves. They have a more complicated process rather than the latter two stated. 
Their website offers a lot of different options for baseball and softball players. They have different styles and series to choose from like the Akdaema ProSoft Series, Akadema Torino Series, and the Prodigy Series. But within these series the options are quite limited, that's the only problem that I've noticed.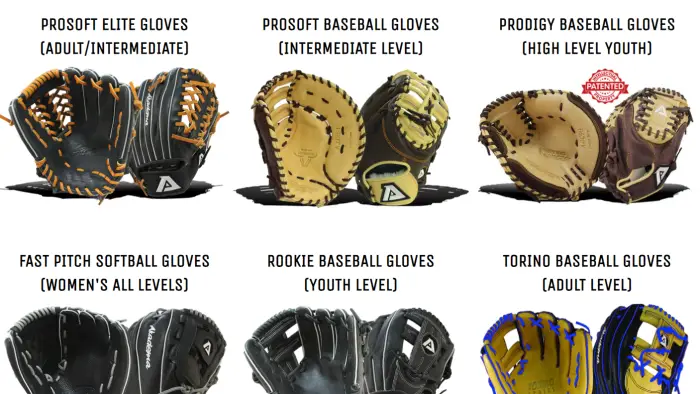 Within each series, you'll see around maybe 6-8 options which are quite limited if you ask me. A lot of other brands like Rawlings, and Wilsons are as longstanding as Akadema, they have comparatively more options than compared to Akadema itself. 
So for me to see a few options here was kind of disheartening because I expected more from this brand, because of their innovative ideas and implications in their brand.
In terms of expense, I feel that these gloves are quite the value for money, they are not placed on the heftier side of the price scale, and even if you feel so the quality doesn't compromise so these are worth investing in terms of the money aspect. 
Do I recommend the Akadema Gloves? 
Yes, I do recommend the Akadema youth baseball gloves for kids. But for high school players and college players, I think there are better options like the Wilson and Rawlings because of the amount of options and series they have out there, that are far better for performing on the field. I'll put this out blatantly if you pay $200+ for gloves then you need to have a lot of options to look at, which are not available in Akadema gloves. 
If you wanna look out for some softball options then, here are a few of the best softball glove brands.
My Final Thoughts
According to me, these gloves are great for their price point, the only drawback is that the Akadema gloves have few options to choose from and that's something that kind of limits your options down and even doesn't allow you to think clearly about what you'd choose and what's best for you. 
Otherwise, in terms of the price point, quality, and comfort, these are terrific so if you wanna go and get the Akadema gloves, feel free to indulge in them completely.
Now, if you are looking for other great brands and companies just this, that cater to the needs of their customers, then check out this Capire Gloves review and this Bradley gloves review. You can read their complete reviews, and see if they suit your preference, trust me on this, there is no sugarcoating at all!